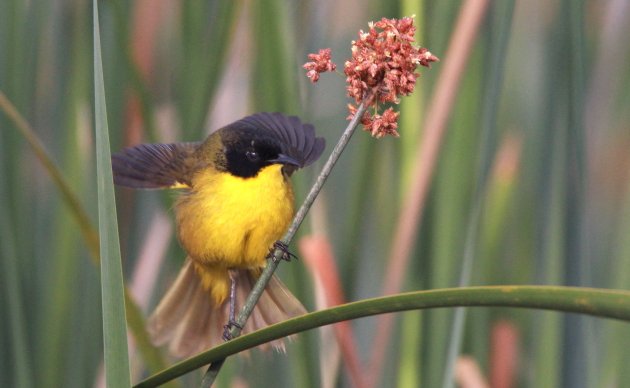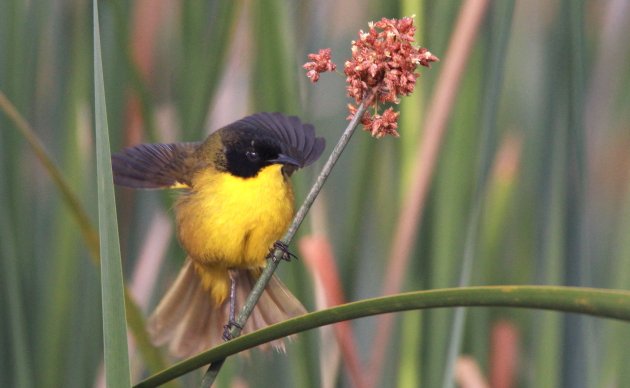 The Yellowthroat group is an odd collection of bird species. The one migratory species, aptly named the Common Yellowthroat, can be seen almost anywhere in North America. Another one, the Masked Yellowthroat, can be found in five unconnected resident territories over much of South America. Both are marsh-dwelling species.
The next-most-widely-ranging Yellowthroats, the Gray-crowned and the Hooded, favor grasslands and scrub. The first can be found from Mexico to Panama, while the second is endemic over a fairly large part of eastern Mexico.
But the remaining Yellowthroat species, all marsh-dwellers, live in extremely small ranges. The Bahama Yellowthroat lives, well, on a collection of Bahaman islands. The Altamira Yellowthroat can only be seen in a small area of northeastern Mexico, and is something of a Holy Grail for Mexican birders. The Belding's Yellowthroat is easier to see, but only if you visit the southern tip of Baja California. (Too bad, you will have to go to Cabo San Lucas!) Ornithologists are still determining if these three species may in fact be subspecies of the Common.
But few birds have as restricted a range as Michoacan's own Black-polled Yellowthroat. This bird has only been proven to live in the reedbeds of three lakes and one marsh: around Michoacán's Lake Pátzcuaro and Lake Cuitzeo, Mexico state's Ciénega de Lerma marsh east of Toluca, and, recently, Guanajuato's Lake Yuriria. The male Black-polled is distinguished from the Common (and the above species) by its black mask extending up to the crown, with no white or golden brow area. The female is much harder to distinguish, although its legs and general coloring are darker than the female Common.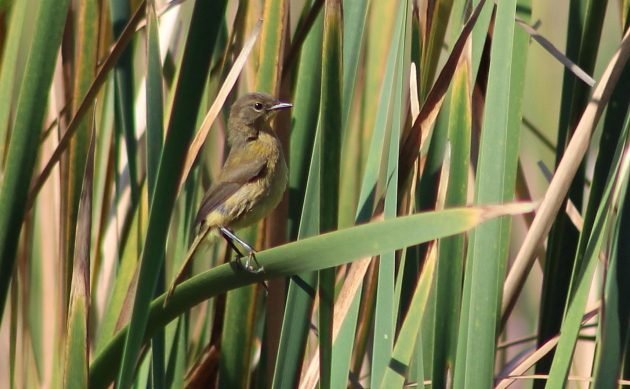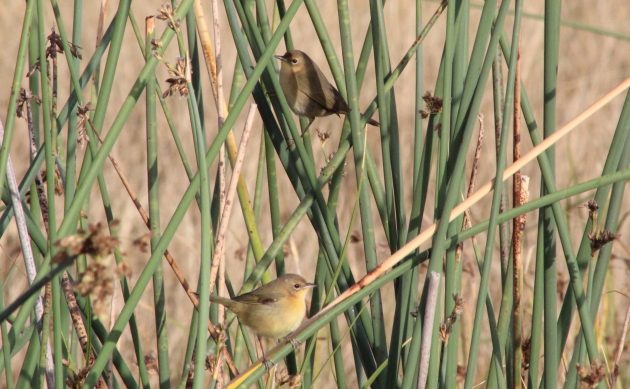 The photo above is of a female Black-polled, while the lower photo is of female Commons. See the difference? Neither do I!
I live right in the middle of this species' range, and have seen it ten times so far. I can say categorically that Lake Cuitzeo is not a reliable place to find the Black-polled; the lake's constantly fluctuating water levels, and the locals' tendency to chop down the reedbeds every so often, make it very hard to predict where it might be found.
The Ciénega de Lerma seems to be an excellent place to see the Black-polled Yellowthroat. But since it is out of my usual birding range, I've only gone twice, and can't yet say that with certainty.
But there is one place, one marvelous place, that pretty much guarantees sightings of the Black-polled Yellowthroat. That place is Puente de Jarácuaro, on the southern shore of Lake Pátzcuaro. Drive about twenty minutes west from the Pátzcuaro docks to the town of Arocutín, take the Jarácuaro turnoff, and stop by the bridge over a marshy area. That's where you will find this species… and Horned Larks, Least Grebes, Northern Jacanas, Cinnamon-rumped Seedeaters, and maybe even an Aztec Rail.
Take a few minutes to soak in the site's beauty. Check the grassy area for those Larks, and some Bluebirds. There may be a Crested Caracara, Osprey, or Northern Harrier flying overhead. But then march straight toward those reedbeds and find your Yellowthroat. Beware! The Common Yellowthroat is also present. But with a little perseverance, you will find the Black-polled as well.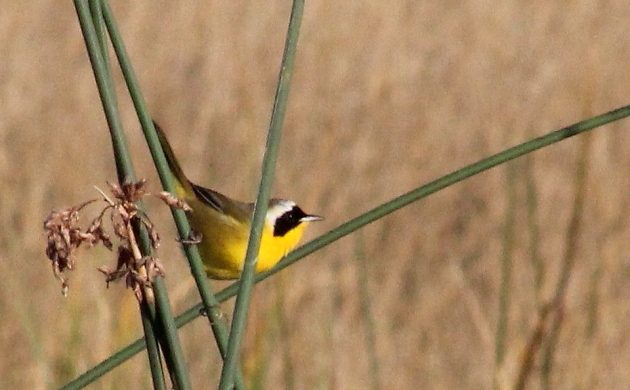 Cute, but still Common.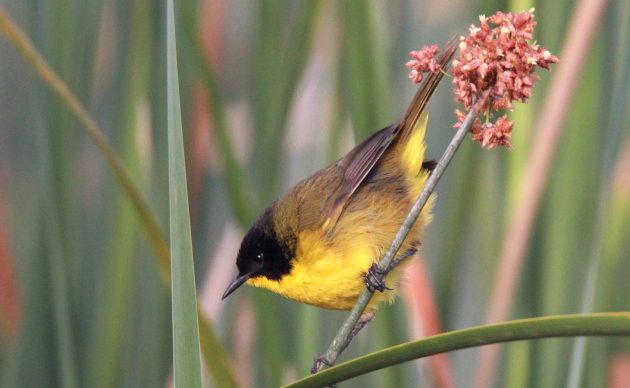 Now that's a Black-polled!
I love the Black-polled Yellowthroat. I love it because it is our very own hyper-endemic. I love it because it has all the personality of other Yellowthroats, with a little something special. And, to be truthful, I love it because, just once in a while, the Black-polled Yellowthroat brings birders to my beautiful state of Michoacán.