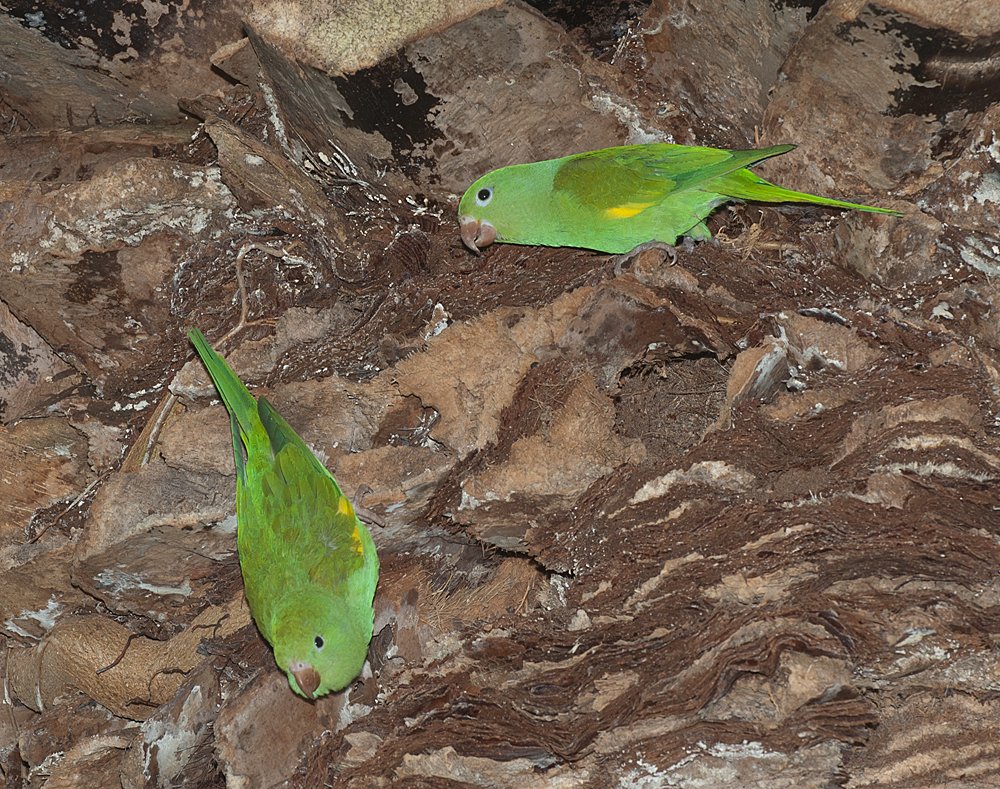 With the recent addition of the Nanday Parakeet (Nandayus nenday) and Purple Swamphen (Porphyrio porphyrio) to the ABA list (it was not too long ago that Common Myna (Acridotheres tristis) was added as well), I thought an article discussing the potentially upcoming exotic bird species from Florida to be added to the ABA area list would be relevant to the times. The current situation with exotic bird species in Florida is in a state of flux, particularly southeast Florida where the bulk of exotic bird diversity in the United States resides — and much of it "uncountable." Some exotic bird species such as Red-whiskered Bulbul and Spot-breasted Oriole have been ABA-countable for decades, managing to maintain very small breeding populations despite the impacts of hurricanes and changes in landscaping. By comparison, other species such as Eurasian Collared-Dove spread from the Bahamas to Florida and then onward to the rest of the country within a very short time frame. Finally, there are also those species such as Egyptian Goose, Mitred Parakeet, and Yellow-chevroned Parakeet which seem poised to become new ABA-countable exotics in the future.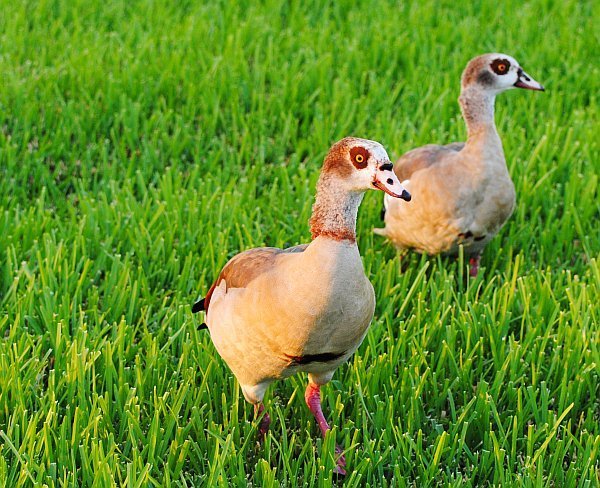 Egyptian Goose, looking for handouts at Kendall-Baptist Hospital, by Carlos Sanchez
Egyptian Goose (Alopochen aegyptiacus), a common species in Africa, is my top pick for becoming the next ABA-countable exotic from Florida. These aggressive, boisterous yet attractive geese have begun building a population in Florida from a few accidental escapes from waterfowl collections (Crandon Gardens in Miami-Dade being the most famous). Within the last three to four years, this species has really begun to take off with sightings of pairs becoming regular in all sections of suburban and urban Miami-Dade, Broward, and Palm Beach counties — with some lakes and golf courses harboring a dozen or more individuals where there weren't any just a few years ago. An exotic bird survey organized by local birders in Miami-Dade a couple years ago recorded over a hundred in that county alone in a relatively small percentage of the county, indicating that the overall population will likely be over a thousand individuals very soon if it is not already.
Why has the Egyptian Goose started doing so well, and what is the potential for this species to continue to multiply and spread? First of all, the warm, subtropical landscape of southeast Florida, dotted liberally with lakes and wetlands, seems to be a perfect habitat for this species. Having evolved alongside such incredible predators in Africa such as Nile Crocodile, various big cats, large snakes, and monitor lizards, this goose would seem well equipped to handle the relatively few large predators of southeast Florida such as the American Alligator and the Bobcat. In fact, it has already been recorded well within the boundaries of Everglades National Park. It seems that the Egyptian Goose faces no hurdles as it spreads up the east coast and potentially begins to colonize the southwest coast in the near future as well.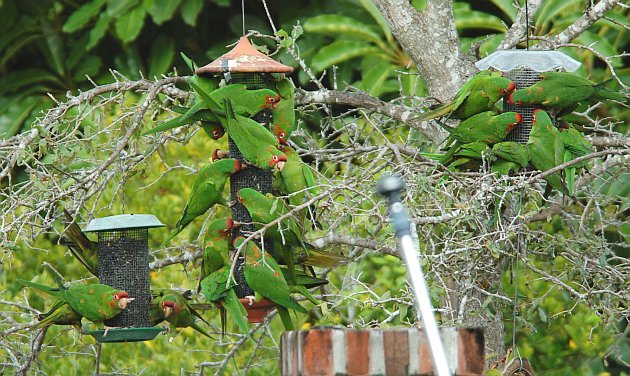 Mitred Parakeets raiding a feeder, by Larry Manfredi
Mitred Parakeet (Aratinga mitrata), a large and lively Aratinga parakeet from Andean forests in Peru, Bolivia, and northwestern Argentina, is a familiar exotic to both birders in Miami-Dade and southern California where large populations reside. In a Florida context, the colony that has persisted at least since the 1980s near Dadeland Mall in Kendall has become an impressive sight at dawn or dusk, when a flock of three to four hundred birds amasses to roost on the high rises and office buildings in the area. A recent survey in Miami-Dade recorded this species as the most numerous parrot species in the entire county, outnumbering all other species including Monk Parakeet by a couple hundred birds. The large population in southeast Florida coupled with the large population in southern California points towards an overall population that is potentially larger than that of the recently added Nanday Parakeet!
The key to the success of these crafty, adaptable birds in suburban and urban areas is their ability to burrow in the wooden frames of buildings and other structures for nesting sites. In their native range, these birds can nest colonially at rocky cliffs — apparently, a high rise building isn't that big of a leap. Exploiting similar food sources as many of the other parakeet found in Miami-Dade, their larger size may have allowed them to muscle out smaller species. I foresee these birds continuing to spread, gradually replacing other Aratinga species in southeast Florida.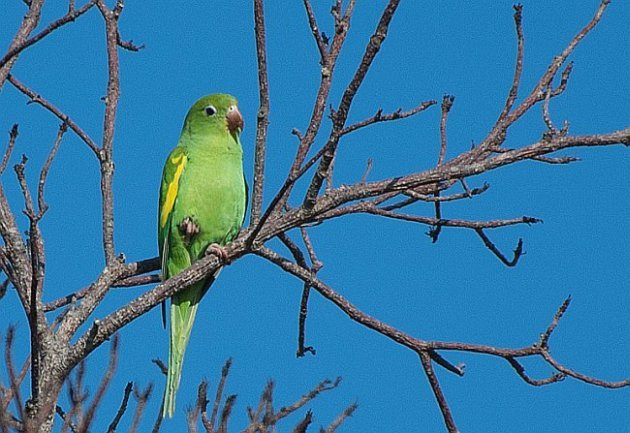 Yellow-chevroned Parakeet, once united with White-winged Parakeet as one species ('Canary-winged Parakeet), has recently been split, by Larry Manfredi
Yellow-chevroned Parakeet (Brotogeris chiriri) is the last of the three Florida exotics I believe will be ABA-countable in the future. Ranging from northeastern Brazil to the Pantanal and nearly all of lowland Bolivia, this parakeet was part of a species pair that was split that included the White-winged Parakeet, which roughly ranges in a rather narrow band along the Amazon River from lowland areas south of Iquitos in the west to the mouth of the river in the east . Together, both of these species were formerly known as Canary-winged Parakeet — both were formerly ABA-countable as one bird. However, when the species was split, the ABA decided to keep the White-winged Parakeet as the countable one, despite being far less numerous, while demoting Yellow-chevroned Parakeet as uncountable despite being the more numerous of the two by far.  The Yellow-chevroned Parakeet makes a good contender for becoming countable for another reason as well. It is the third most numerous parrot species in Miami-Dade, behind Mitred Parakeet and Monk Parakeet, with a sizeable roost of over a hundred birds in the Dadeland Mall area alone.
Which exotic bird species will the ABA decide to add to the list in the future? I believe Egyptian Goose, Mitred Parakeet, and Yellow-chevroned Parakeet are the three to watch in the coming years. If you would like to make a trip to southern Florida in search of Caribbean specialties, exotics such as those mentioned in this article, or general birding, please visit my webpage at www.ecoavian.com or contact me by email at csanchez1230@gmail.com to inquiry about my guiding services.