10,000 Birds is running a series of articles by and about tour guides, tour companies, eco-lodges, and other birding travel organizations. We want to help the birding tourism industry come back strong from the COVID pandemic. Please consider using the services described in this post or any of the other posts we are sharing this February.
The Arenal Observatory Lodge & Spa in La Fortuna de San Carlos, Costa Rica has a rich history as a birding-friendly eco-lodge. Family-owned since 1972, the property's first guests were volcanologists from the Smithsonian Institute. These researchers preferred this property for their research due to its close proximity to the Arenal Volcano and resplendent natural environment. When the researchers returned home during their time off, they would tell their friends and family about the magic of this place, and year after year more and more people began arriving. Over time, the lodge grew into a haven for birders and naturalists alike.
The 870-acre (353 hectare) property is encompassed by the Arenal Volcano National Park forming part of a 30,819 acre (12,473 hectare) biological corridor. The Arenal Observatory Lodge provides access to the splendors of this area via a network of 11 kilometers of trails. The lodge is located within Costa Rica's premontane tropical rainforest life zone and contains a variety of habitat types including primary forest, secondary forests, tropical gardens, and grasslands. The lodge's unique geotopographic positioning among the foothills that join the Caribbean lowlands to the cloud forests of Monteverde helps create important connectivity for the dispersal of several plant and animal species. This also makes the Arenal Observatory Lodge an ideal location for wildlife observation in Costa Rica.
Over 400 species of birds have been spotted at the Arenal Observatory Lodge & Spa and its forests are also a hotspot for several interesting species of mammals, reptiles, and amphibians. Notable bird species commonly found at the lodge include the Great Curassow (Crax rubra), sunbittern (Eurypyga helias), Ocellated Antbird (Phaenostictus mcleannani), Black-crested Coquette (Lophornis helenae), Rufous-tailed Jacamar (Galbula ruficauda), Rufous Motmot (Raryphthengus martii), White Hawk (Pseudastur albicollis), and Gartered Trogon (Trogon caligatus).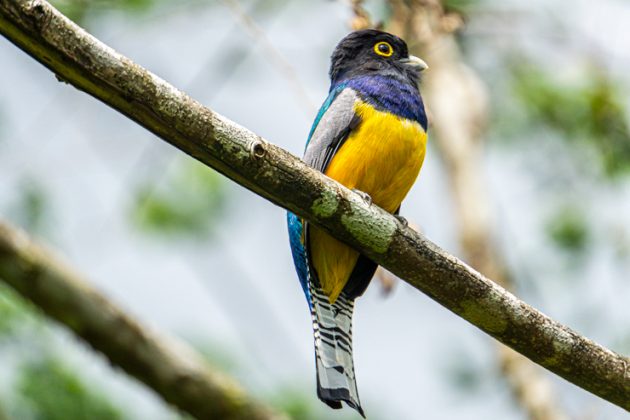 With all that said, what truly makes the Arenal Observatory Lodge & Spa an exceptional birding destination is our staff, in particular our guides. We partner with the best guides in the area to provide unapparelled birding experiences. Even if you choose not to book a tour with them, our guides are always available to help you with any identification questions you may have. When they are not on a tour, they like to wander around the bird feeder and reception area entertaining guests.
The Arenal Observatory Lodge strives to be a positive example of social-ecological sustainability. The lodge participates in the Programa Bandera Azul Ecológica (Blue Flag Ecological Program) and maintains a Certificación Para Sostenibilidad Turística (Sustainable Tourism Certificate). Its ecological initiatives include environmental education, recycling, energy and water conservation, and waste reduction, among several others. The lodge endeavors to be a positive influence in the local community by hiring local employees, purchasing local products, and supporting local charities.