I've not made spectacular progress writing up my trip to Africa earlier this year, so perhaps I should get on that. I do have more to say on last week's piece, but I need time to think about what people have been saying. So instead let's talk about South Africa's best kept birding secret (at least outside of the country) Wakkerstroom.
I have 10,000 Birds contributor Adam Riley to thank for telling me I had to add it to my list, and a quick bit of research showed that he was right on. This sleepy little village lies about 4 hours south east of Johannesburg in the upland area on the border with KwaZulu Natal. And it features a range of upland birds equal to that other great South African mountain site, the Sani Pass (which based on Adam's post I also did). It's pretty easy to access as an independent birder from the airport there, although you may want sat-nav if you are by yourself, and watch out for roadworks. Once you're in town there is a nice little hotel pub in town and a small range of places to eat. One thing you must do is hire a local guide, as while you can hunt for yourself you'll see a hell of a lot more with one. I got the best, Lucky, through the BirdLife project in town, and he was able to help me get almost every bird I wanted.
I started off on the afternoon of my arrival birding around the village without a guide. On the drive I had picked up the flamboyant Red-collared and Long-tailed Widowbirds, extraordinary members of the weaver family who's ridiculous tails make them easy to spot even from a moving car. I started my birding near the BirdLife centre, which was actually pretty quiet – it's supposed to be the place to go when they feed cranes in the winter though. I did see a Greater-striped Swallow and a host of Capes – a Cape Sparrow, Cape Canary and best of all a Cape Longclaw. Longclaws are African members of the pipit and wagtail family, and unlike the rest of the family they have gorgeously-coloured throats. A bit closer to town I checked out some hides overlooking ponds. They were dominated by hundreds of Red-knobbed Coots, but amongst them I could also pick out some Common Moorhens and also some Yellow-billed Teal and a Southern Polchard. Above the water flew White-throated Swallows and Banded Martins, and the reeds were full of Southern Bishops, a particularly brightly coloured weaver.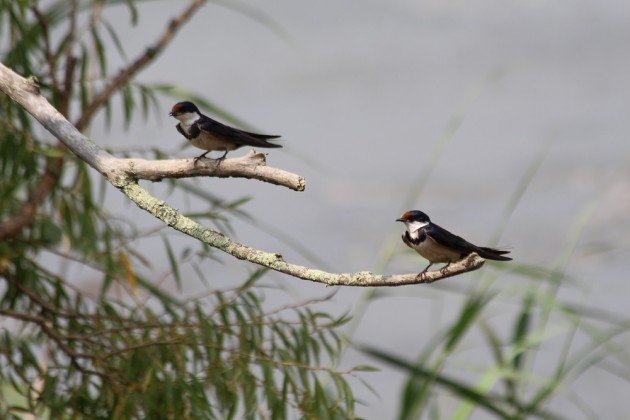 White-throated Swallows
The next morning I was up bright and early, too early according to Lucky, to find some of the real specialities. We started by driving through astonishingly dense fog to Diekesdorp nearby, where the grasslands to the north of the village held a number of interesting birds. I got my first lark of the site, a Red-capped Lark, as well as an African Pipit  and an Anteater Chat. On the larger side were a handful of Southern Bald Ibises, a Southern African endemic, and the endemic Barrow's Khoraan. This small bustard is perhaps the same species as the more widespread White-bellied Bustard, but if it is separate its a rare bird to see and pretty special. We also stopped by a small bridge near the grass to look at the South African Cliff Swallows that were nesting underneath it. Doing so found us an African Grassbird, a scruffy but attractive member of the African warbler family.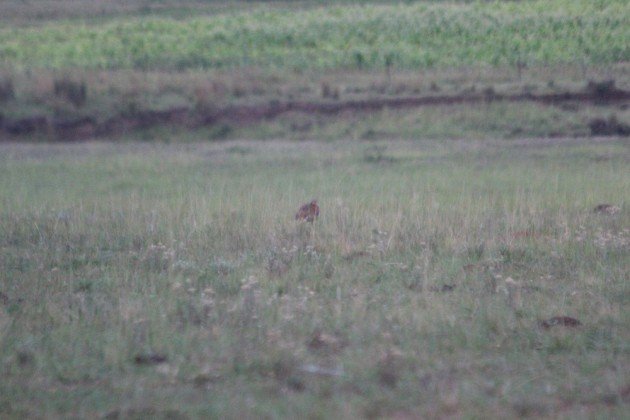 A terrible shot of Barrow's Korhaan
We headed back to Wakkerstroom and then headed west, making my rental car work as we headed up some steep gravel roads. Near a sharp bend we encountered some Wailing Cisticolas and a family of Ground Woodpeckers, one of my favourite members of that family. We then set off along a strech of road in the hills that had birds in bewildering numbers, I sometimes didn't know where to look. Along with huge numbers of Cape Canaries were imperious Sentinel Rock-thrushes, were noisy Pied Starlings, gaudy Yellow Bishops and another one of this area's larks, the Spike-heeled Lark. The area also had some star finds, including South Africa's national bird and one of the finest-looking birds in the world, the Blue Crane, and the exceptional Yellow-breasted Pipit. We hoped to find another bustard here but the massive bird I managed to see flying was instead a Secretary Bird. And watching this from above was a Lanner Falcon.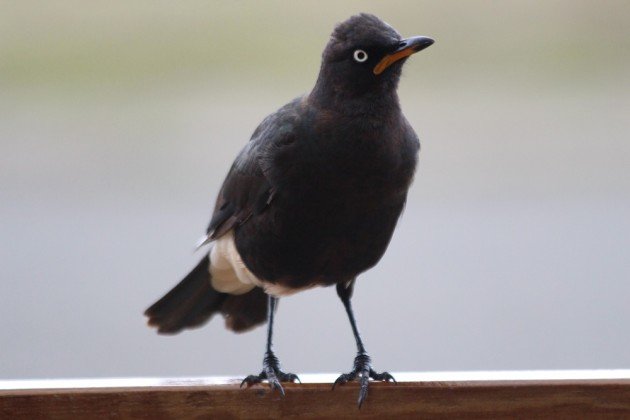 A Pied Starling
After lunch we headed to Fickland Pan, a small farmstead overlooking a pool of water filled with ducks. The star attraction here is a tiny LBJ, a mouselike-lark called Rudd's Lark. Once again Lucky came through and found this restricted-range endemic as it scrambled through the grass. Wouldn't fancy my chances by myself. The pan itself was great too, with my lifer White-backed Duck (hell, this day was full of lifers) and Maccoa Ducks along with a lot of coots and some Little Grebes. We set out and quickly managed to find one of my targets. While the skies and every wire fence and electricity cable were filled with Amur Falcons, it took some skill to finally find a Red-footed Falcon among them. But we did.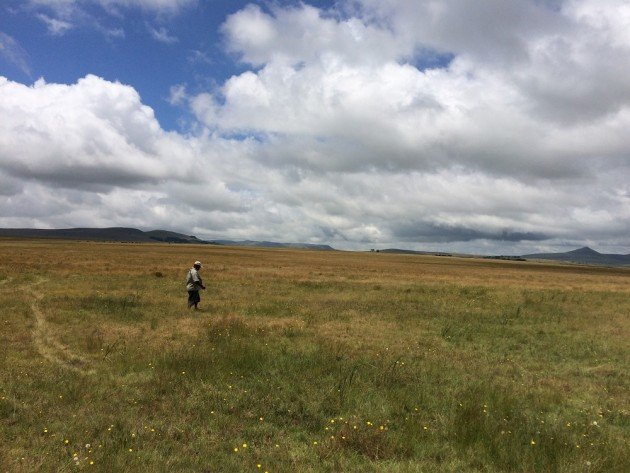 Lucky out looking for Rudd's Lark
From here we headed out to Daggkraal to find the other super-endemic lark, Botha's Lark. Again this was managed with Lucky's skill, but I didn't get as good looks at this lark as they were quite flighty and Lucky was concerned about disturbing them, so I was happy just too know I'd seen this rare and endangered species. The location was good for cisticolas, as we got both Cloud Cisticolas and Zitting Cisticolas. It was also weirdly good for quail, of sorts. As we found a Common Quail from Europe (although I have never seen one there) as well as the tiny Quail Finch, a minute bird that like the Botha's Lark you only really see if you flush.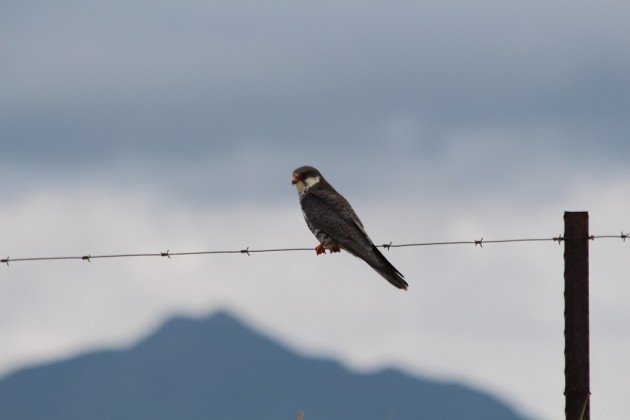 Amur Falcons are ubiquitous
The next morning we set out for my last missing major target, and hallelujah we managed to find two Blue Korhaans (or Blue Bustards). Possibly the prettiest member of the family to my mind. Nearby the grasslands were quartered by an African Marsh Harrier, which, I'll be honest, looked like any other harrier (I never did managed to find a Black Harrier – next time). From here we hit two final sites. The first was some patches of woodland in the hills that held a number of forest birds, but sadly while we heard the Bush Blackcap – an odd member of one of the babbler families – me never managed to get it in sight. Finally, we drove some distance to the west to pick up another hard to get mountain bird, the African Rock Pipit. The drive also got me the Mountain Wheatear and Buff-streaked Chat.
Wakkerstroom is, in summary, an astonishing site filled with birds that are next to impossible to get elsewhere. So if you're in Southern Africa to biird or even just to watch wildlife in general, make sure you find a few days to pop over.