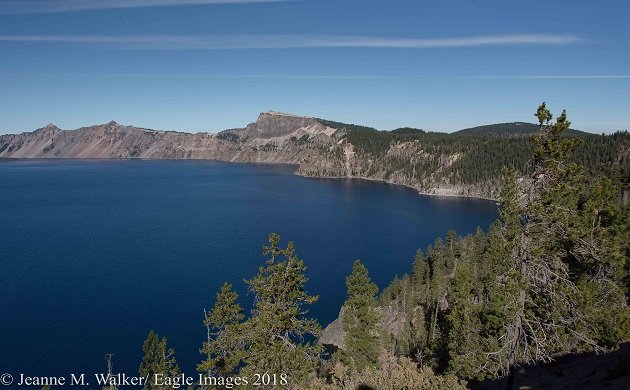 The first part of this week finds us in south central Oregon, at one of the nation's true gems, Crater Lake National park. I came here looking for some of the birds that tend to live in the higher altitudes, but found myself, again mesmerized by this incredible, scenic wonder. With all the forest fires going on in the area, again this year, we were quite concerned if we would even be able to see, but Mother Nature provided us with a very nice northerly breeze, and blew all the smoke out of the area, at least for a while. While driving all the way around the lake, we crested several very high points, one of which was over 7400 feet in elevation! In addition to the birds, which we will get to in a moment, here are a few amazing facts about this wonderful park. By the way, check out the average snow fall each year…
o Crater Lake is the deepest lake in the United States
o It is the second deepest lake in the Western Hemisphere
o It is the seventh deepest lake in the world
o Maximum lake depth: 1,943 feet (592 meters)
o Average lake depth: 1,148 feet (350 meters)
o Maximum lake width: 6.02 miles (9.69 km)
o Lake surface elevation: 6,173 feet (1,881 meters)
o Wizard Island elevation: 6,940 feet (2,115 meters)
o Wizard Island height above water: 764 feet (233 meters)
o Snowfall, yearly average: 44 feet (13.4 meters)
o Maximum snow depth at Park Headquarters: 21 feet (6.4 meters)
o Volume of water within the Lake: 5 trillion gallons (19 trillion liters)
o Park Size: 183224 acres (74,148 hectares)
o A 30-foot long hemlock log called the "Old Man of the Lake" has been floating upright in the lake for over 100 years
Fortunately we were able to find a nice RV camp, in the nearby town of Crescent, Oregon, which allowed us to be at the park right after sunrise. With our early morning arrival, we were greeted by several birds of prey, the first being a Golden Eagle. I was able to sneak up close enough to get this photo thru a gap in the old growth fir trees.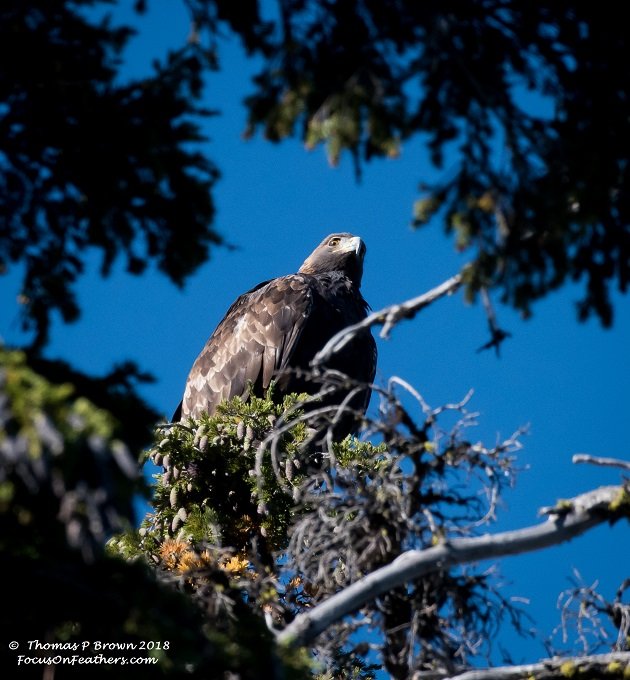 Looking out over the lake from one of the many view points as you travel the park, we spotted Peregrines Falcons, American Kestrels, and this young Coopers Hawk, as it flew right over our heads. The nice backlighting helps to highlight all the detail in it's plumage.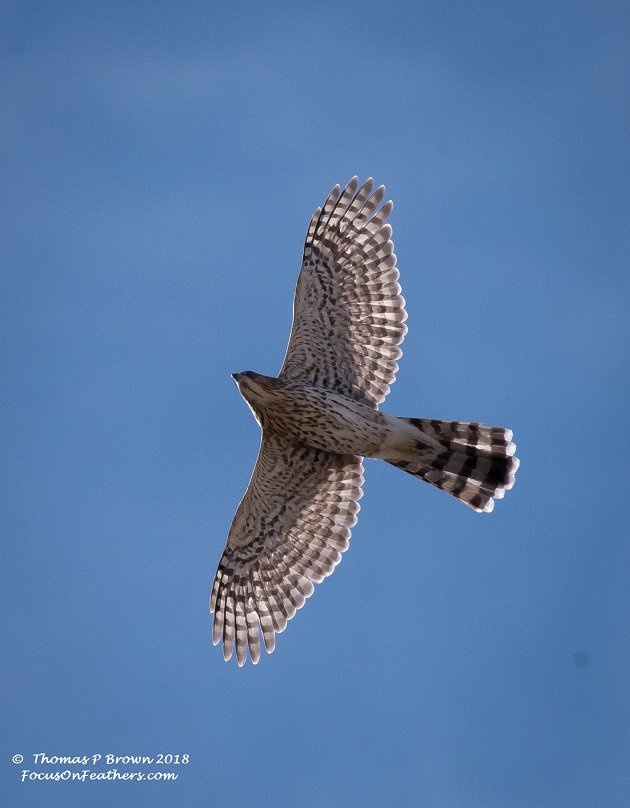 In the Circle of Life" category, this Bald Eagle had managed to catch a small squirrel, and was passing over the water.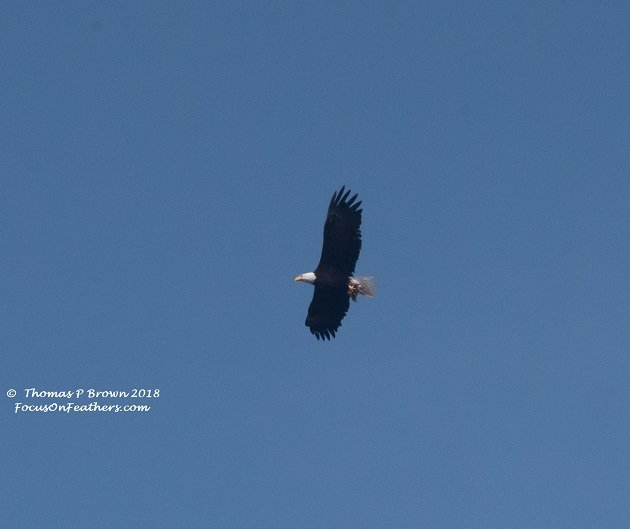 One of my target birds for this area, the Clarks Nutcracker, was one I had seen in previous visits. They did not disappoint, and were quite plentiful. This picture was taken at the south east end of the park.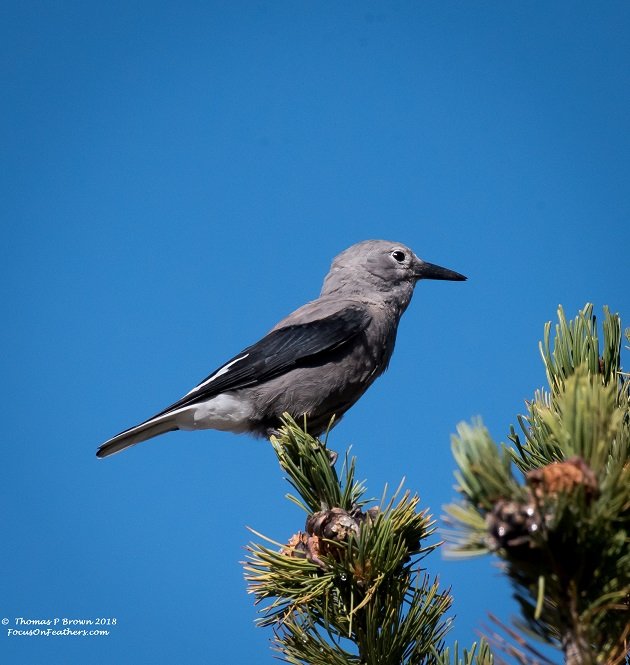 One of the many hikes in the area is Plaikni Falls, which had also been highlighted by several eBird submitters as a hot spot. This is a very easy one mile hike, despite the soon to be obvious lack of oxygen at this altitude. This packed dirt tail is even rated for wheel chair access, and leads to a beautiful waterfall. Western Wood Pewees, Red-breasted Nuthatches, Yellow-rumped warblers, Clarks Nutcrackers, Steller's Jays, and Mountain Chickadees were there in great numbers. The highlight of the hike, and the day inn fact, was a new Lifer for me, in the form of three Black-backed Woodpeckers.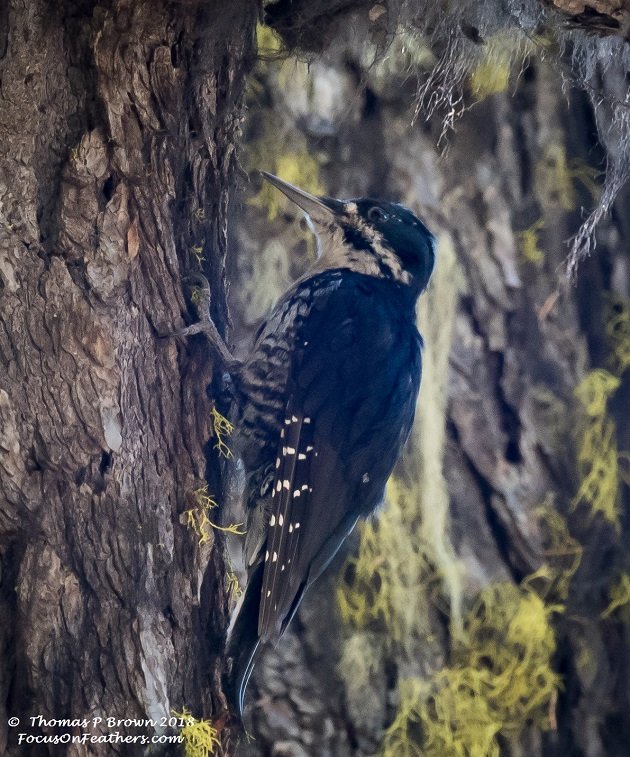 Here is the sign at the trail head to the falls.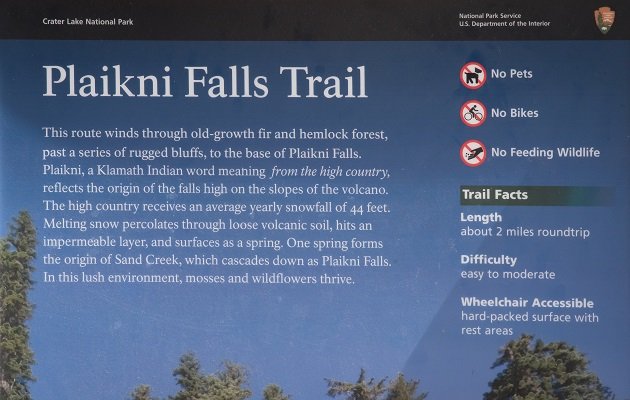 And here is the pot 'o gold at the end of the trail.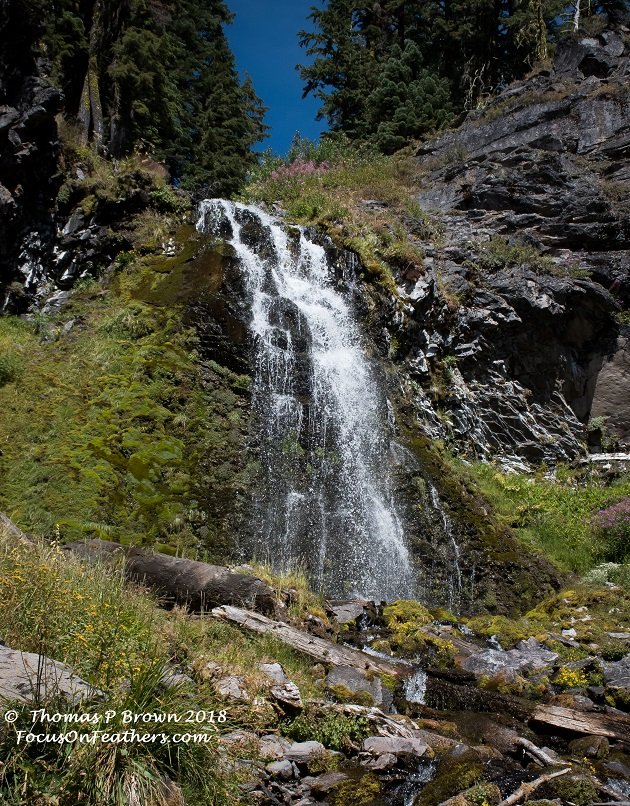 We ended the day with a glass of wine at the historic rim lodge. Not being able to sit still, I took a short walk down a trail from there, and ran across this young Dark-eyed (Oregon) Junco, that was just too cute to not photograph.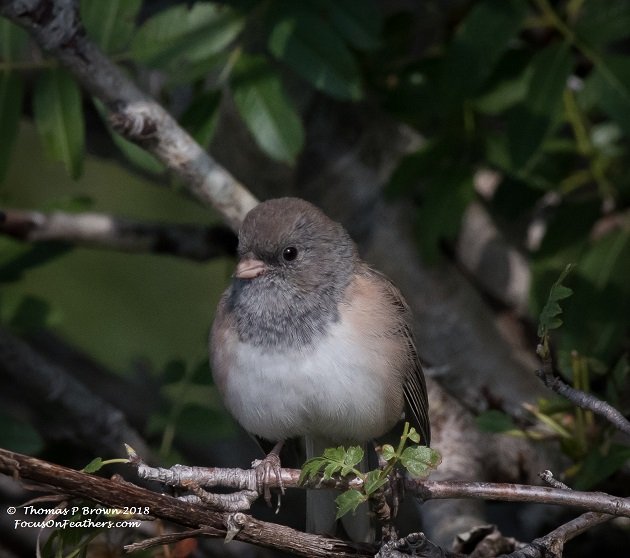 As I was walking back to join my wife, one of the Pacific Northwest's most secretive animals ran out across the part. This Pine Martin was not stopping for any photos but I did manage to get this decent shot before it went head long, back into the brush.
While there were not a whole lot of new birds for me to add to the Little Big Year's list, just two in fact, this is a place that everybody should visit at least once.
Little Big Year Species : 850
US Species : 148
eBird Reports : 265
part of this week finds us