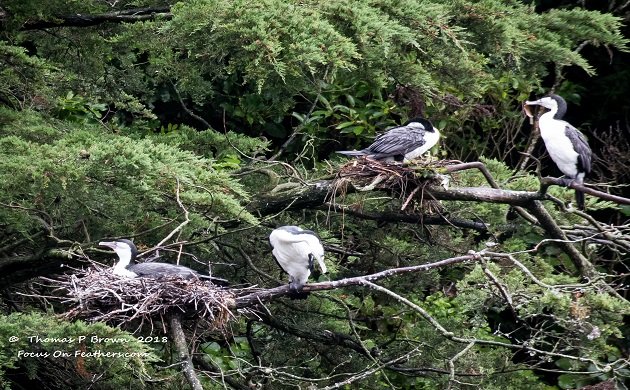 Our trip thru the South Island of New Zealand, is coming to a close, and in finishing the trip, we complete a "figure 8" pattern. Christchurch, south west to Te Anu, south to Bluff, east along the coast to Moraki, then turn north west to Franz Joseph (Glacier) and the Pancake Rocks. After that north along the west coast, up to Tapawera (lovingly referred to as Tupperware) the north to Kaiteriteri, east to Havelock, continuing on east to Picton where we catch the ferry to the north Island.
In Week Eight, we pick up the route at Franz Joseph. This area is famous for its glaciers, the Franz Joseph and to the south, Fox Glacier. After a lovely night there in the little upscale town, we traveled to the Pancake Rocks, and what turned out to be a huge tourist destination. And, well so with It's incredible rock formations, but other than the Spotted Shags, one lonely Variable Oystercatcher it was a bust from the bird stand point. Wait, I did get this nice shot of a Gray Warbler in the Parking lot.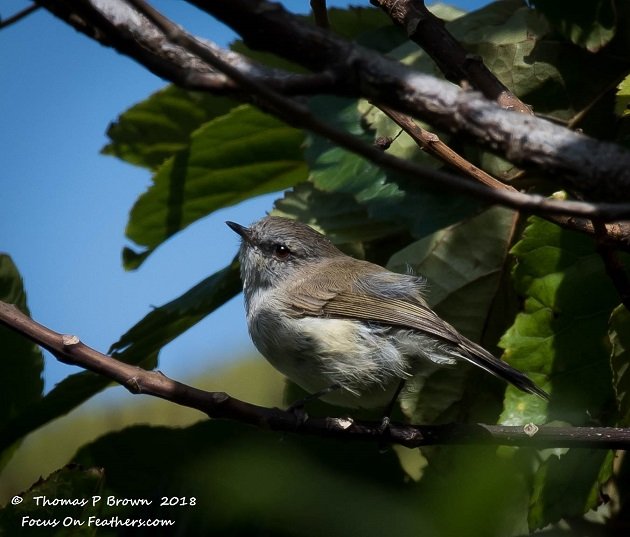 That evening found us in the very small farm town of Tapawera. The highlight here was a pair of Skylarks, along with Redpolls, Yellowhammers, Dunnocks, Masked Lapwings, and a pair of Marsh Harriers.
The next stop was the tourist town of Kaiteriteri, which has a great beach vibe, but not much in birds. I do have to admit; I did get this nice image of the Blackbird, which despite being quite common, I have not captured with my camera yet.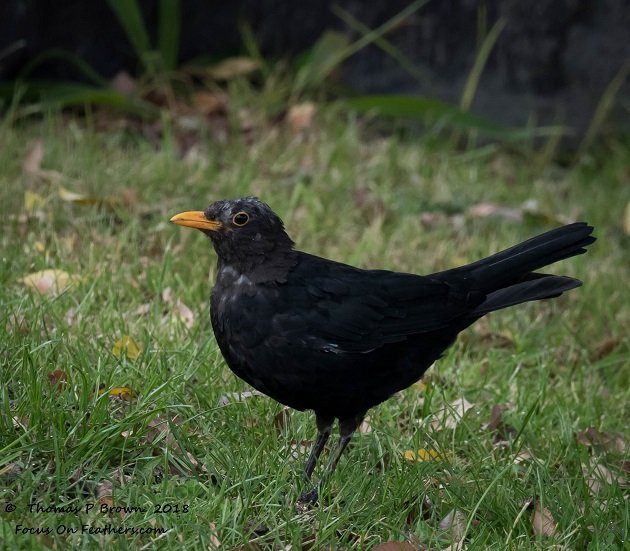 Our next stop, Havelock was one I had been looking forward to, as it has a huge estuary, with a large number of species that could be found here. We also had a water taxi chartered in order to takes us out to find the Very Rare King Shag, and endemic that is only found in the Marlborough Sound area. Well, the weather really turned sour, and at 7 AM we got a call, letting us know that our water taxi cancelled due to high winds and torrential rain. Despite that, things did pan out pretty well on the tidal flats formed by the estuary. I added the Australasian Shoveler finally, along with 22 other species that have already made the list. Not a great image of the Shovelers, but they were a very long ways away!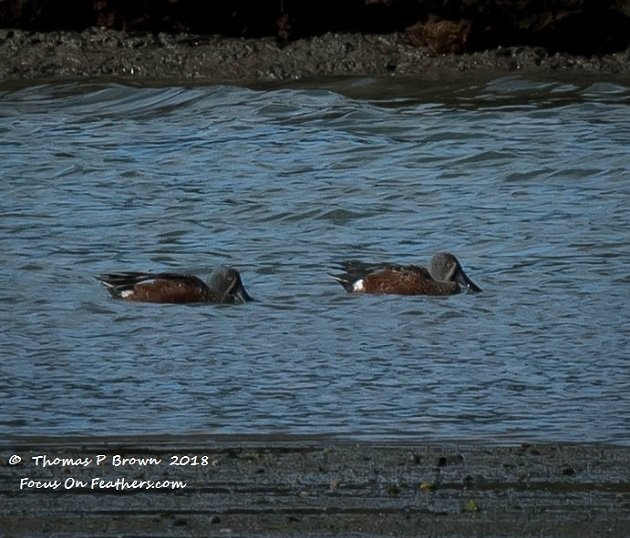 Our last day on the South Island was in Picton, where we were to catch the Blue-Bridge Ferry out through Queen Charlotte Inlet, and across Cook Straight to Wellington. I got incredibly lucky, and was able to add the King Shag, from the Ferry, along with Fairy Prions, Australasian Gannets, Hutton's Shearwaters, and a Wandering Albatross to go along with quite a few species that I already had. Again, the water was pretty rough, with 30 + winds blowing but I spent nearly the whole three hour trip out on the bow, watching and shooting photos.
Here is the shot of the Australasian Gannets.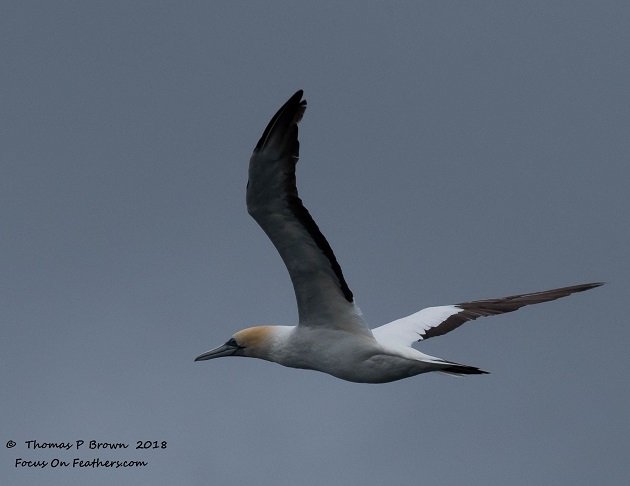 And a quick picture of one of the flocks of Fairy Prions that I saw.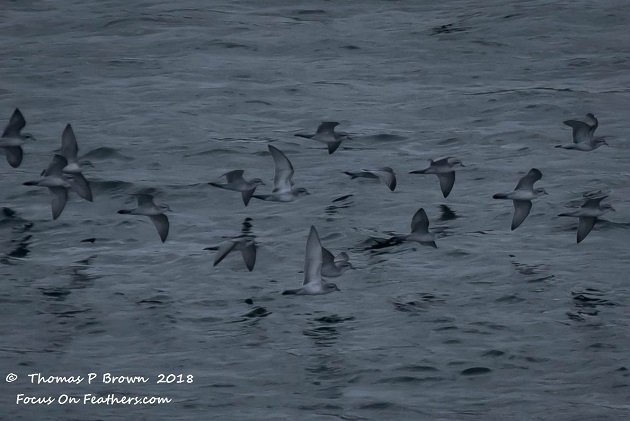 The city of Wellington, really kicked off our start to the North Island portion of the trip, with a much anticipated visit with 10000 Birds Beat Writer, Duncan Wright. We have sent e-mails back and forth the last couple of weeks trying to figure out what I needed by the time I got there, and it was decided that a visit to Zealandia was the best course of action. It was my best shot at a few missing species, as well as the Takahe, and some North Island versions of some South Island birds that I already had. The South Island Robin, and the South Island Saddleback, have been split from their North Island counterparts, so it would be nice to wrap them up quickly. As previously discussed, the Department of Conservation, along with a lot of help from the private sector, and a huge number of volunteers, are working to protect the vulnerable species from the imported pests. Zealandia is one of those areas, where an entire valley has been set aside, with a rodent/weasel/opossum proof fence all the way around it. Years and years of work to remove every single predator has resulted in a wonderland of bird species. Of course having local expert Duncan along to show me the in's and out's without struggling on my own was an incredible help. In a matter of an hour, I had the lay of the land, and a dozen species, including the rare Brown Teal, my N.I. Saddleback, N.I. Robin and a full grown Takahae!! Despite all his efforts, the Whitehead and the Stitchbird still has escaped me! But he left me with a great list of where to's for the balance of the Island, as well as Australia and South Africa! It was a blast to visit with him, as he is possibly the best traveled birder I have ever met, and his knowledge of all things birds is truly amazing.
The North Island Saddlebacks seemed to never get out of the brush, but I did manage to get this shot.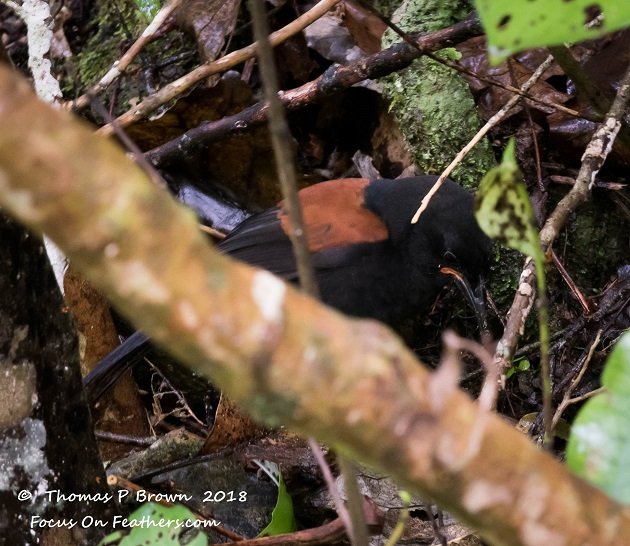 We found this pair of resting Brown Teal, and then the next day I found a pair with four babies!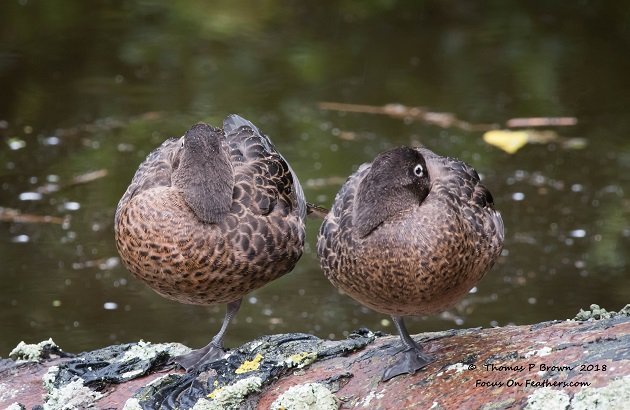 There is a very large population of Kaka's here in Zealandia!
Of course, how can you not get a shot of the Takahe in the story?
We had planned to visit some boating friend's north of Wellington the next day, but I was able to convince my travel mates that they should take this opportunity to see Zealandia, while we were here. It would only be a couple of hours, and I am sure they would find it as amazing as I did. Do you see the genius in this plan? They get to see this amazing place, and I get another shot at my missing birds. It paid off, at least for one of them, as I did find the Whitehead, but the Stitchbird is still elusive.
The balance of the North Island trip for me will be tracking down a few rarities, and fill some holes. Hopefully some shorebirds north of Auckland, and a private visit to Tiri Tiri Matangi Island should just about fill up my New Zealand list.
So far that leaves the "Little Big Year" list at 280, 84 New Zealand Birds and of those, 75 are new lifers!