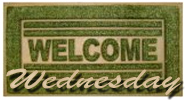 Joan Collins, based out of northern New York, is an active member of many Empire State birding organizations. An ardent naturalist, licensed guide, and Adirondack Forty-Sixer, Joan also enjoys writing and has published many journal, magazine, and newspaper articles on wildlife topics including several species accounts in the upcoming edition of The Atlas of Breeding Birds of New York State. When I read the following eloquent essay posted to the New York Birding List, I just had to ask Joan if she wouldn't mind sharing for Welcome Wednesday…
Once again this September, I am spending quite a bit of time outside at night (and continually sleep deprived) in complete awe listening to the unseen river of birds flow over me.
On September 4th, I watched the moon rise behind our home as I listened to mostly flycatchers and thrushes, with a few warblers. Just past midnight, I heard the wild vocalizations of porcupines through our bedroom window. By 12:15 a.m., I decided to get out of bed, don a bathrobe, and grab a flashlight since they sounded very close (I got the usual strange look from my husband.) I put on hiking boots and headed out, but the porcupines were not close. They were in their usual huge, hollowed-out tree very far from our home in the forest where they have lived for years; it was remarkable how far their voices had carried. Since I did not trust the batteries in the flashlight, and I was very far from my home, I stopped on a trail through shrubland just short of entering the forest. I turned off the flashlight and stood for almost 45 minutes in very cold conditions. With such flat terrain and many fields and shrublands, the voices of the migrants carry quite far, and it was spectacular to listen to their voices across the sky. To hear so many birds from one point and project that number across North America is mind boggling to contemplate.
During my time in the dark I heard many other creatures besides the migrants – two Barred Owls called back and forth, a Great Horned Owl vocalized, a coyote pack howled nearby, I heard the many sounds of small creatures around me, probably snowshoe hares and other small mammals, and the incessant sounds of the porcupines, which vocalized from midnight to 12:45 a.m. It is breeding season for porcupines, a time when they become quite vocal. They have a long gestation period of 210 days.
I also saw 2 meteors and the Milky Way band in a brilliant starlit sky!
I often wish I didn't need sleep – so much goes on in the nocturnal world, and I hate to miss any of it. I hope that others have had the opportunity to listen to the unseen river of migrants overhead at night – it is truly remarkable.