Few experiences birding get me more excited than adding a new bird to my Queens list. Of course, as the list grows it gets more and more difficult to add something new to it. My latest addition, a Parasitic Jaeger off the coast, finally got me to my 289th bird, well over a year since I got my 279th. Because it is much more interesting to predict the birds that will get me to my 300th Queens bird I will break from my tradition and predict my next eleven birds this time unlike the last three times I played this game and predicted my next ten.
Before we go any further I will share the predictions from the last three times I played this game and put an asterisk next to the birds that I subsequently spotted in my home borough:
3 July 2010                                  31 October 2010           11 April 2011
Cory's Shearwater              Snowy Owl*                 Purple Martin
Eurasian Wigeon*               Short-eared Owl*         Eurasian Wigeon*
Yellow-breasted Chat*        Long-eared Owl           Cory's Shearwater
Marbled Godwit*                 Snow Bunting*            Greater Shearwater
Brown Pelican                     Lapland Longspur       Sooty Shearwater
Royal Tern*                         Common Eider*           Buff-breasted Sandpiper
Eastern Bluebird*                King Eider*                 Whimbrel
Long-eared Owl                   Harlequin Duck*         Connecticut Warbler*
Turkey Vulture*                  Eurasian Wigeon*        Black Vulture
Purple Martin                      Western Tanager        Brown Pelican
As you can see, my last set of predictions weren't so good, with only two out of ten guessed properly, below my previous rates of 33% and 40%. (The first time I did this I accidentally added twelve birds to my list before reviewing it. Also, it looks like I had higher rates of success on my earlier lists in the chart above because some birds were seen after I had already added ten.)
Before I guess my next ten I think that I need to figure out what happened with the last ten I guessed and what ten birds I actually did get.
Purple Martin – The darned birds keep avoiding me. Of course, the fact that more Cave Swallows have been reported from Queens than Purple Martins since I moved here means that Purple Martin is actually a very difficult bird to get in Queens.
Eurasian Wigeon – One of only two birds I guessed correctly and the last of the reasonably expected waterfowl – save Greater White-fronted Goose, which hasn't been reported since I moved to Queens – that I needed in the borough.
Cory's Shearwater – I did not seawatch enough and what seawatching I did mostly stunk.
Greater Shearwater – I did not seawatch enough and what seawatching I did mostly stunk.
Sooty Shearwater – I did not seawatch enough and what seawatching I did mostly stunk.
Buff-breasted Sandpiper – Shorebird season was lousy this past summer and I didn't get lucky.
Whimbrel – Shorebird season was lousy this past summer and I didn't get lucky.
Connecticut Warbler – The next-to-last of the expected wood-warblers to get added to my Queens list. (The last was also spotted.) Now all I need are vagrants like Townsend's Warbler and Black-throated Gray Warbler. (The link for Connecticut Warbler, by the way, leads to a bird I wasn't sure about but that same day I had one that left no doubt in my mind.)
Black Vulture – Despite a marked increase in Turkey Vulture sightings – nine since March of 2011 when I had my first in Queens – Black Vultures remain stubbornly absent from the borough (only two sightings reported to eBird in Queens since 2008).
Brown Pelican – Though two have been reported to eBird since 2008 this bird is even more of a long shot than Black Vulture.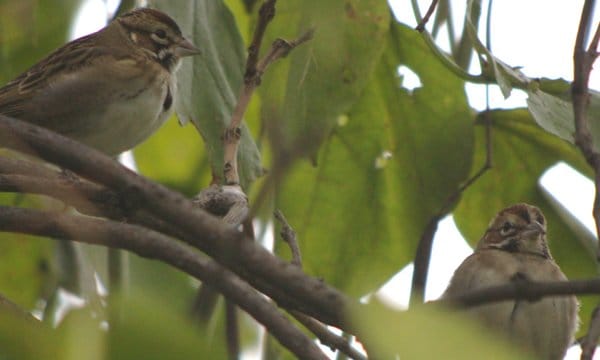 Two of the four Lark Sparrows I have seen in Queens
Two out of ten is not good enough, leaving me smack-dab on the Mendoza Line. I must do better! But I can't leave you wondering what ten birds I did see, can I? Here they are in chronological order:
 Grasshopper Sparrow – 21 May 2011 – A bird I wasn't even thinking of until I found one singing at Edgemere Landfill. Sadly, it did not stick around to breed though I thought that it might.
Lark Sparrow – 26 August 2011 – Also at Edgemere Landfill, the first of four I saw in the borough last fall.
Connecticut Warbler – 25 September 2011 – The aforementioned bird at Kissena Corridor Park during a period where it seemed that every good migrating passerine was being found there.
Clay-colored Sparrow – 25 September 2011 – As I said, Kissena Corridor Park was really hopping at the time. I wish I had put three sparrows on my last list instead of three shearwaters.
Eurasian Wigeon – 05 November 2011 – The bird I mentioned before, at Jamaica Bay's East Pond.
Harlequin Duck – 01 January 2012 – A great way to start the year at Fort Tilden, and it made up for missing several the previous winter.
Snowy Owl – 04 February 2012 – A bird that was long overdue and one that I had predicted on my previous list but not on the most recent. The Snowy Owls at Breezy Point also ignited a firestorm on the state listserv.
Red-headed Woodpecker – 10 March 2012 – A bird that I had not predicted seeing, oddly, and the last of the expected woodpeckers of Queens to meet the business end of my binoculars.
Yellow-throated Warbler – 05 April 2012 – I had inexplicably missed this bird in 2011 when one spent a couple of weeks in Forest Park. I wasn't going to make that mistake again and I had a great time seeing the one that showed in Alley Pond Park.
Parasitic Jaeger – 13 May 2012 – I spotted this bird off the coast of Breezy Point chasing a Common Tern on Sunday. The only seabird of the group and it figures it is one that I hadn't predicted!
my first Queens Snowy Owl
What will be the next eleven birds that I see in Queens that will finally get me to the magic 300? It will likely take me over a year from now to get there so I can't take the strategy that I did previous years and try to guess by what season is coming. Some of the birds I have already predicted but some will be new. An added wrinkle is the fact that occasional pelagic trips are being organized in Queens waters lately which tempts me to go seabird-heavy again though I will try not to go overboard…
Cory's Shearwater – It is time I got one
Greater Shearwater – Ditto.
White Ibis – Two juveniles were spotted last year at Jamaica Bay but they turned out to be one-day wonders. After the sheer number of birds that vagrated to the northeast last year I have to think that I will find a post-breeding juvenile wandering, probably at Jamaica Bay.
Rough-legged Hawk – One of these will finally cross my path in Queens this fall or winter, probably along the coast or at Edgemere Landfill.
Whimbrel – I really need to see one of these. It will probably be as a flyover at Jamaica Bay or along the coast.
White-winged Crossbill – I have a feeling that they will irrupt this coming winter and I will be waiting to check them off of the box next to the already checked box for Red Crossbill.
Long-eared Owl – The last of the expected owls that have not yet been checked off. I am sure that they are present every year but they are remarkably difficult to find, with only one bird reported to eBird in the last five years in Queens.
Alder Flycatcher – I am not sure how I have never had one in Queens but I better get one soon because if I don't get one singing in spring I certainly won't be able to identify a silent one in autumn!
Western Kingbird – I have missed several of these vagrants over the last couple of years and don't want to miss another!
Wilson's Storm-Petrel – This is another seabird that should have been checked off long ago.
Brown Pelican – I refuse to acknowledge the unlikeliness of my finding one.
What do you think? Any other suggestions as to what I might add to my list? When do you think I will reach the magic 300?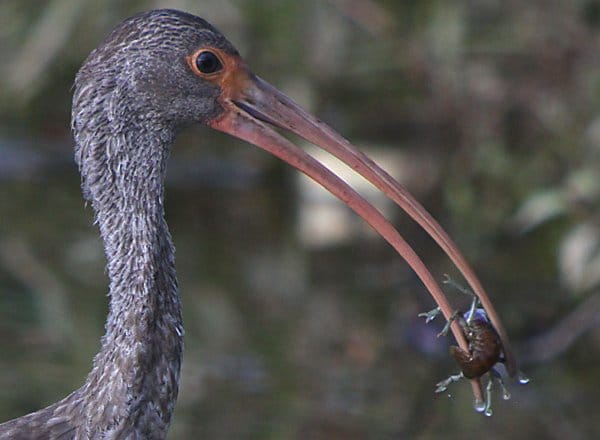 I hope to add a young White Ibis like this to my Queens list
…