I've been reading Bernd Heinrich's Summer World lately and was struck by his description of the song of the Red-winged Blackbird as "oog-la-ee." For some reason I had thought that the universal representation of their song was "Honk-a-ree." Being a bibliophile I had another bird book in reach, Pete Dunne's Essential Field Guide Companion, and I checked his description and was surprised to come up with "tur-a-leee." This clearly required more research!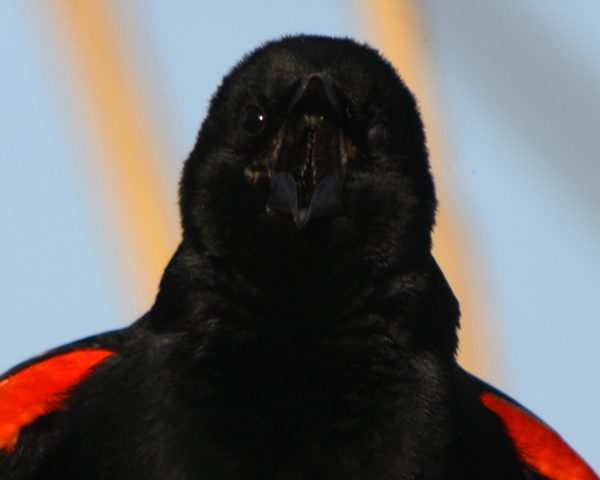 What follows is a rundown of a dozen different authors' take on the song of the Red-winged Blackbird. Please note that no one uses the exact transliteration that I thought was universal but one does come close.
Bernd Heinrich "oog-la-ee"
Pete Dunne "tur-a-leee"
Richard Crossley "get-me-teeee"
Roger Tory Peterson "konk-la-ree" or "o-ka-lay"
John Kieran "konkaree"
Kenn Kaufman "aawnk-ah-rrreeeeeeee"
Bill Thompson "conk-a-ree!"
Norman Arlott "ok-a-leee"
Bob Levy "konk-la-ree"
Herbert Job "conk-a-ree"
Calvin Simonds "Honkaree!" or "Belongs to meee!" – a subjective description as a bird was stealing his newly planted corn
David Sibley "kon-ka-reeeee"
What do you think Red-winged Blackbirds say?
…