Migration mania is upon us in the world's temperate zones. It doesn't really matter what I say here: most of you are too busy chasing peregrinating passerines! So where are you birding this weekend and will you be doing anything else? 🙂 Share your plans in the comments below.
I have a new binocular harness I'm very excited to try out (the S4 LockDown Optics Deployment System) so getting out in the midst of migration will provide the perfect field test. Speaking of tests, Corey will be at Cape May, NJ to help the Swarovski Optik team take the Swarovski Carbon Footprint Cup in the 28th Annual World Series of Birding.  Honestly, though, he'll just be trying to survive the first ever (so far as we know) birding triathlon and not fall off a bike, capsize a kayak, or trip over his own feet!
Whatever your plans this weekend, make time to enjoy SkyWatch Friday. Also be sure to come back Monday to share your best bird of the weekend! And while you're here, why not enjoy our awesome Wood Warbler Week?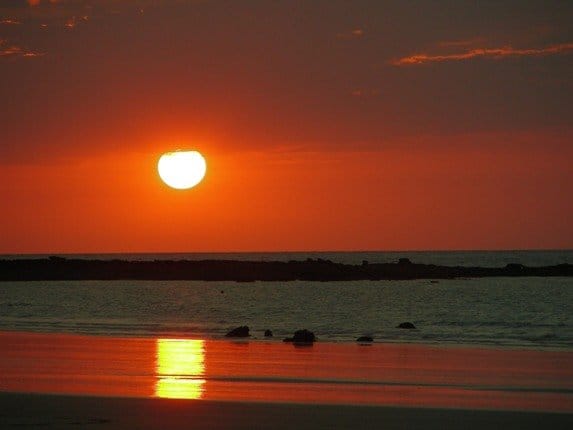 Only a gorgeous sunset off the coast of Broome, Australia  compares the fiery orange of a Blackburnian Warbler's throat. Broome is also a perfect place to spot Beach Stone-curlews, which are pretty cool for non-warblers.