Whatever you've been waiting for, this weekend may be it. I'm hardly attuned to the specific interests of residents of the other continents, but I know my North Americans pretty well and the United States  has much to appreciate right now. We've got thrilling competition scheduled in our most awesome sport, while playoffs rage in our second best sport; aficionados of other athletic endeavors don't lack for diversions either. The United States right now also boasts generally mild weather, a stable albeit depressed economy, and fat, juicy apples hanging from low branches from sea to shining sea. Last but not least, birds are on the wing, possibly headed towards your local patch right now! So what will you be doing this weekend and will you be birding? Share your plans in the comments below!
I'll be driving down to NYC with my kids for a family fun weekend. Unfortunately, I don't think I'll be able to meet up with Corey as he scours coastal Queens for Dickcissels, Lark Sparrows, and Western Reef Herons.
Whatever your plans this weekend, make time to enjoy SkyWatch Friday. Also be sure to come back Monday to share your best bird of the weekend!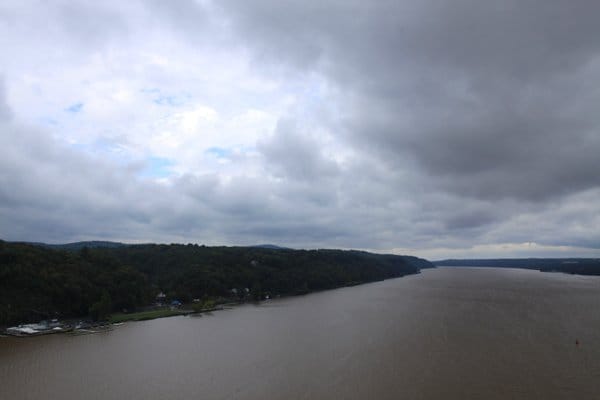 The mighty Hudson, my favorite river, from Walkway Over The Hudson State Historic Park