If there is one thing that Kiwis care about, it's birds. No, wait, not birds. Rugby. Kiwis care about rugby. A lot. Rugby Union, to be specific (not Rugby League) and most particularly they care about the national team, the world famous All Blacks. This makes it a particularly exciting time in New Zealand as the Rugby World Cup begins in two days, and the competition is being held right here in New Zealand (I would imagine they might be more excited if they hadn't just lost two matches to Australia and South Africa, their big rivals in the Tri-Nations). New Zealand is expecting a lot of visitors for the next two months, and is correspondingly hiking up their prices as high as they'll I mean getting ready for them. One thing visitors love to see in New Zealand is Kiwi, the national (sort of) bird, and they also enjoy seeing some of the other birds the place has to offer. To that end please enjoy this quick guide of where to go birding and wildlife watching when based at any of the many World Cup locations. The cities listed are those hosting matches in the World Cup, and the destinations are all manageable day trips from those cities (with a very small number of exceptions). Don't forget you can also see some wildlife on the road as you go!
Hamilton
Close to Auckland and New Zealand's fourth largest urban area, Hamilton is still close to some great birding. Perhaps the best location is the Shorebird Centre at Miranda on the Firth of Thames, which hosts a mix of migrants from the high Arctic as well as some more local arrivals. The highlight of Miranda is probably the bizarre Wrybill, a lopsided local migrant which is easiest to see here than anywhere else in the world.
Napier
It is possible that anyone visiting the Hawkes Bay region might find it hard to muster the will to escape from the region's many fine vineyards. If you do decide to give your liver a rest then rest assured there are birds to be seen here. Sadly the great gannet colonies during the July to October period to protect the birds, but if you head up to Boundary Stream  you'll find a good mix of lowland and mountain forest where active management is keeping forest birds going. A good place to see the enigmatic Kokako.
Invercargill
The bottom of New Zealand and you'd be forgiven for thinking the end of the world is where you'll be heading if you're following Argentina, Scotland, Romania or Georgia. In actuality, you've lucked out, you're near The Catlins, a dramatic area of well preserved temperate rainforest. This is a good place to see the endangered and beautiful Yellowhead and the endemic Yellow-eyed Penguin. At sea there are also New Zealand Sea Lions and Southern Right Whales. If you have longer to spend in the area then head on over to Stewart Island; for one thing it is one of the best places to see wild Southern Brown Kiwi!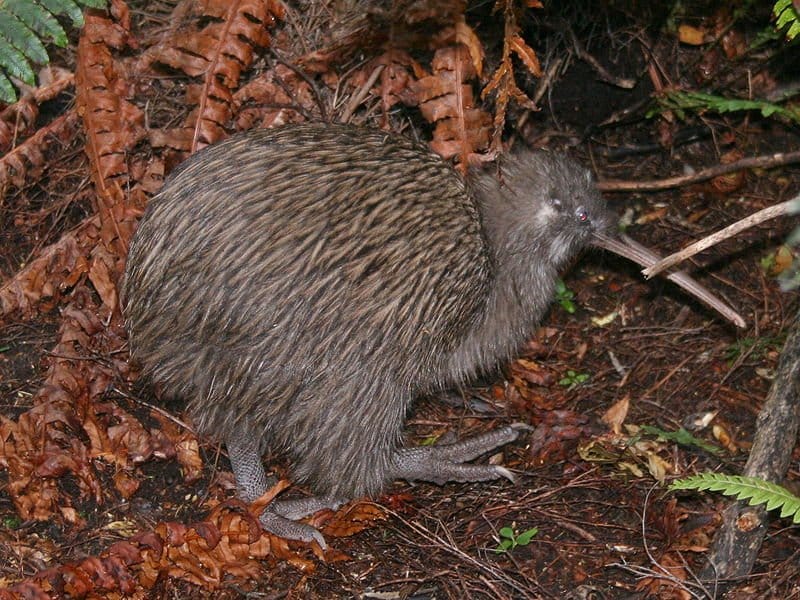 Stewart Island Tokoeka (Apteryx australis) are often the highlight of a visit to Stewart Island. Image by Glen Fergus. (Creative Commons Attribution Share-alike)
Dunedin
You don't have to go very far to see spectacular seabirds in this southern city, the adjoining Otago Peninsula is home to the only mainland colony of albatrosses in the world. Along with the Northern Royal Albatrosses the peninsula also has a good population of Yellow-eyed Penguin, and you don't have to get on a boat to see either! North of Dunedin is Orokonui, a wildlife Sanctuary modeled on Karori with a fence to keep introduced mammals out. And to the south are The Catlins, mentioned above. You really are spoiled here.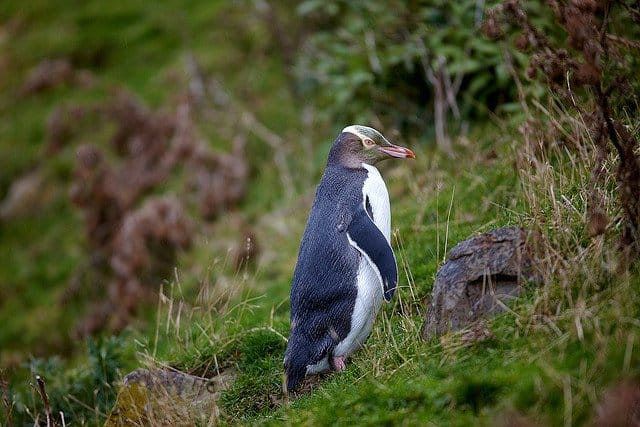 Yellow-eyed Penguin at Otago Peninsula. Image by Dunedin NZ, Creative Commons.
Palmerston North
North of Wellington, perhaps your best bet for birding is to head over the hills to Mount Bruce. The site serves as a breeding centre for endangered birds and animals, and you can walk around large aviaries and even a night house to see captive kiwi. The centre has a daily feeding of wild Kaka, making it easy to see this large parrot. It is also possible to go for walks in the surrounding forests to see birds like Kokako and Riflemen.
New Plymouth
On the west coast of North Island, the region is dominated by the massive Mount Taranaki. A National Park protects the forest on this mountain, which is visible from many other parts of the country. Blue Ducks have been reintroduced to the streams of the mountain, and there are plenty of trails to walk along.
Nelson
The sunniest part of New Zealand is situated at the northern end of South Island and is close to two great parks, Abel Tasman to the north and Nelson Lakes to the south. Abel Tasman is popular for its easy hiking trail along the coast and kayaking, keep an eye out for New Zealand Fur Seals and Spotted Shags. Nelson Lakes is the site of an intensive pest control programme to protect the Southern Beech forest, helping protect Kaka, Tomtits, South Island Robins and the Great Spotted Kiwi.
Rotorua
This town in the centre of North Island and is famous for its smell! Actually, the smell is only part of the package, Rotorua is placed (precariously perhaps) on a highly active geothermal area, and is popular with visitors coming to see and swim in the hot springs. If you can prise yourself away from the spas be sure to head for the Kiwi Encounter Centre. The Centre takes kiwi eggs from the wild, when they are vulnerable to introduced predators, and rears them until they are old enough to survive in the wild. Sptember is the start f the chick rearing season, making it a great time to see not just a kiwi but a chick! If you're after something a bit wilder head over to Mokoia Island in the middle of Lake Rotorua for North Island Robins and Saddleback.
 Whangarei
New Zealand's most northerly city and smack bang in the middle of the Northland region, those seeking to experience wild New Zealand have a dizzying array of choices here. Slightly to the north is Tutukaka, gateway to the world famous diving site at the Poor Knight Islands. Also within reach are the greatest surviving expanses of kauri forests. A visit to one of these primeval forests, Trounson, also provides one of your best chances of seeing wild North Island Brown Kiwi. Your other best chance is to spend the night on Aroha Island in the Bay of Islands, north of Whangarei.Finally, between Auckland and Whangarei is Warkworth, setting off point for great pelagic trips in the Hauraki Gulf.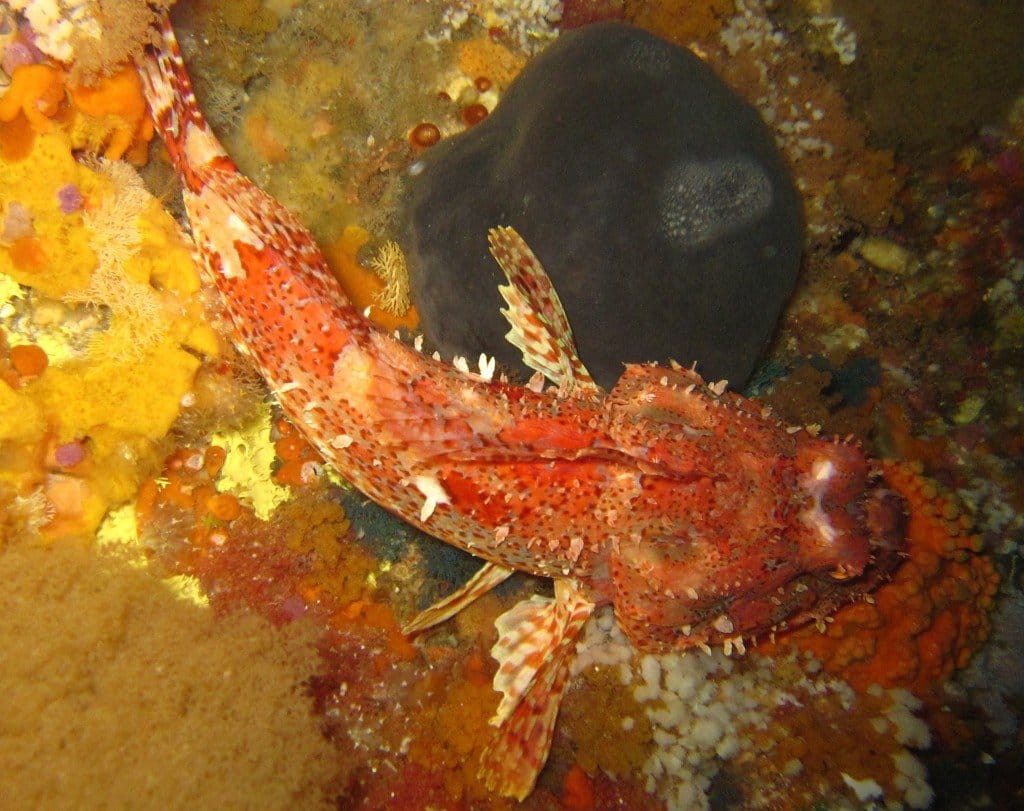 Scorpionfish hiding on a jewel-encrusted wall at Poor Knights. Image copyright Ingrid Knapp.
Wellington
Visitors to New Zealand's capital have an opportunity to see wild kiwi without even leaving the city thanks to the innovative Karori Wildlife Sanctuary/Zealandia. The sanctuary has a population of Little Spotted Kiwi, as well as a range of other rare species such as Takahe, Stichbirds, New Zealand Falcons, Brown Teal and Red-crowned Parakeets. For a limited time during late September and early October the sanctuary will also be hosting Sirocco, the ambassadorial Kakapo! Wildlife opportunities don't stop there, you can watch New Zealand Fur Seals at Red Rocks, hunt for Blue Penguins on a stay at Matiu/Somes Island, and have your bags rummaged through by Weka and Kaka on Kapiti Island.
Auckland
Finally, New Zealand's largest cities and the places hosting the opening game and the final. Even if you never leave the city you can see Kereru (New Zealand Pigeon) and Tui easily enough in the suburbs and parks, but a quick ferry ride from the centre of the city takes you to Tiritiri Matangi, with all the forest birds you could want (including Greg the Naughty Takahe). Other islands in the Hauraki Gulf are also possibilities, including the lovely Great barrier Island. Also nearby are the Ark in the Park, a wildlife restoration project in the Waitakere Ranges, as well as the shorebird Centre at Miranda and the pelagic trips out of Warkworth.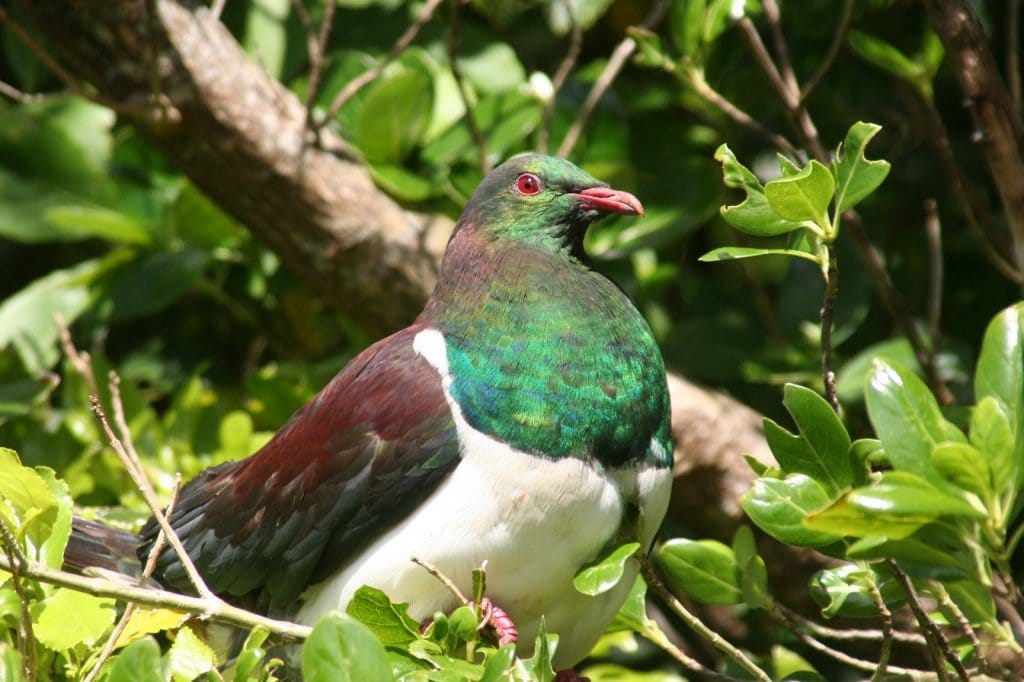 Kereru or New Zealand Pigeon. This spectacular bird is seen across New Zealand from city suburbs to far-flung islands.