Traveling back home from a California Burrowing Owl Consortium meeting last week, I stopped at the Colusa National Wildlife Refuge, which is part of the Sacramento National Wildlife Refuge Complex just north of Sacramento. I didn't really have time to stop, but as I was passing by, I saw hundreds of American White Pelicans fly up and thought I'd better take a drive through and see what else was there.
I spotted a Eurasian Wigeon amongst the American Wigeon right out of the gate, but that wasn't the best sighting of the day. On the way out I spotted a lone White-faced Ibis (Plegadis chihi) engaged in behavior I had not seen before. It was foraging in breast deep water.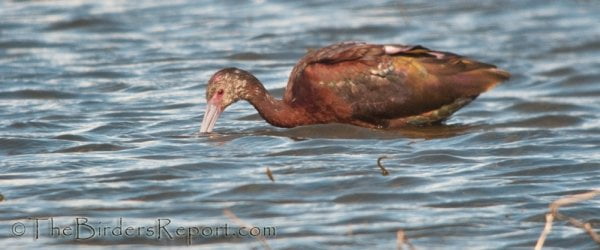 Being winter, this bird is in non-breeding plumage with more brown upper parts and lacking the white face it acquires in its aternate (breeding) plumage.
I have seen Ibis foraging in flooded fields and mudflats but not in water this deep (click on photos to see full sized images).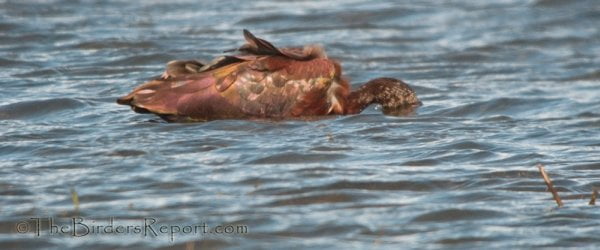 I watched it for quite awhile as it stuck its head and neck completely under water while foraging.
After several minutes of this deep water foraging behavior, this White-faced Ibis made its way toward me into more shallow water
Posed for a little while, and then began to preen
I'm glad I took the time to visit Colusa National Wildlife Refuge on this day.  You never know what you might see!