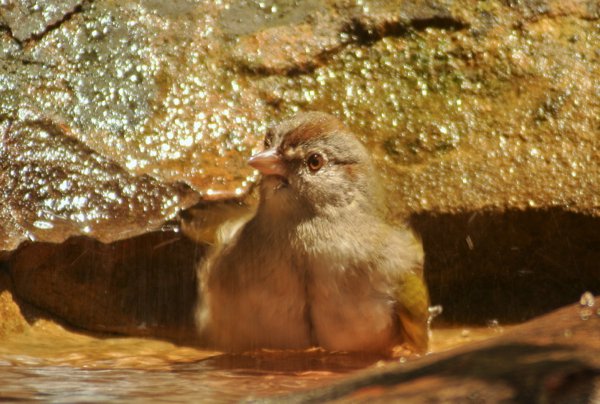 Common questions I get:
"I put out a bird bath and no birds are using it. Why?"
or
"I have a heated bird bath and I never see birds at it.  Do they not like it?"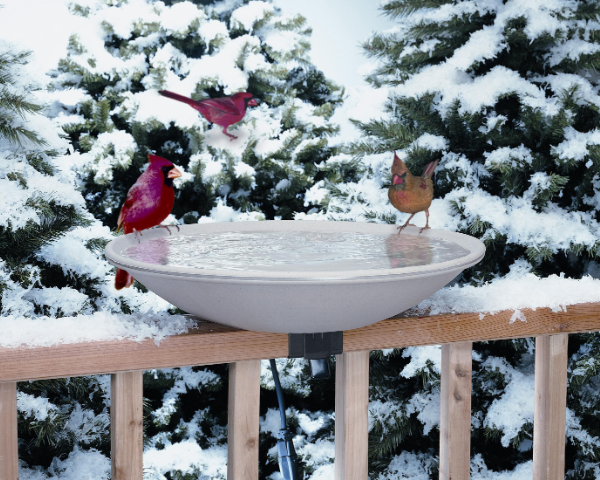 This is a typical heated bird bath known as the API Heated Bath. When I worked at the bird store it was a popular model because it held a lot of water in the winter and could be mounted on a deck or pedestal and could be used year round.  The company that made it thought deeper is better because the water would evaporate quickly in winter and with more water, you wouldn't have to fill it as often.  Well, that's not exactly what the birds prefer (despite the CGI cardinals in the above photo). As the water evaporates, the birds will have a tough time reaching it from a steep slope like that when they are perched on the edges of the bath.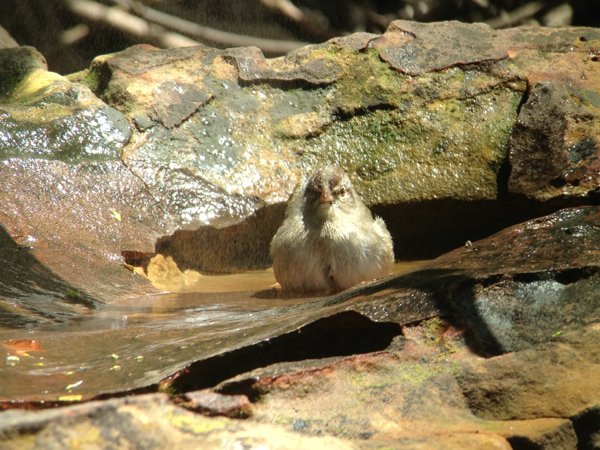 Chickadees, finches, nuthatches (and the above Olive Sparrow)  are tiny and deep water is a danger for them–even something only as deep as three inches. They prefer very shallow water to safely sip and occasionally bathe in (smart birds know not to use a heated bath for bathing in freezing temperatures). And most heated baths are made from plastic (because terra cotta and cement will crack in winter). Even larger birds have a tough time on a smooth plastic surface.  So if you are going to use a deep bath, you'll need to find a way to add some rocks or sticks that will give smaller birds easier access to the water.
From there, be patient and the birds will find it.