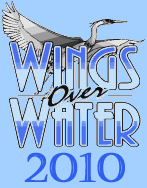 This is a big weekend for North Carolina birding.  For the 14th consecutive year the Outer Banks, the string of barrier islands that jut out into the Atlantic Ocean, hosts Wings Over Water, one of the largest nature festivals in the Southeast and an opportunity to celebrate the islands and nearby inshore areas that are such an amazing and underrated wildlife experience.  And for the 5th consecutive year, I get to bemoan that fact that I wasn't able to make it out there, a situation I've long intended to rectify.  This is especially painful this year as the keynote speaker is none other than Bill Thompson III, editor of Bird Watcher's Digest, blogger, and fellow 10,000 Birds beat writer.  No doubt we could commiserate on the untoward way in which Mike, Corey, and Charlie shanghaied us all into this situation (I, for one, was promised candy), but that's neither here nor there.  The bottom line is that as an active Carolina birder I have no real excuse for leaving this gathering off my life list for so long.  One of these days…
But I digress.  The celebration of this part of the state, and country, is entirely appropriate.  Eastern Carolina offers one of the largest concentrations of wintering waterfowl on the east coast, and the opportunities for birders to enjoy them are many at the half dozen National Wildlife Refuges that dot the region.  If you want clouds of Snow Geese and Tundra Swans, we've got them.  Redheads so thick they look like Starlings?  You know it.  Short-eared Owls on silent wings?  Yup.  Sparrows, Shorebirds and Rails to test the dedicated?  Check, check, check.  Not to mention the non-avian highlights, things like Black Bear, Red Wolf, and the potential for migrating whales from shore. I probably don't need to go on.  Birders in the Southeast should definitely do as I say and not as I haven't done and check it out.  At the very least, I hope I've made a case for eastern North Carolina as a real deal birding destination as it's one of my favorite places in the world.
But I want to broaden the discussion to incorporate a part of Wings over Water that has long been a contentious issue among the Carolina birding community.  As with any gathering of birders, often regardless of skill level, some good birds are seen (for the purposed of this essay I'm going to assume that we all understand that the term "good" is used colloquially to refer to rare or unusual species, not a judgment as to the inherent value of a given species, savvy?), birds that are of interest to those who may not have been able to, or chose not to, attend WOW that year, but birds that aren't out of the realm of possibility for someone interested in a long twitch, for instance.  In the past, the trip leaders for WOW have tried to keep some of the better finds under wraps for the duration of the festival, a decision that is inevitably criticized on local listservs by birders who clearly didn't attend the festival.
I sort of understand this.  After all, being able to see those kind of birds is a perk of attending and I never felt as though I was missing a whole lot by festival organizers waiting until the Monday after to post the official list no matter how cool a North Carolina Shiny Cowbird is, except when I was running my state Big Year back in 2008 (and I was probably unhealthily on edge most of that year anyway).
On the other hand, attending a festival can be an expensive proposition, and by refusing to publicize a vagrant a low-fund birder who otherwise might really like to see a given species runs the risk of missing a bird that may be well on its way by the time the word gets out.  The bird is in an otherwise publicly accessible location after all (in most cases), and you could make a strong argument that the attendees are paying for expert leaders and experience rather than the birds themselves.  By sitting on reports, you're potentially engendering unnecessary animosity in the general birding community without gaining much in the way of protecting the advantages of the festival itself.
There's clearly a line to walk there.  I'd be curious to know how other festival organizers, trip leaders, and attendees feel about the issue, so go to town in the comments.
All that being said however, it may be all for naught.  With the advance of social technology there's really no way to keep the records under wraps anyway.  For instance, some of the attendees of WOW this week are eBirders, so a simple look at the google gadget for North Carolina shows some goodies already turning up.  A Rough-legged Hawk at Alligator River, a Saw-whet Owl on Boddie Island, a Hudsonian Godwit at Pea Island.  If you're a state lister around here, those are some seriously good pick-ups, and you could go get them without needing to be a part of the festival itself.  And I'm sitting here reading on my twitter feed that folks attending the Rio Grande Valley Birding Festival in Texas had a Ruddy Ground-Dove at Estero Llano Grande yesterday morning.  The birds are there, and people can't help sharing their excitement with the greater birding community.
That's what the festival is selling anyway, excitement about the birds and birders of a certain part of the country.  Wings over Water offers that in spades.  Now if I could just find the time to get out there…
Update: In fairness to the fine folks who run Wings Over Water, I should point out in the main body of the post that the impression that WOW officially sits on interesting sightings is, to the best of my knowledge, an unfortunate rumor (per Kent Fiala in the comments).  It certainly isn't my intention to propagate such a rumor if it isn't true.
That said, the decision as whether to actively promote unusual sightings as they occur during a festival to non-attendees is one that different festivals may choose to handle in different ways.  The complicated advantages and disadvantages of that practice still stand to be discussed.