When I was a kid, my mother used to recite a poem every time it was about to snow in Indiana:
"The North Wind doth blow, and we shall have snow, and will will Poor Robin do then? Poor thing!  She'll go into the barn, keep herself warm and hide her head under her wing.  Poor thing!"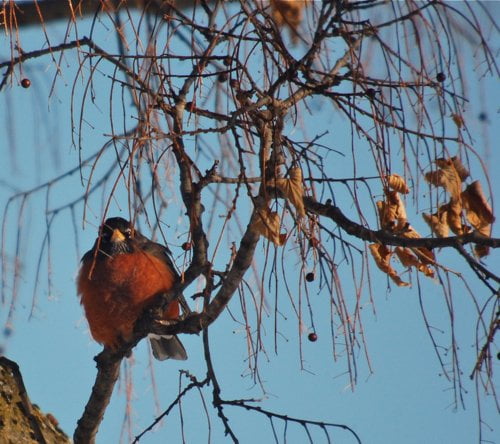 It was her take on an English nursery rhyme that she probably heard from her mother.  I'm guessing the original robin was a European Robin and it was applied to our American Robin.  I was dubious about it as a kid, there weren't too many barns in our urban Indianapolis neighborhood.  Most non birding people think robins get the heck out of Dodge in winter, laying low in Central and South America, foraging on exotic fruits and insects.  The weathermen in Indiana saw robins as harbingers of spring, "Boy, you really know that it's spring when that robin shows up, foraging among the green grass!"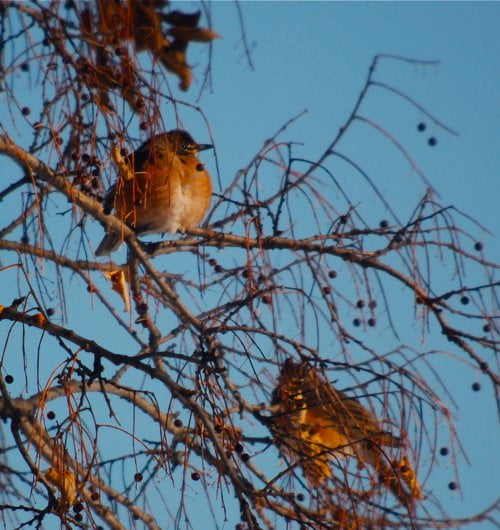 But that's not really the case either.  The above photo was taken on Monday, right after 17 inches of snow was dumped on my Minneapolis neighborhood.  We've had huge flocks of American Robins all over the Twin Cities since October, we always do.  Most people have never noticed and when they do, I get questions in email, "Hi, I'm sorry to bother you, but I could swear that I saw robins in my neighborhood today, am I crazy or is this some other bird that looks like a robin?"
I tell them that what they are seeing are American Robins, not the exact same birds they had nesting in their yards in the summer, but robins from further north, most likely Canada.  So, what do robins eat when the ground has frozen shut and snow covered their access to earthworms?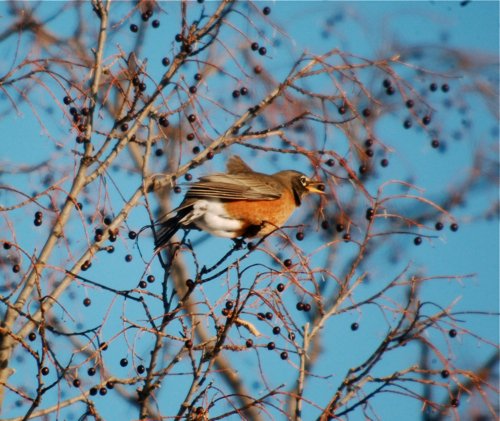 We appear to have a bumper crop of fruit on the hackberry trees in my neighborhood.  The large flocks of robins jockey for position on the thin branches while fighting off American Crows, Eupropean Starlings and Rock Pigeons for access to the food source.  According to Cornell's Birds of North America Online robins also rely on English Hawthorn and Juniper berries to make it through the winter.  I suspect some of our most hated invasive plants like Buckthorn and Honeysuckle figure in to that strategy in a big way as well.   Sometimes robins get creative and adapt to different food sources.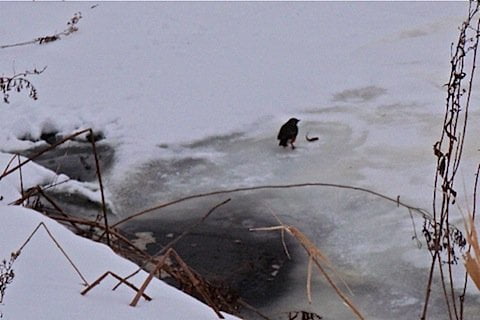 Last winter, JJ Golden emailed me a photo of a robin that was going for small fish in a Minneapolis city park.  I've seen robins hang around Twin Cities bait shops in winter, foraging on dead minnows tossed outside, but I had never seen on actively fishing.
So, perhaps my mother's nursery rhyme should change to:
The North Wind doth blow and we shall have snow and what will Poor Robin do then? Poor Thing! They go out into the trees, gorge on hackberries, beat up a few starlings and take in a little ice fishing.  Smart things!