My brother, Matt and his long-time love, Ursula got married this weekend. The event was spectacular; if you've never experienced a Bronx wedding reception, you are missing a true cultural experience. Where else in the world would an Italian tarantella be followed by the Jewish hora? The preparation for the wedding, the nuptials themselves, and the inevitable exhaustion and post-wedding family commitments took the Core Team out of commission for most of the weekend, but we did manage to steal away for a modest Sunday morning hike at Ward Pound Ridge Reservation.
Ward Pound Ridge Reservation in Cross River, NY is Westchester's largest park. Located in the well-wooded northeast portion of the county, Ward Pound Ridge boasts a variety of terrains and trails. Not only is the park one of the premier places in Westchester to spot butterflies, it is home to a variety of interesting birds. This time out, our first priority was to stretch our collective legs. If we happened to spot some special species while we were at it, so much the better.
My experience, one that I've shared quite often on this site, is that unless one is really focusing on bird watching, it's really tough to see rarities. For that matter, even the uncommon birds don't come up very often. We decided to hike the 3-mile loop with a minimum of birding breaks actually stayed true to our intentions. Mason's traditional position of honor on my back in his royal howdah also cramped my style, along with my range of motion. I mention these factors because we didn't even scratch the surface of this magnificent ecosystem's avian diversity. However, we did see, among other birds, plenty of Red-eyed Vireo, White-breasted Nuthatch, Tufted Titmouse, Black-capped Chickadee, Downy Woodpecker, Northern Flicker, Eastern Phoebe, and Eastern Wood-pewee.
On the way out, I spotted a wren which I initially thought was a Winter Wren but was actually something different, perhaps even new to us. Unfortunately, we had to run. I don't mind leaving new species on the table, as it were, since I know we'll see them all eventually. However, I was faked out by a flock of what I was sure were Field Sparrows, a common breeding bird in the park. This would have been an addition to our life list, so I was pleased with how easily these birds were found buzzing back and forth from tall grass to low branches. At a distance, they certainly looked right, but I wanted photographic evidence for the blog. Too bad I did, since the bird in the picture below is clearly a Chipping Sparrow. Confounded sparrows, why do you keep taunting me?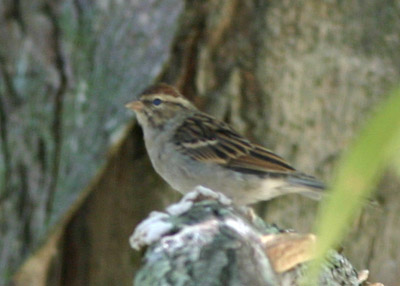 Chipping Sparrow