(with thanks to Rurality for inspiring this title)
November in Potter County, PA is usually a sodden, grim affair, replete with blistering cold and sloppy roads. This Thanksgiving was a welcome departure from the norm. The birds seemed to be as surprised as I was, frolicking as they were about the grounds of my father-in-law's hilltop estate. American Tree Sparrow and Eastern Bluebird are usually summer species only, but there they were right alongside the Black-capped Chickadees, American Goldfinches, Blue Jays, Mourning Doves, and Dark-eyed Juncos. I suppose that's what happens when you fill up the bird feeder. Actually, most of the action up on the hill took place away from the feeder. The local raven got into a tussle with one of the many roving bands of crows. Golden-crowned Kinglets, Northern Cardinals, and Cedar Waxwings took advantage of the unexpected warmth to glean over territory unclaimed as yet by bitter winter. And, last but not least, a butcher bird from the boreal made an unprecedented appearance.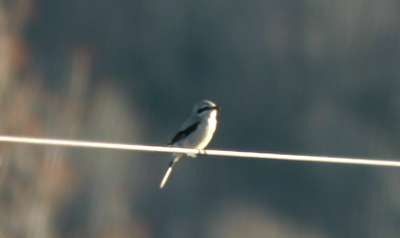 Northern Shrike
That's right… a Northern Shrike turned up not an hour after we arrived. Initially, I assumed it a Northern Mockingbird; the two birds share that sharp monochromatic ensemble. But when those black markings resolved into a brash bandito mask and the mockingbird's telltale white wing patches failed to flash, I suddenly dared to dream. The bird's heavy flight as it lumbered from telephone wire to ground and back again fed my fantasy further. But it wasn't until Sara astutely noted that our subject's tail, while bobbing jauntily, was not cocked at the pert angle associated with mockingbirds that I finally accepted the truth: the Core Team spotted its first Northern Shrike.  This bird was a beauty too. It hung around for about an hour (not impaling any prey on thorns as I hoped it might) and presumably moved on, as it didn't make any appearances after that day.
Potter County didn't offer up any other surprises, but it did yield plenty of the usual suspects. I found White-breasted Nuthatches by Ann's feeders and Red-breasted Nuthatches in their usual stand of white pines. Alma Pond supported both Common and Hooded Merganser and Downy and Pileated Woodpecker along with Mallards, Canada Geese, and at least one mature Bald Eagle. Of course, House Finches, House Sparrows, European Starlings, and Rock Pigeons were in plentiful supply. Ruffed Grouse, on the other hand, were most certainly not, despite Seth's best efforts to find me some. But why be greedy? Sure, Seth spotted a grouse on his way home and Will saw one just a few hours after we hit the road ourselves. That's what makes this abundant species, elusive only to me, my nemesis. Who cares? I already had a life bird to be thankful for this holiday season.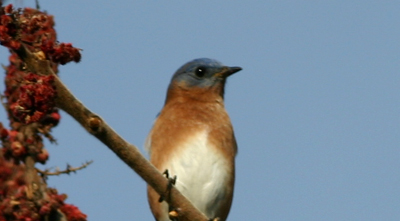 Eastern Bluebird