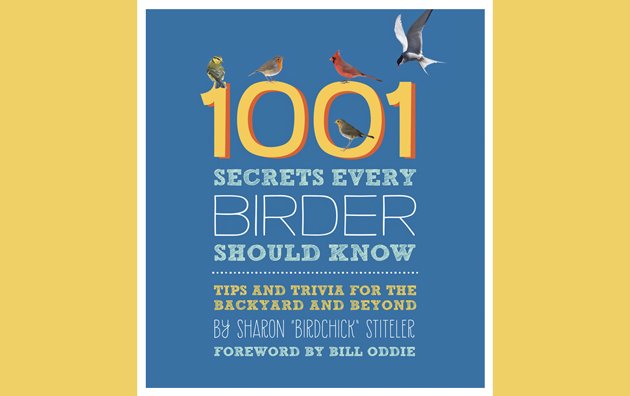 1001 Secrets Every Birder Should Know: Tips and Trivia for the Backyard and Beyond was published this month! This new book by Sharon Stiteler, also known as Birdchick, also known as one of our 10,000 Birds beat writers, is a fun way to teach people about birds and bird feeding, very much as Sharon does here and on her blog, but on paper, with a table of contents, a glossary, features like "Bird Busting!" and a lovely, colorful design.
I had a lot of questions about how Sharon traversed the path from blog to press, and she generously agreed to answer my questions during a very busy time, the Biggest Week in American Birding. We did the interview by e-mail. I really wish we had been able to talk in person. There is a lot more I want to know, like how would she illustrate a book about birder erotica? And, more tips about the Rio Grande Valley Birding Festival, my hoped-for November destination. The interview will give you insight into how 1001 Secrets Every Birder Should Know: Tips and Trivia for the Backyard and Beyond was conceived, the scope of its content. and sample pages will give you a flavor of its design.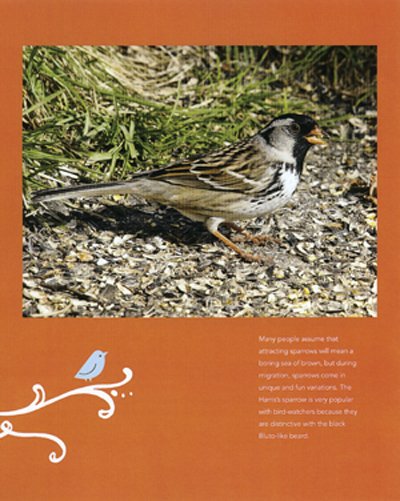 1. Are there really 1001 secrets in this book?  (I started counting, thinking there must be less, because 1001 seems like an awful lot of facts about birds, and I ended up with more than 1001!)
There should over 1001! When I wrote the outline, I did it with numbers making sure all ten chapters had 101 items in them. My editor got annoyed and said to give up being exact. But there are well over 1001.
2. Who do you envision reading 1001 Secrets? 
This is not a book for my peers. This is a book for people who have a mild interest in birds or beginning birders. I hope to give them some fun bird information for dinner parties or at least enough to get them from their homes to a cool park or even a bird festival.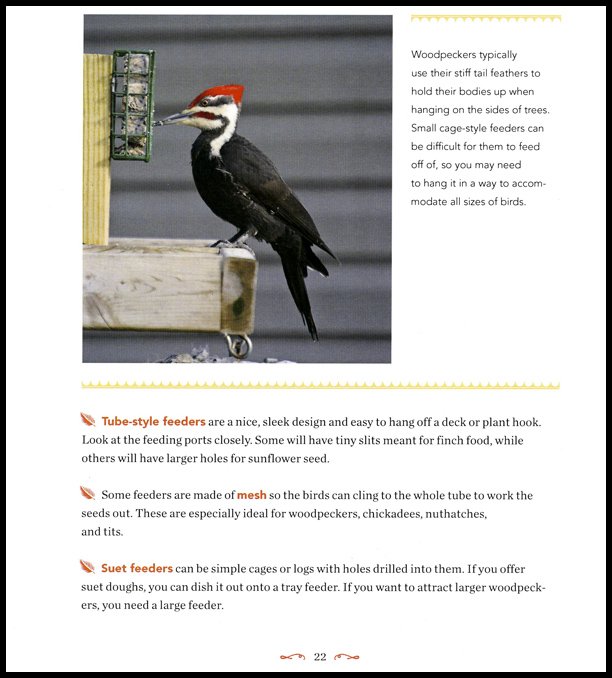 3.  How did you go from blogger to book author?  (I noticed that in your acknowledgements you thank Holly Schmidt, and say she "got this whole book rolling".  Who is Holly and what exactly did she do? Aspiring writers want to know!)
Editors have always sought me out for all three of my books.
Holly emailed me one day with the title and said, "We have this title for a book. We entered "bird blog" into Google and we liked your blog. Can you come up with an outline and a sample chapter based on that title?"
My first outline and sample chapter was rejected for being "too technical." They asked me to anthropomorphize and say things like, "eagles fall in love for life." It was really cute, they even spelled out the definition of anthropomorphism.
I decided that if I was going to anthropomorphize birds, I would do it on my own terms so, I wrote the sex chapter and made it a little PG-13 talking about necrophilia, same sex pairings and who had the craziest genitalia. They loved it and I got a contract from it.
4. Many people, including me, grow up fantasizing about being a published author. What about you? Was this one of your childhood dreams?
Ugh, as a kid, I hated writing and couldn't imagine how anyone could happily make a career out of it. My career goal was to be Octopussy from the James Bond movie of the same name.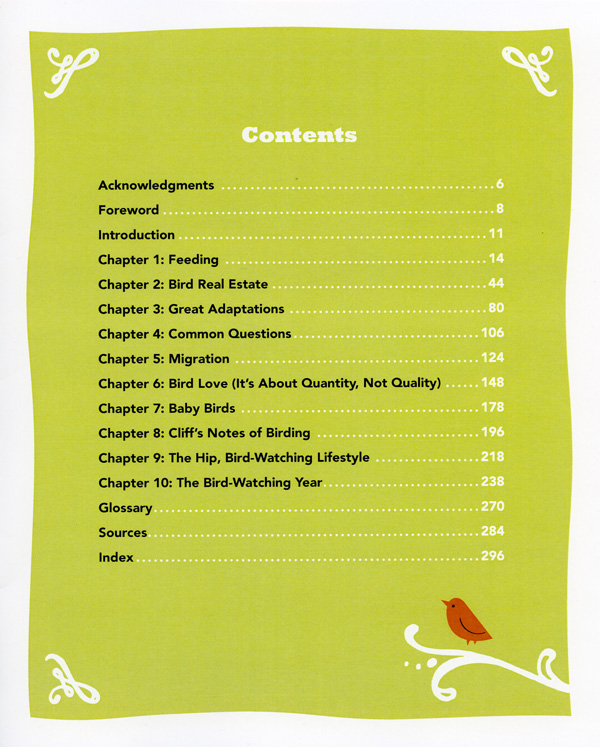 5. 1001 Secrets Every Birder Should Know is beautifully packaged and designed.  I particularly love the color palette used for chapter title pages and section headings.  I see that Jason Kayser is responsible for the "cover and interior design".  So, how did that work? Did you have any input into the book design, choice of colors, the way the photographs are positioned?  Does the book look like the book you envisioned when you started out? 
Thank you so much, I'm glad that you think so. I put my trust in Jason Kayser and my editor Goeffrey Stone. I have no head for design (it's too full of bird info). They sent around early drafts of the cover and I took a few non birding friends aside and asked what they thought of the cover. Whatever suggestions they had, I gave to the publishers because they were who I wanted to buy the book.
6.  I recognize some of the book's content and photos from your blog, Birdchick.com.  How much is from the blog and how much is original?  How did you choose what items to include from the blog? (I do think it is interesting how different these facts seem when presented in the "tips" format and on paper!)
I think I took about 85% of the photos, the rest came from blog readers. I'm excited that almost all of my photos were from digiscoping and a few were even digiscoped with my iPhone.
The content came from me remembering all the questions people ask me about birds and birding whether it be via email, blog, tv and radio appearances, social media or cocktail parties. When generating content for chapters, I would ask on Facebook or Twitter, "What is something you wish beginning birders knew when they go out in the field?" and got crowd sourced inspiration.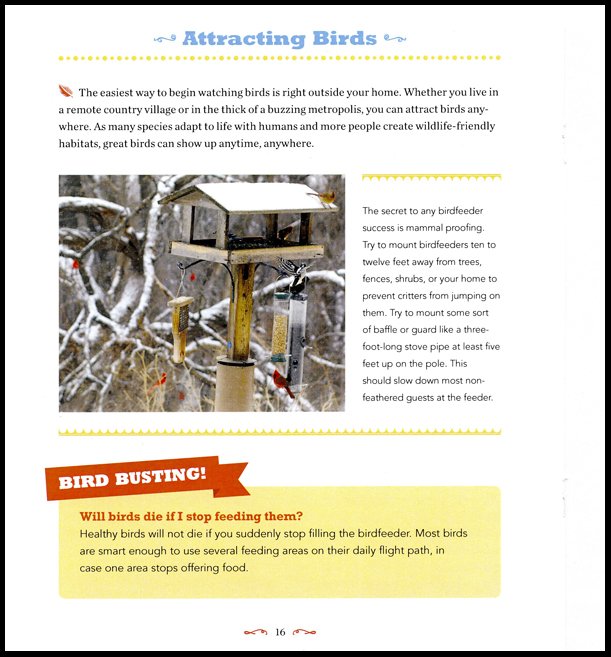 7.  I love the Bird Busting! feature, in which you expose common myths about birds and birding ("Birds mate for life!").  How did you come up with this great idea?
That was an idea early on when I was writing the initial draft. If anyone knows you are into birds, you will get the "crazy bird questions." There are so many myths out there and people who refuse to visit places like Snopes.com. If I can debunk some bad bird myths, that's great.
8. In the section The Bird-Watching Year, you go through the year month-by-month, describing what U.S. birdwatchers can expect in terms of birds and suggestions on where to go to get the "maximum amount of birds and enjoyment". You list a LOT of bird festivals here! Have you been to each and every one of them? If yes, which is your favorite? If no, which one would you like to attend next?
One event I have not attended and would love to see is British Bird Fair to see the sheer mass of people and all the crazy birding product that's offered.
I travel a lot. I haven't been to every single one, but I have been to most of them. I think my absolute favorite is the Rio Grande Valley Bird Festival in Harlingen, TX. I try to go to that one every year whether for work or fun. The birds are fantastic (Green Jays, are you kidding me?) and the people who run it are almost like family. It's kind of a mini birder reunion, because so many people go back yard after year. Plus, it's cheap to stay there and eat there and if you love authentic Mexican food, there's plenty to be had. And there's the possibility of 30 endemic species, not to mention what cool thing might zip up over the Mexican border. Everyone should go to the Rio Grande Valley Bird Fest at least once. If you're only going to do one bird festival in your life, that's the one to save up for.
My other two favorites would be the Detroit Lakes Festival of Birds in Minnesota because you can do three different biomes—one day it's prairie (bobolinks, shorebirds and Henslow's sparrows), the next boreal forest (black-backed woodpeckers and loons) and then load up on warblers in a deciduous hardwood forest. Space Coast Birding and Nature Festival in Florida is another good time—Florida. In January. Birding the beach—what more do you need to know?
9. I was surprised not to see any mention of birding blogs, even your own Birdchick.com, in the book (except for your bio). The Online Birding section talks about listservs , e-mail, local bird clubs, and the ABA.  Have I somehow overlooked another section?  If not, why the omission?
Most blogs are fleeting. There are very few that stand the test of time. Who knows if I'll even be blogging 10 months from now? The platforms are constantly changing: Tumblr, Instagram, Facebook, Twitter, G+…everybody does it in their own way and they are easy enough to find if you know how to type the word "bird" in google.
10. Now that your first book has been published, what book is next?  (It doesn't have to be a bird book, does it?) 
This is actually my third published book (not including two birding trail guides that I co-authored). My first book was based on what used to be a page of rabbit photos on the Birdchick webpage called Disapproving Rabbits. One day Harper Collins emailed and said, "We like this web page, can we give you some money and turn it into a book?" (the answer to that is always yes). I felt like a won the Internet Lottery, you create a page for fun, forget about it and then boom, here's money. My second book was a regional bird attracting guide called City Birds/Country Birds.
So far, the rabbit book has proved to be the most financially successful. I'm curious if this book will match that.
My agent would like me to write a beekeeping book (I keep bees with author Neil Gaiman) but bees are my relaxation so I'm not sure if I want to turn them into work. I do have an outline for a peregrine falcon book…and a birder erotica book. We'll see what happens.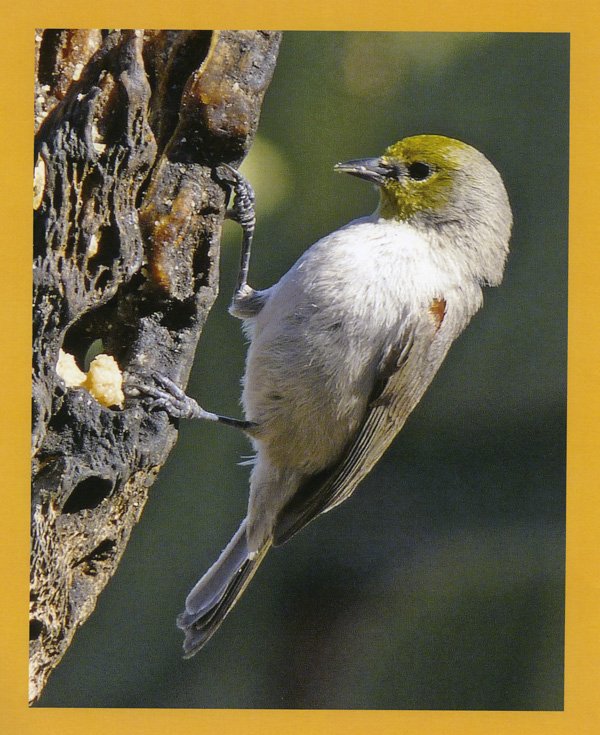 1001 Secrets Every Birder Should Know: Tips and Trivia for the Backyard and Beyond
by Sharon Stiteler, forward by Bill Oddie.
Running Press, 296 pages, $20.00 (pap); kindle edition available, $9.99.
ISBN: 0762447346