That's right, for the first time ever 10,000 Birds will field a team in a birding competition!  The annual Montezuma Muckrace, scheduled for the end of next week, will be our inaugural event.  We can't wait!  Our squad, composed of four guys hoping not to make fools of ourselves of the finest birders in New York State , will be called the Butcher Birders.  We hope to butcher the competition and not, er, butcher the competition, if you know what I mean.  Anyway, the team is Mike, me, Will, and Jory.  I'm not sure why Will and Jory are willing to waste an entire 24-hour period traipsing around with me and Mike looking for as many birds as possible but for whatever reason they have we are glad they are joining us.
The Montezuma Muckrace is an annual event that starts at 8 PM and ends on 8 PM the following day.  This year the event starts on Friday, September 12, and ends Saturday the 13th.  Teams spend the entire time searching the 34,000 acres of the Montezuma wetlands complex for as many species as possible (and at Montezuma many species are possible).  Last year's winning team, Wings over Ithaca, counted an astonishing-for-upstate-New York-in-September 140 species, and all the teams combined managed a total of 177 species!  Compared to numbers like those the Century Run Will and I did back in May around the Albany-area doesn't seem so impressive (though at the time 129 species seemed like quite a bit).
Mike already did a bit of a scout of Montezuma but we are still rather woefully underprepared.  We would like to see at least one hundred species but are still rather unsure of our route, and we have no idea about the best spots to hear owls, find rails and bitterns, see field bids, find migrant warblers, etc, etc, etc.  If you have any tips please leave them in the comments.
Even though we don't hold out much hope of winning the competition unless we actually start butchering other teams we do have hopes for another aspect of the Montezuma Muckrace, raising money to support the marvelous Montezuma wetlands complex.  You see, like many birding races, the Montezuma Muckrace is not just about counting as many birds as possible but it is also about supporting conservation, and helping to conserve a jewel like Montezuma is a task we take on with pleasure.  The overall fundraising goal for all teams is to raise $11,000 for a conservation project within the wetland and we would like to get at least a small portion of that ourselves.
So if you want to help support Montezuma drop us an email.  You can either pledge a flat amount or a specific amount per bird.  Now I know that many of those reading this have already donated to help the Sharpe's Longclaw and if that has cleaned out your budget for birding donations for the year, well, I understand.  I like asking for money as little as most like giving it away.  But if you do donate you will be in on the ground floor of what will eventually be the greatest birding team ever!  Just think, someday you'll be able to tell your grandchildren "I supported the Butcher Birders in their first competition, back before birding was a televised sport, and before those bastards got famous and forgot all about the little people."
So, to recap, 10,000 Birds is starting a birding team, we hope not to fall flat on our faces, and PLEASE HELP US, by sending information our way or pledging money to support the conservation goal of the muckrace.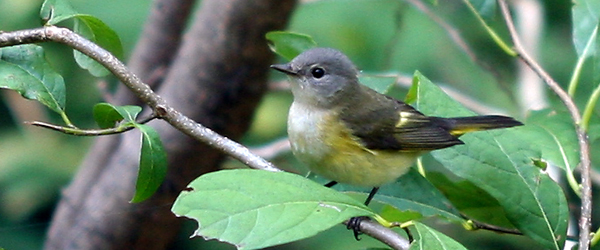 Hopefully we'll track down an American Redstart like this one and at least 99 other species!