September has arrived and with it, a flood of fall migrants. OK, maybe those are spring migrants on your side of the world. What matters is that creatures are on the move, which gives us all plenty to look at this weekend. Not that you have to restrict yourself to aerial organisms. After all, this Sunday September 7 is the second annual International Rock Flipping Day. Participation is not only easy, but fun:
First, go outside and carefully lift a stone or rock of any desired size.
Look at what lies beneath and if you're so inclined, chronicle or photograph your find so you can blog about it later.
Then, of course, put the stone carefully back in place.
Of course bloggers will blog about their rock flipping festivities but even folks who haven't dedicated their lives to micropublishing (you know who I'm talking about!) can share their findings. Just get in touch with organizers Bev or Dave (and enjoy their amazing blogs while you're at it!) or post photos directly to the International Rock Flipping Day Gallery on Flickr. I'm quite confident that upturning stones is in my future and that of my bug-hunting young children this weekend.  Corey and Charlie will probably do the same, right guys? How about you? Where are you going this weekend and will you be flipping rocks or watching birds? Comment below on the excitement you have planned!
Of course, there's no need to restrict your attention to terrestrial matters… be sure to celebrate Sky Watch Friday…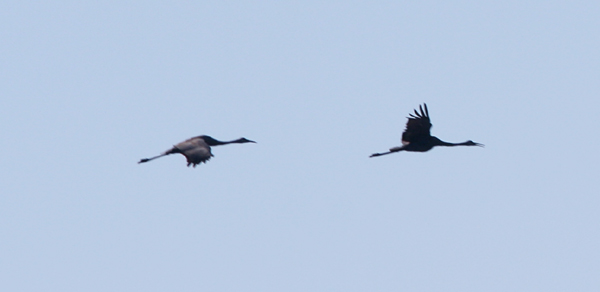 If you keep your eyes up, you might see a life bird like these, my first ever Sandhill Cranes