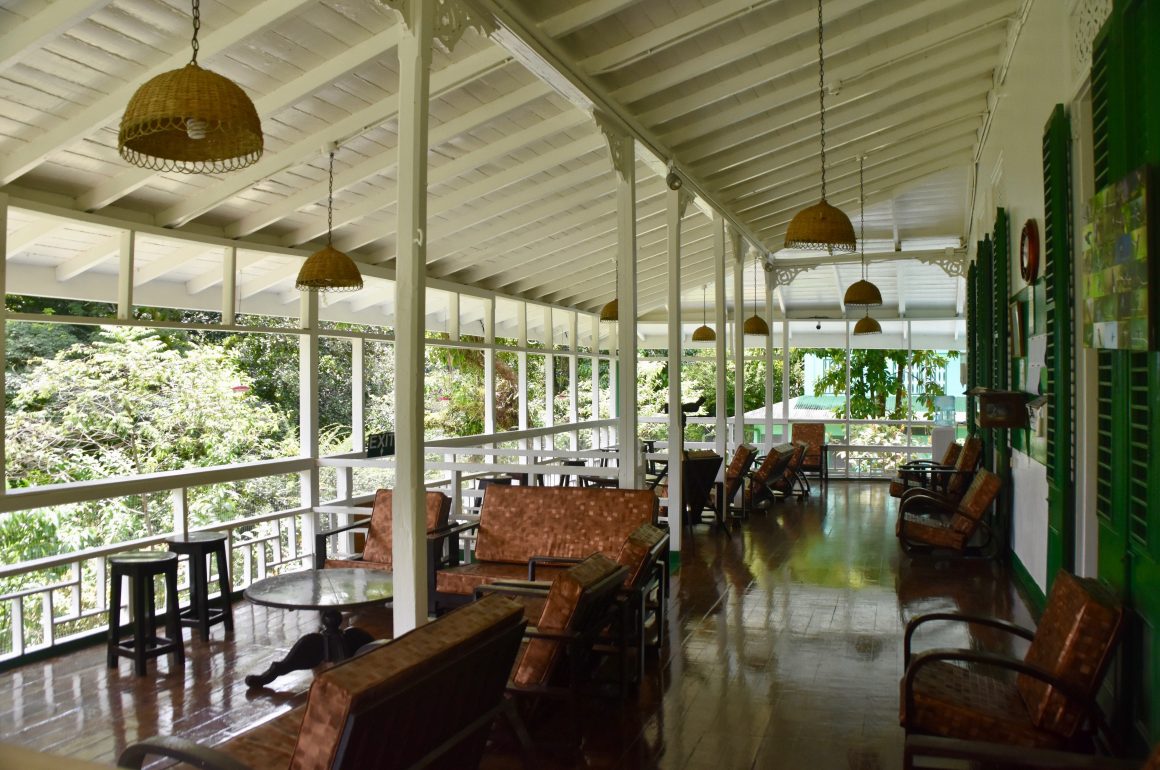 The Species per Square Mile Approach
While Colombia may have almost 2000 bird species, it is a huge country with, still, complicated long-distance travel logistics. On the other hand, small countries with relatively long bird lists offer higher species densities per square mile. And small country often equals short distances and easy traveling.
The mongabay.com portal has compared data on a unit of area basis of the percentage of the total global number of species of birds, amphibians, mammals, reptiles, fish and vascular plants. Inspired by them, but interested only in birds, this time I made my own list taking bird species density per unit of area basis into consideration.
The bird figures were compiled from avibase.bsc-eoc.org in late November 2018, following the Clements list. What I used for a country basis were tropical belt countries ranging from 1000 to 99,999 sq km of total area (land and water surface) and divided their number of birds by the surface area. Why 99,999? I had to define a small country somehow and had to stop somewhere. And why 1000? I presumed that countries smaller than that would have too few birds to be taken into consideration.
The ranking of the species-densest top-12 spots of the list looks like this: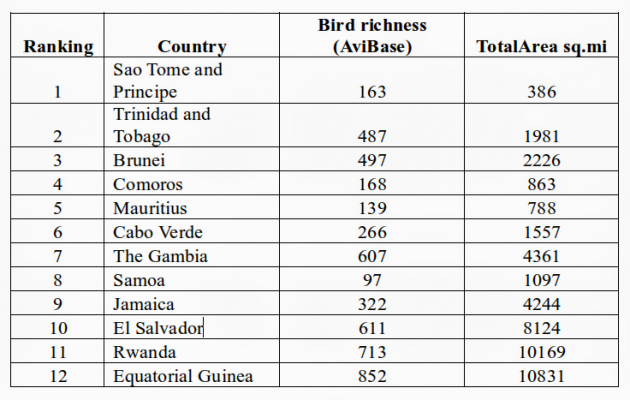 Here we are talking about far less known destinations. Seven of them are island states, or a part of a larger island (Brunei). Not surprisingly, most are underdeveloped. What comes as a surprise, two of them have already positioned themselves as known birding destinations attracting a substantial number of birders: Trinidad and Tobago with the world-famous Asa Wright Nature Centre (cover photo), and The Gambia with experienced local guides, plus cheap packages for African beginners from Western Europe.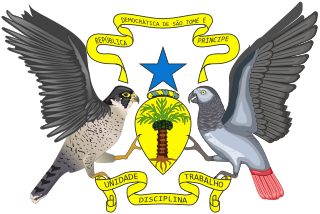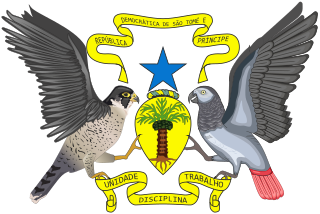 Located in the Gulf of Guinea (the "armpit" of Africa), Sao Tome and Principe doesn't only have a decent number of species overall, but with 28 endemics (staggering 18% of the total), it has a higher endemism level than the Galapagos! Almost all endemics are possible (although 2 are hard to get), among some 70 species birdable in 10 days. Even the coat of arms of Sao Tome and Principe consists of a Red-footed Falcon (in spite of the fact that this is clearly a Peregrine) on the left and an African Grey Parrot on the right holding a shield with a palm tree. The best season is December, followed by June-July.
Tinidad and Tobago offers 480 bird species, including the endemic Trinidad Piping-Guan (at Morne Bleu), Asa Wright Nature Centre and Lodge with its veranda feeders and the colony of oilbirds nearby, Caroni and Nariva swamps, etc. The top season is March, with shoulder season from December to April.
Further down the list, The Gambia offers 600 birds, with about 250 species possible in 10 days. The key areas are Kotu Creek (most hotels are there), Abuko NR, Tanji, Brufut Community Forest, Tujareng, Makasutu Cultural Forest, Kiang West NP and the neighbouring Tendaba Camp. The best seasons are November and March-April.
With an excellent safety record and quickly improving standards of nature protection and tourism infrastructure, Rwanda is a rising ecotourism star of this group. Nyungwe montane forest national park has 320 species, including 29 Albertine Rift endemics, plus excellent tarmac roads, making highland habitats more accessible than in neighboring Uganda, and the Akagera moist savanna NP offers 490 species. The best season here is from June to September.
The other African destinations in this list are quite interesting too (Mauritius, Comoros, Cabo Verde), perhaps all but Equatorial Guinea due to complicated logistics of visiting the Bioko Island, poor infrastructure and political instability.
The New Year's Day being the next birding milestone, in which of these would you like to spend it and why?