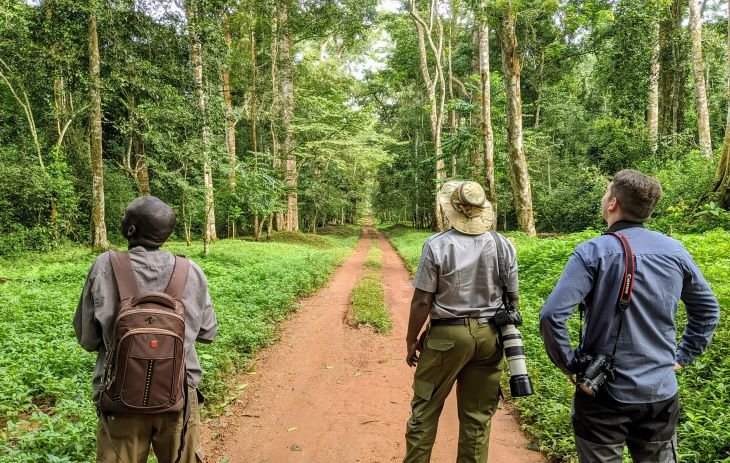 In birding circles, certain stretches of road or trail attain mythical status, eliciting knowing smiles and satisfied grins when mentioned. Aficionados of American birding know all too well the wonders of Panama's Pipeline Road. If you are into amazing avian-dense trail experiences, you either want to bird Pipeline Road or want to bird it again. But this type of singular experience can be enjoyed in the Old World as well. Africa boasts its own legendary birding road: Uganda's Budongo Forest Reserve AKA the Royal Mile.
The Royal Mile, located in Budongo not far from the southern entrance to Murchison Falls NP, opens the door to some of the most pristine forest habitat this century has to offer. Massive mahoganies, ironwoods, and figs conspire to create the kind of sky-high, neck-cramping canopy tiny songbirds favor. The lush understory supports a multitude of different ecological niches yet still affords good sightlines to spy the species within. And what a wealth of species the Royal Mile holds. Basically, this area promises the very best of forest birding.
International birding sensation Herbert Byaruhanga collaborated with local specialist Raymond O. to lead me, Corey, and some new friends to uncover the riches the Royal Mile bestows so generously. The action began almost immediately, with crackers like Uganda Woodland-Warbler, African Forest-Flycatcher, Rufous-crowned Eremomela, and the highly localized White-thighed Hornbill.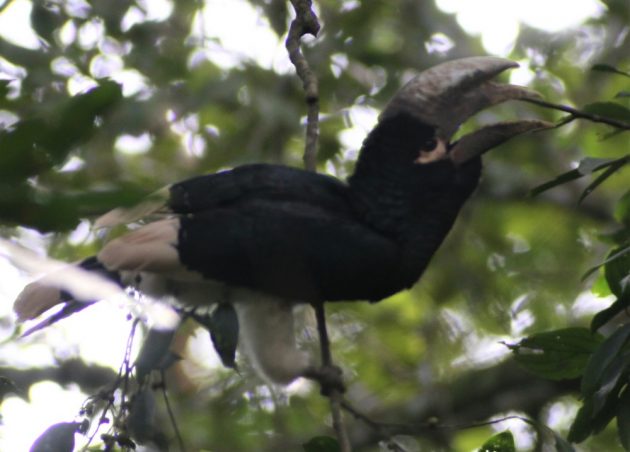 White-thighed Hornbill
It's only fitting that kingfishers rule the Royal Mile. The charismatic but furtive Chocolate-backed Kingfisher commands the most interest from birders. We mustered three excellent sightings of this bird, so beautiful that it makes brown look majestic. We also combed through enough African Pygmy Kingfishers to eke out a much rarer African Dwarf Kingfisher. Rounding out the count was near-miss of Shining Blue Kingfisher, though Raymond did point its nest. Uganda definitely delivers all the fancy forest kingfishers you could want.
Chocolate-backed Kingfisher
Speaking of nests, our guide also pointed out the hanging home of a pair of rare Lemon-bellied Crombecs, one of which was doing some housecleaning. While the species sounds delicious, the nearly tailless bird presents a very bland appearance.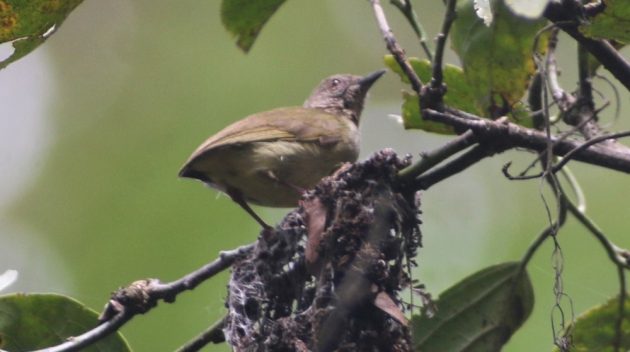 Lemon-bellied Crombec… not as tasty as it sounds
Fortunately, we spotted all kinds of other tasty birds, including but certainly not limited to Crowned Eagle, Magpie Mannikin, Red-chested Cuckoo, and a spate of sunbirds and greenbuls. The gratuitous biodiversity of this area is much enhanced by the relative ease with which targets may be seen. Anyone who has explored some of the world's remaining great tracts of forest know all too well how impossible laying eyes on the prizes within can be. The Royal Mile stands out from the rest in offers exceptional visibility, even if you have to crane your neck at impossible angles to take full advantage!
Another advantage the Royal Mile lords over most other birding locations is the presence of Chimpanzees. I expected fleeting glimpses of chimps if we saw any at all, but my first encounter with these amazing primates in the wild lasted many minutes as our respective groups peered at each other from opposite ends of the road. Although Kibale famously offers a more complete chimpanzee experience, the long views the Royal Mile served up left me plenty satisfied. And that doesn't even include crossing tracks with Blue Monkey, Red-tailed Monkey, and Tree Hyrax.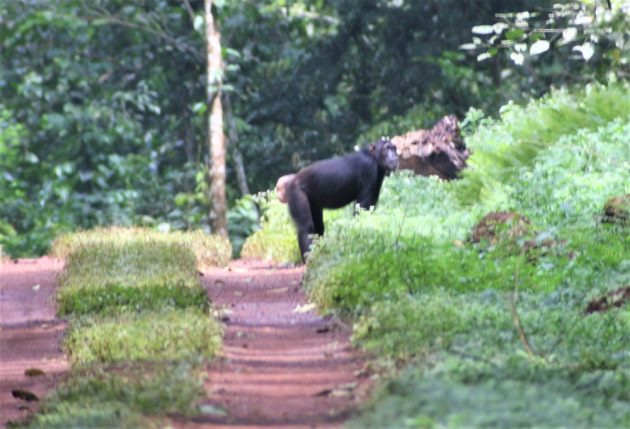 Smart chimps steer clear of weird birders
All in all, the Royal Mile earns my highest recommendation as a birding route on par with other legendary roads. Its profligate array of flora and fauna—especially avifauna—combined with superior accessibility, visibility, and proximity to both Entebbe and Murchison Falls NP make this location a must for any birders considering central Africa. Treat yourself like royalty and bird Budongo and the Royal Mile!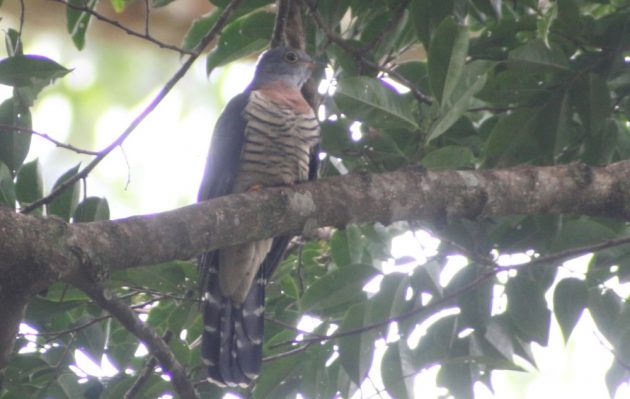 Red-chested Cuckoo
TRIP LIST (5 hours): Tambourine Dove, Great Blue Turaco, Red-chested Cuckoo, African Palm-Swift, White-spotted Flufftail, Crowned Eagle, Wahlberg's Eagle, African Pied Hornbill, White-thighed Hornbill, African Pygmy-Kingfisher, African Dwarf Kingfisher, Chocolate-backed Kingfisher, White-throated Bee-eater, Yellow-throated Tinkerbird, Yellow-spotted Barbet, Golden-crowned Woodpecker, Brown-eared Woodpecker, Western Black-headed Oriole, Chestnut Wattle-eye, Black-headed Paradise-Flycatcher (Red-bellied), Lemon-bellied Crombec, Rufous-crowned Eremomela, Green-backed Camaroptera, Buff-throated Apalis, Barn Swallow, Slender-billed Greenbul, Red-tailed Bristlebill, Spotted Greenbul, Gray Greenbul, Toro Olive-Greenbul, Uganda Woodland-Warbler, Chestnut-capped Flycatcher, Rufous Flycatcher-Thrush, African Forest-Flycatcher, Ashy Flycatcher, Little Green Sunbird, Green Sunbird, Olive Sunbird, Superb Sunbird, Red-headed Malimbe, Grosbeak Weaver, Gray-headed Nigrita, White-breasted Nigrita, Bronze Mannikin, Black-and-white Mannikin, Magpie Mannikin
*******
Mike and Corey attended the 2019 African Birding Expo in the company of African birding legend Herbert Byaruhanga and a slew of international birding professionals. We are incredibly grateful to the Uganda Tourism Board for so generously sharing the splendor of birding and wildlife watching in the Pearl of Africa.