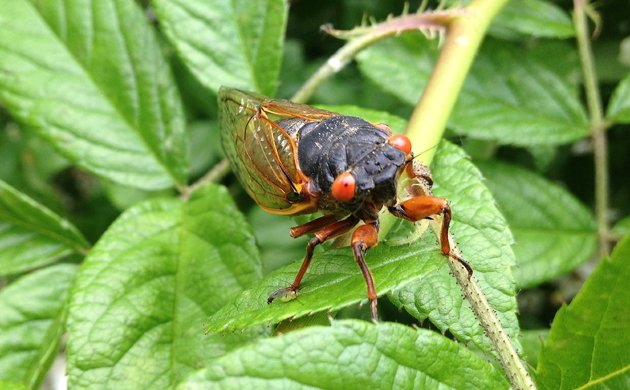 Back in 1979 New York State birders were pleased with the first record of Mississippi Kites in the state when two visited Staten Island and spent nearly two weeks fattening up on the periodical cicadas that emerged in great numbers that year. At least one astute Staten Island birder, Seth Wollney, predicted that this year's cicada emergence, 34 years after the first state record of Mississippi Kite, might lead to another visitation by the fabulous southern raptors. And he was proven correct when Anthony Ciancimino, a hotshot young birder from Staten Island found one at the Cemetery of the Resurrection.
I had thought about going to see the cicadas anyway and the addition of a Mississippi Kite made the trip that much more tempting. But I figured I could wait until Saturday morning when I had agreed to squire His Eminence, Jeff Gordon, American Birding Association President, around during his nearly-all-day-layover before he disappeared to Brazil. After all, when the president is in town you want to pull out all the stops, though I think I might have taken it too far when I tried to convince him that the cicadas had emerged only after hearing that he would be in New York City.
Long story short: we battled traffic, made it out to Staten Island, and were amazed by the amount of cicadas. The sound of so many cicadas is just awesome, as is the sight of so many cicadas.
Can you believe that sound? And it never ceases during daylight hours. It is pretty awesome to visit the site of such a cicada swarm but I did feel kind of bad for the folks who have to live through it. I mean, imagine if the plants in your yard looked like this: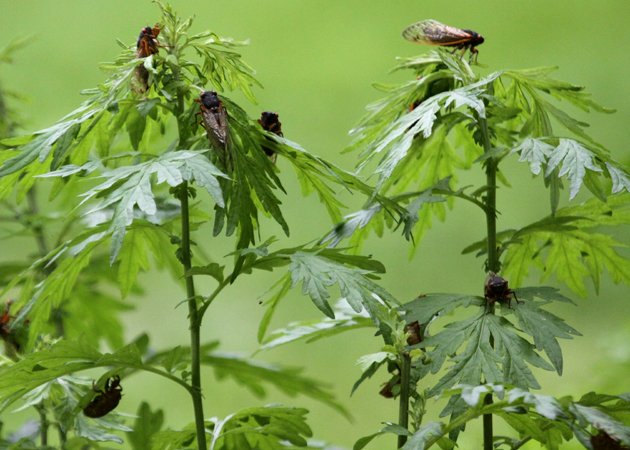 Lots o' cicadas
Not only did we see lots of cicadas but we also spotted the Mississippi Kite with the help of a crack team of Brooklyn and Staten Island birders, including the aforementioned Seth Wollney.

Yes, I know, this is a horrid photograph.
Though the kite was clearly the highlight in terms of birds, Jeff and I were also pleased to spot a couple of Black Vultures. But the birds, cool as they were, couldn't come close to matching the amazing experience that is a hatch of 17-year cicadas.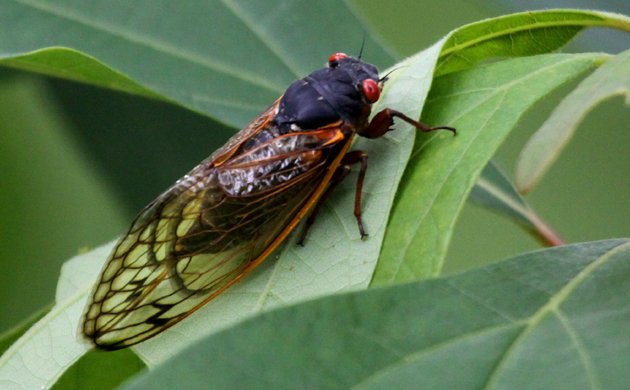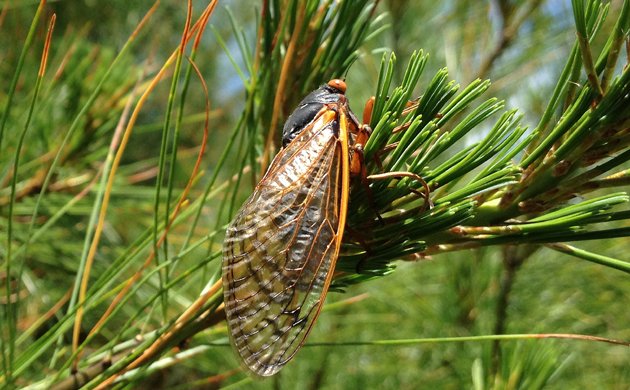 Though Jeff is off to Brazil I am sure that nothing he sees there will match the cicada experience. (Yeah, I realize how unlikely that is but those of us not going to Brazil have to rationalize somehow, right?)