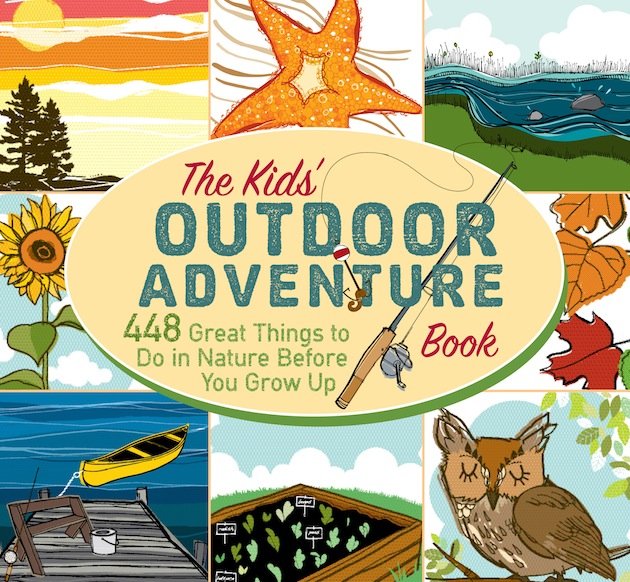 10. Find a Four-leaf Clover
17. Start your own Plants from Seed
40. Find your State Bird
These are just three of the 448 great things to do in nature before you grow up that are covered in illustrated detail in The Kids' Outdoor Adventure Book by Stacy Tornio and Ken Keffer. I previously wrote a post entitled "Plugging Kids into Birding" in which I presented 10 ways to get kids into birding. Stacy and Ken's wonderfully written book takes this post 438 steps further and will delight both children and parents alike.
But before I give y'all a sneak preview of this indispensable nature guide, I feel its important to quickly mention how critical outdoor activity is to the growth and development of our children. Nature-Deficit Disorder, as described by Richard Louv in his excellent book Last Child in the Woods, is a growing concern in our ever-industrialized world and describes a generation of children so plugged into their electronic world that they have lost their connection with nature. This has devastating consequences for their development and, ultimately, the health and future of humanity as a whole. Our increasingly sedentary and indoor lifestyles have taken their toll on our kids with childhood obesity, ADD/ADHD diagnosis and childhood drug abuse at unprecedented levels. Something needs to be done fast to get our children back outdoors where they should be spending much of their time.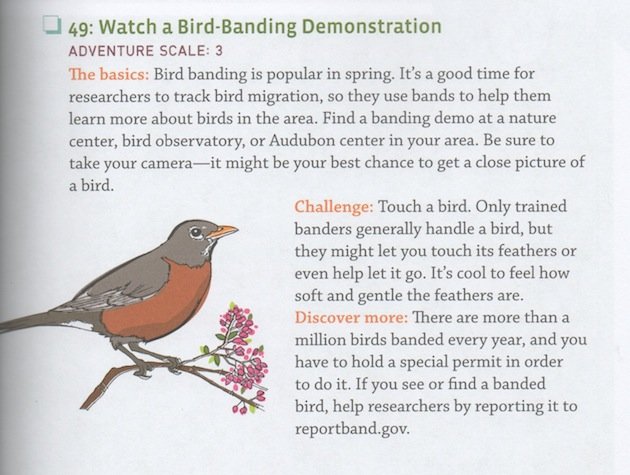 Lots of great birding tips for kids in this book!
The Kids' Outdoor Adventure Book is a bold step towards leaving no child inside. My ambitious plan is to go through every single one of the 448 suggestions with my kids. The authors make this very easy to do with the book's division into four main sections – Spring, Summer, Fall and Winter with great tips to get your kids outdoors in each season. Each season has fifty checklist "to-dos" and fifty challenge items to keep kids outdoors on every single day of the year. As well as the detailed descriptions of each outdoor activity there are also projects, destinations, featured food recipes and suggestions for great outdoor games. For example, there are detailed instructions on how to make a birdhouse from old vinyl record covers for springtime. And there is even a supplemental video on how to do this on the book's website. Or make your own watermelon salsa in summer. In fall, there are detailed instructions on how to play the game "capture the flag" or you can learn how to explore your own backyard in winter.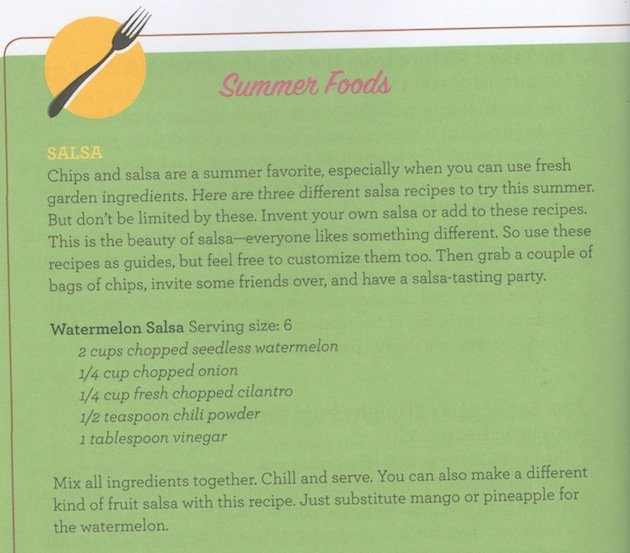 One of the fantastic seasonal recipes in The Kids' Outdoor Adventure Book
As well as being jam-packed with many vibrantly illustrated to-dos and challenges, the book is liberally splattered with tips and tricks. If your child wants to get into birding, he/she can volunteer at a bird observatory. Or what about encouraging your kids to make his/her own gifts by creating his/her own see-through candle with shells or pinecones? These are just some of the great ideas that are covered in all the helpful tips and tricks.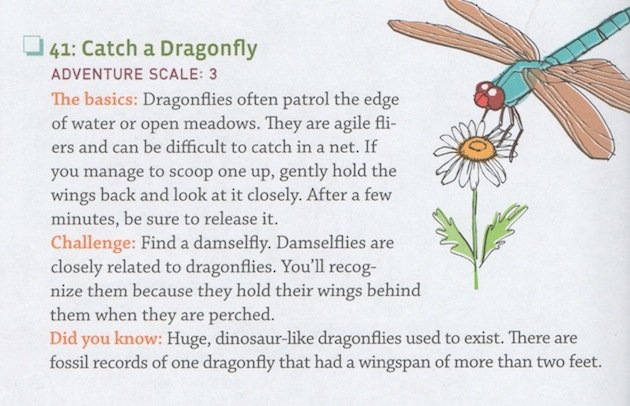 Catch a dragonfly!
As kids who grew up playing outside, building forts, catching frogs and climbing trees, Stacy Tornio and Ken Keffer know just how important it is for children to get outside and play. Through their work, they are both well qualified to author such a book.
About the authors
Stacy Tornio grew up in Oklahoma, though she's lived in Wisconsin for the last ten years. As editor of Birds & Blooms magazine, she is able to share her love of backyard nature with others. stacy loves gardening (especially growing veggies) and she is a master gardener in Milwaukee where she teaches youth gardening in the community.
Ken Keffer was born and raised in Wyoming. A vagabond naturalist and environmental educator he's done a little bit of everything, from small mammal research in Grand Teton National Park and southeast Alaska, to monitoring Bactrian camels in Mongolia's Gobi Desert. He has led field trips and kids' nature programs in five states.
I would encourage anyone who has kids – or anyone who wants to be a kid again! – to get hold of this book. To enter in a draw to win an autographed copy and some yummy CLIF bars, click here.