When one does a birding big day a host of difficulties can arise that destroy one's chances at getting a great number of species.  Traffic, weather, a lack of migrant movement, and just plain bad luck can all conspire to limit the number of species one spots.  But some days the opposite happens.  A decent number of migrants are around, traffic stays reasonable, and the weather cooperates.  Such was the day that Doug Gochfeld, Heydi Lopes, and I had on this past Thursday for our Queens Big Day.
For me, the day started at just after 3 AM when I slipped out of bed, got dressed, and made coffee.  I checked the listservs one more time to see if anything had shown up in Queens, drank a bunch of coffee, double and triple checked my gear to make sure I had everything, and headed downstairs to await Doug and Heydi.  Doug pulled up right on time, at 3:40 AM, and we were off to Jamaica Bay to listen for rails and other night birds.
American Woodcock were not calling by the parking lot, probably because we were out too early, but we did score our first two species of the day when we heard both Canada Geese and Brant muttering down by the West Pond.  Clapper Rails and Virginia Rails both called for us, though Least Bittern and Sora stayed silent. Nonetheless, with two rails down before we even had predawn light, and over ten species on the day list, we were sitting pretty.  I was also darn happy about getting Virginia Rail, which was a new bird for me in Queens.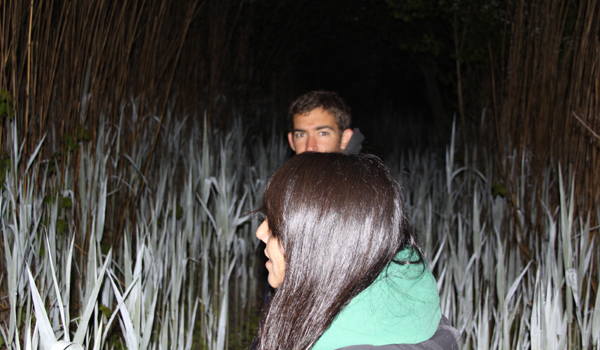 Doug and Heydi.  Doug is (rightly) not happy about my use of flash.
A moment here for a digression on listing in Queens, an ill-considered digression because this series of posts will be long enough to begin with, but this is a necessary digression.  Regular readers of 10,000 Birds will recall that back in September of last year I wrote a post explaining how I wanted to take the top spot for Queens listers on eBird.  Readers who have amazing memories, or who just clicked on the link, will realize that Doug was the sole birder ranked above me, and I eventually vanquished him and took the top spot.  Now, doing a big day was sure to add some species to my Queens list, but Doug, who has a host of rarities on his Queens list but was missing some relatively common stuff, would really clean up and most likely take the top spot back from me.  Why then did I ask Doug to do a big day in Queens with me and seal my own doom?  Well, dear, inquisitive reader, it was all part of my plan to lull him into complacency and then beat him to death with my scope and leave his body in a marsh somewhere.  Lucky for Doug, Heydi refused to go along with my plan (maybe I should have offered her Doug's optics?).
Anyway, murder plots aside, before we left Jamaica Bay we did hear American Woodcocks from the parking lot, though it took us a moment to realize it.  You see, we didn't hear them peenting at first; we heard the wind whistling through their feathers during their display flight.  Once we figured it out we were happy with the pickup and ready to head to Big Egg Marsh, our next stop, where we hoped for sparrows and maybe a singing Marsh Wren.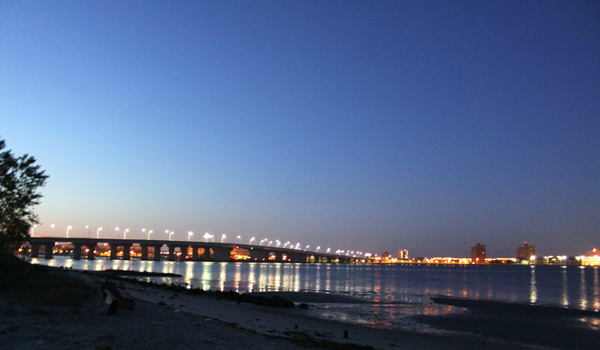 pre-dawn view from Big Egg Marsh
In the darkness of predawn we quickly added both night-herons and three species of plover in the field.  I also spotted two plump muskrats feeding in the grass, a cute site until I realized that they were rats alright, but not the kind with "musk" in their name!  They scurried off into the base of a building and I felt their footsteps up and down my back in the form of the heebie-jeebies.  Normally, rats don't bother me but these two were the size of cats!  We missed the sparrows but got the wren, in addition to several more species of bird, and headed to the coast in the hopes of finding some predawn to dawn movement of waterbirds.
We had no luck with migrating waterfowl at Riis Park but Doug did pick out two distant Black Terns (another new Queens bird for me), I added a couple of Black Skimmers, and we were sitting pretty again, with a host of coastal species checked off the list and return visits to Big Egg Marsh and Jamaica Bay next on the agenda.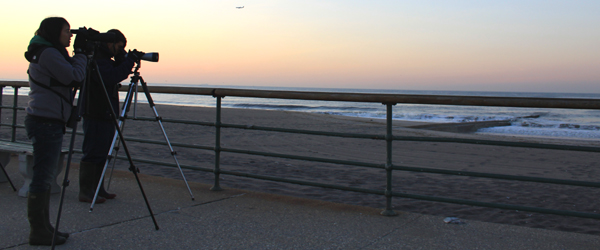 Our return visits went almost as well as could be expected, with species after species getting checked off the list, everything from Little Blue Heron to Yellow Warbler, from American Black Duck to House Wren, from Yellow-billed Cuckoo to Glossy Ibis, from Barn Owl to Baltimore Oriole, from Saltmarsh Sparrow to Red Knot.  But the highlight of the morning was undoubtedly the seen-before-but-not-recently White-faced Ibis that Doug picked out of the North Marsh at Jamaica Bay.  Not only was it a county bird for me but it was a state bird!  And such good looks it gave in the morning light…it was a very strong early candidate for bird of the day for sure.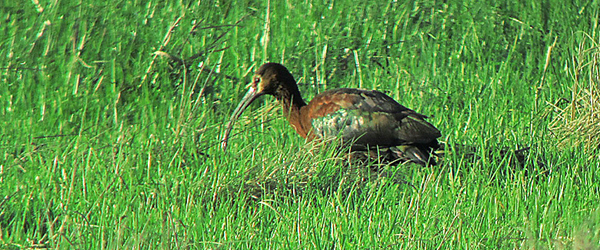 photo by Doug Gochfeld*
We ended the coastal portion of our morning at shortly after 9 AM with over 90 species checked off our list and over ten hours of daylight left.  Our next stop would be the familiar (to me) environs of Forest Park.  Would we spot the wood-warblers and other forest birds we needed to keep our big day going strong or would our run of birds fizzle out and leave us with unchecked boxes and sad looks on our faces?    And would we survive with me behind the wheel of Doug's car for the non-coastal aspect of the big day route?  Come back soon to find out!
*As those who have been in the field with me since I got my digiscoping rig know, I can't be around birds without trying to get good images of them when I have my digiscoping rig with me.  So, on big days, when the goal is to see birds and not to photograph them, I bring the scope and camera but leave the adapter behind, making digiscoping impossible.  This is good for the team but not so good for the blog.  Fortunately, Doug agreed to share his digiscoped images of some of the species we saw.