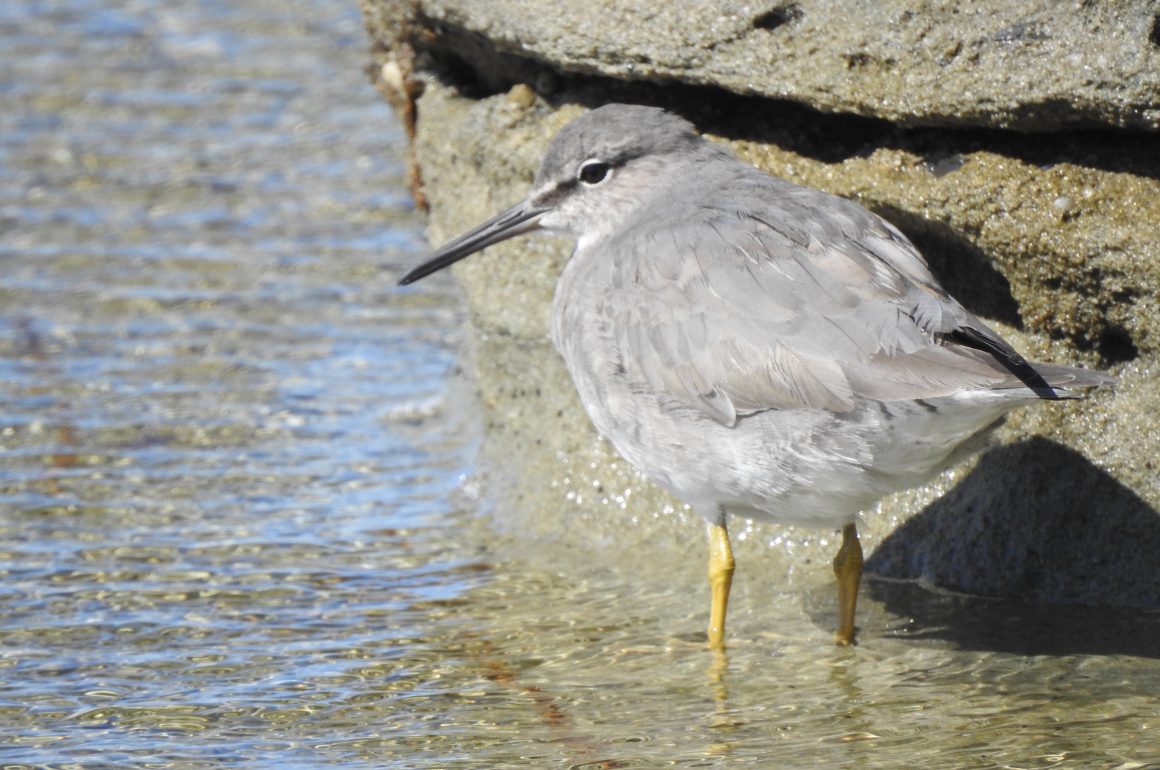 Gidday and welcome to my home area of the Sunshine Coast, south east Queensland.
As my opening word suggests; the Sunshine Coast is located in Australia as the attached Google map illustrates.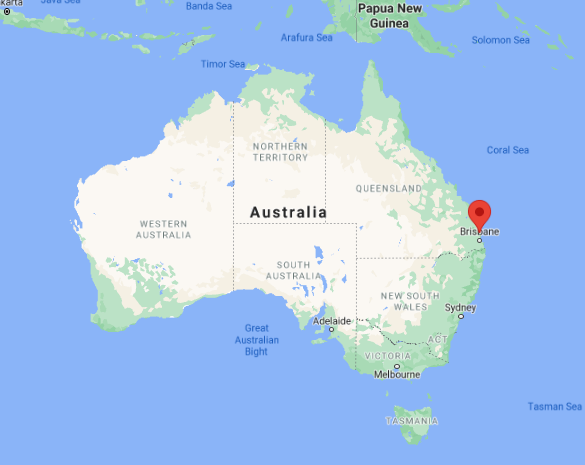 Given this Blog is 10,000 Birds I would like to share, over time, some of the 350 plus Sunshine Coast birds and my favourite birding locations plus some mammals and other critters of my greater area. I'm also going to write about myself and my birding life – even if it involves leaving the Sunshine Coast! I am hoping that there is an appreciative audience here, willing to learn a little about down-under birds and wildlife. I also hope that my posts go a small way to encouraging folks to visit and bird my country.

So, while I am lucky enough to live with my wife and family near the village of Mapleton, in the Blackall Ranges, first join me for a little journey to part of the coast.
The Sunshine Coast, as it would be described for tourists, begins about a one hour drive north of the Queensland Capital, Brisbane. It is approximately an eighty kilometre distance of coastline, mostly perfect sandy beaches punctuated by headlands, beginning, from the south, with the coastal town of Caloundra [pictured poorly behind the Pandanus palm below].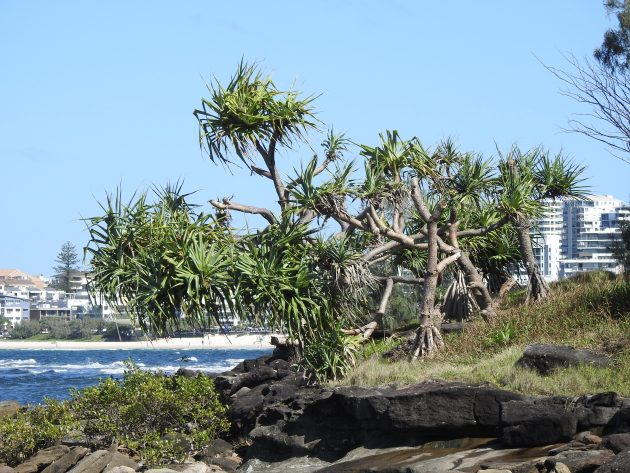 As far as I am concerned the main birding of interest around the Caloundra area is along the coast itself. There are a few special wave-cut platforms that prove to be wonderful habitat for such species as Eastern Reef Egret, Silver Gull, Crested Tern, Sooty Oystercatcher [below], Pied Cormorant while above sail raptors such as Osprey, White bellied Sea-eagle, Brahminy and Whistling Kites.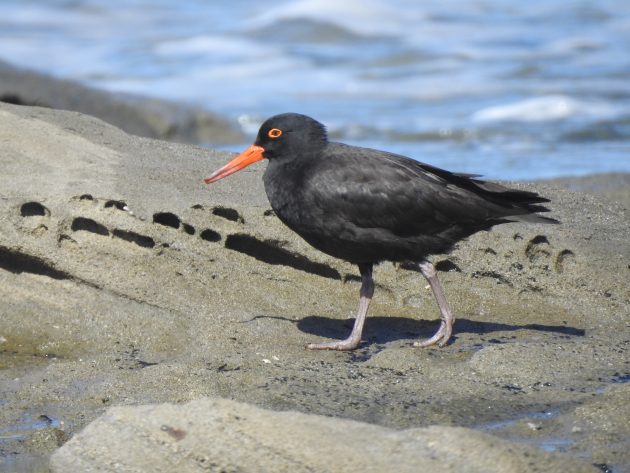 Today, in addition to views of most of the resident species, we also managed views of a regular but uncommon migrant that will be familiar to some, perhaps many, US birders – a Wandering Tattler. As in North America this tattler loves the rockier outcrops down here in Australia too. Obviously, the Wandering Tattler is, for us, strictly a summer visitor.
Among our migratory waders we have a nearly identical tattler that visits mostly estuarine habitats; the Grey tailed Tattler. This bird should not be identified by habitat alone as occasionally you see Grey tailed Tattlers on rocky headlands as well.
We were also lucky enough to see a beautiful pair of Sacred Kingfishers hunting along the coastal edge. One is pictured below.
A quick stop off at a local coastal reserve, Kathleen McArthur Reserve, allowed a pleasant walk through coastal heath filled with paperbarks and flowering banksias and some accompanying honeyeater species. Most prominent was the plain looking and poorly named Brown Honeyeater. The Little Wattlebird was also conspicuous. To confuse you slightly the Little Wattlebird is larger than the Brown Honeyeater and, unusually for Wattlebirds, lacks a wattle… Little and Noisy Friarbirds were also utilising the nectar from the flowering Banksia flowers. These honeyeaters, at least, have a name that makes some sense, as all of these birds have a glorious bald head. I am particularly found of these birds, even utilising their name in my email address, as nature dictated too that my head would be sadly free of keratin based covering… A Little Friarbird is pictured below.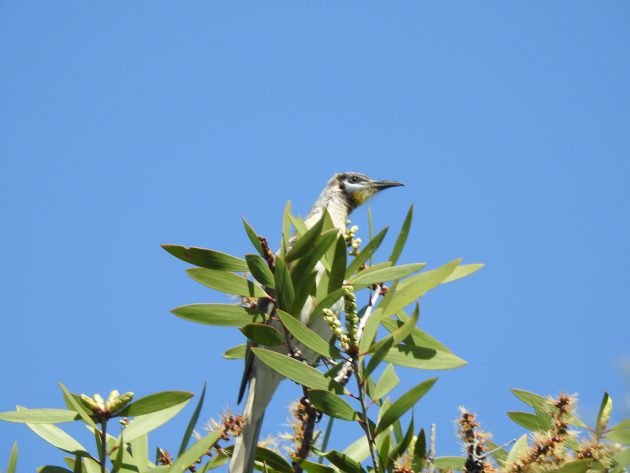 The Banksia flowers are common in coastal environments in Australia and were among the first native plants collected in 1770 during Cook's voyage up the Australian east coast. They were, as you may have guessed by now, named after the Endeavour's naturalist – one Joseph Banks.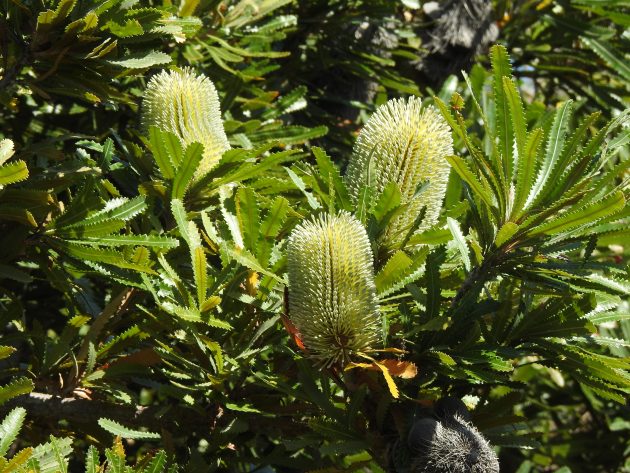 From the reserve we were given views of the nearby estuary where the Silver Gulls, Crested Terns were accompanied by Common and the occasional Caspian Terns. Sand bars also were home to Pied Oystercatchers and a few White-faced Herons.
Travelling north now, past too many sandy beaches where too many bikini clad women are located. Their presence usually discourages me from wandering around with binoculars… So we stop at the rocky points; this time, Point Cartwright. The sea views from here are not too bad. And I remember thinking that same thought as a young lad sitting here lazily gazing at the fishing Ospreys or the even more spectacular diving of Australian Gannets while the rest of my family focused on swimming in the waves.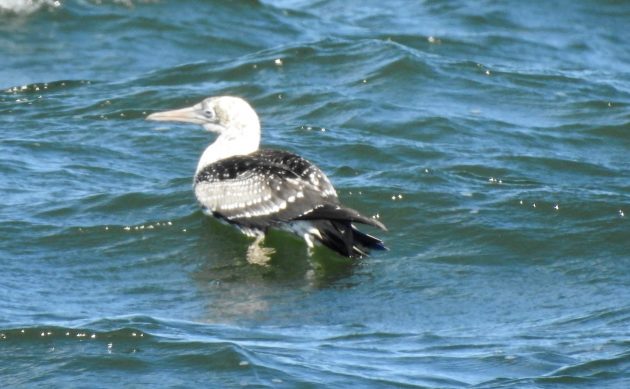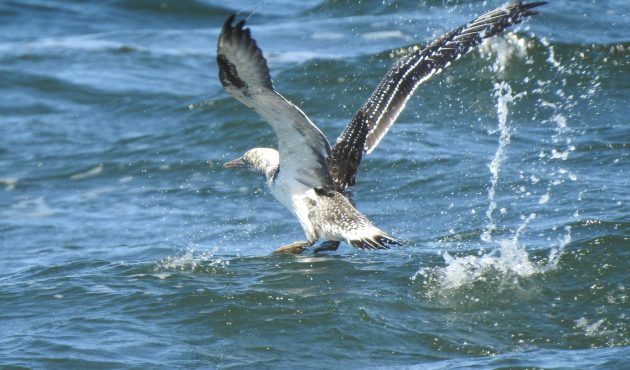 Today we were lucky as the first of the mainly wintering Australian Gannets had appeared and were fishing as I remembered. No adults were seen – only young birds.
Point Cartwright also protects a small remnant patch of coastal scrub and, more importantly, from a local birding perspective a small population of Fairy Gerygone. This species is getting towards the most southerly part of its range and on the Sunshine Coast is no where common.
Also in this area we found another couple of Eastern Reef Egret.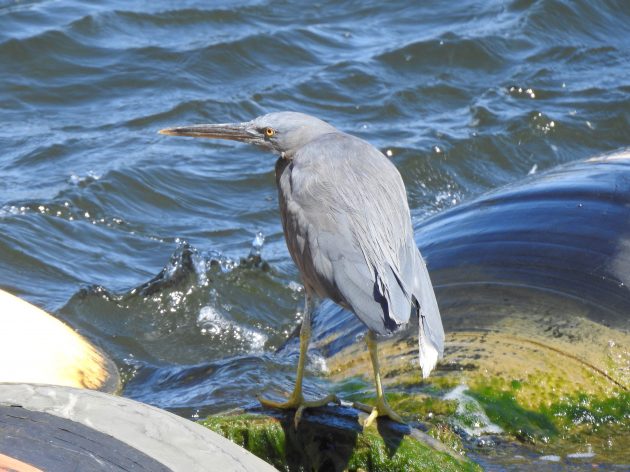 North again to Maroochydore, our last stop on our brief coastal road trip. This town is a major part of the coast and its name derives from the language of the Kabi Kabi, the aborigines and traditional owners of these coastal lowlands. Maroochydore translates roughly to home of the red bill, which in turn refers to the Black Swan. Sadly the swan is uncommon on the river that bears its name… Luckily it can be seen nearby though.
And after Maroochydore it is time to return to the hills of home but [and please forgive this rather poor simile] like a boomerang we will return…