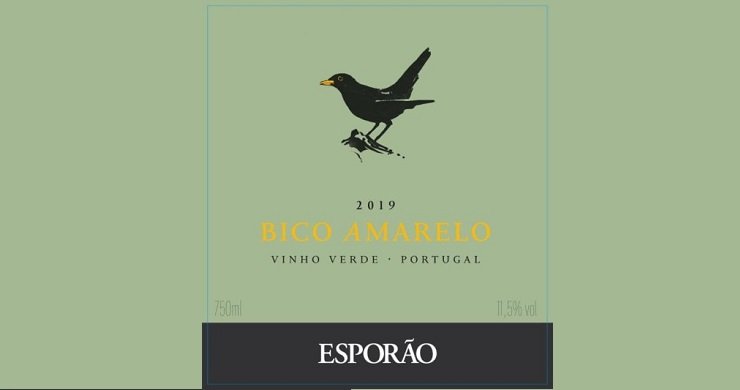 Now that it's officially summer (in the Northern Hemisphere, at least), it's time to cool off with some lighter, more refreshing wines. As with our last Birds and Booze post, we're in Portugal yet again, this time revisiting what is perhaps the world's most quenching style of wine: vinho verde.
I wish I could find more bottles of vinho verde with birds on their labels, because it's a wine I'd happily drink all sweltering summer long. Both a style and a defined denominação de origem controlada (DOC) from the Portuguese province of Minho, vinho verde is a wine generally bottled, sold, and enjoyed in its youth. In fact, its packaging occurs at an age that would be considered premature for almost any other wine, resulting in some residual fermentation remaining in the bottle that gives vinho verde its characteristic qualities – a gentle spritz and mild tartness perfect for warm-weather enjoyment. It's also a wine that goes easy on the wallet, with most bottles going for around ten dollars.
While vinho verde literally means "green wine" in Portuguese, the bird on the label of this week's featured bottle is decidedly black, with a strikingly yellow beak. And it's that bright yellow beak – its bico amarelo – that inspired the name of this vinho verde: the 2019 Bico Amerelo Vinho Verde from the estate of Herdade do Esporão. The bird is, of course, none other than the Common Blackbird (Turdus merula), the original blackbird of European folklore and nursery rhyme fame, better known to North American birders as the Eurasian Blackbird and unrelated to those "blackbirds" of the family Icteridae found in the New World.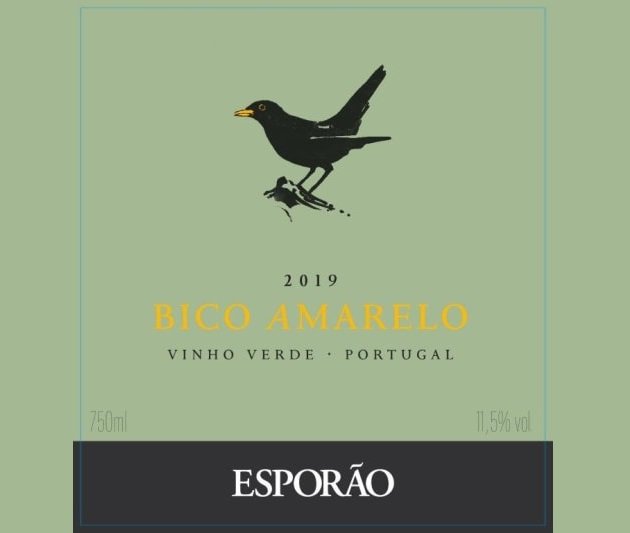 The Herdade do Esporão label is part of the Esporão portfolio of agricultural ventures that produces wine and olive oil in Portugal's Alentejo region. Esporão is a project with an admirable mission, which – in addition to producing excellent harvests from its groves and vineyards – includes a dedication to responsible agricultural practices, resource management, and sustainability. From encouraging the presence of bats in their fields to control insect pests naturally, to the use of "green" manure to avoid a reliance on artificial fertilizers, Esporão is a company for whom environmental stewardship appears just as important as the products it sells.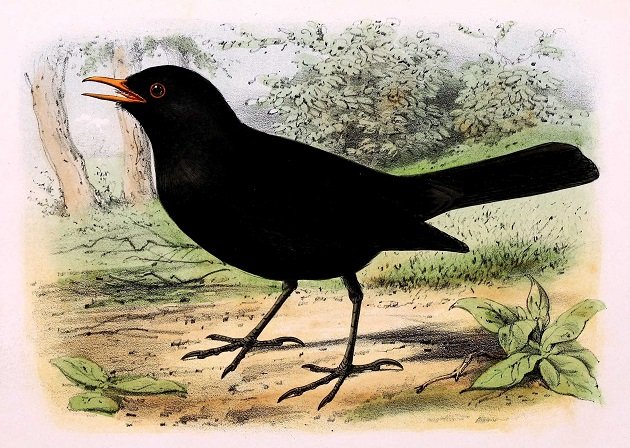 Common Blackbird depicted by Dutch bird illustrator Johannes Gerardus Keulemans (1842-1912) in Onze vogels in huis en tuin ("Our Birds in Home and Garden").
The Herdade do Esporão Bico Amarelo Vinho Verde is produced from a blend of three white wine grape varieties common to the Minho region: the Loureira at 40 percent, and Alvarinho (perhaps better known by its Spanish name Albariño) and Avesso, each at 30 percent. Their combination yields a very pale wine with a light and fruity bouquet of ripe peaches, apricots, white flower blossoms, and lime. Bursting with fresh, tropical fruit flavors, Bico Amarelo is tangy, bright, and crisp, with a pleasant mineral edge and a light, brisk finish to this lively summer wine.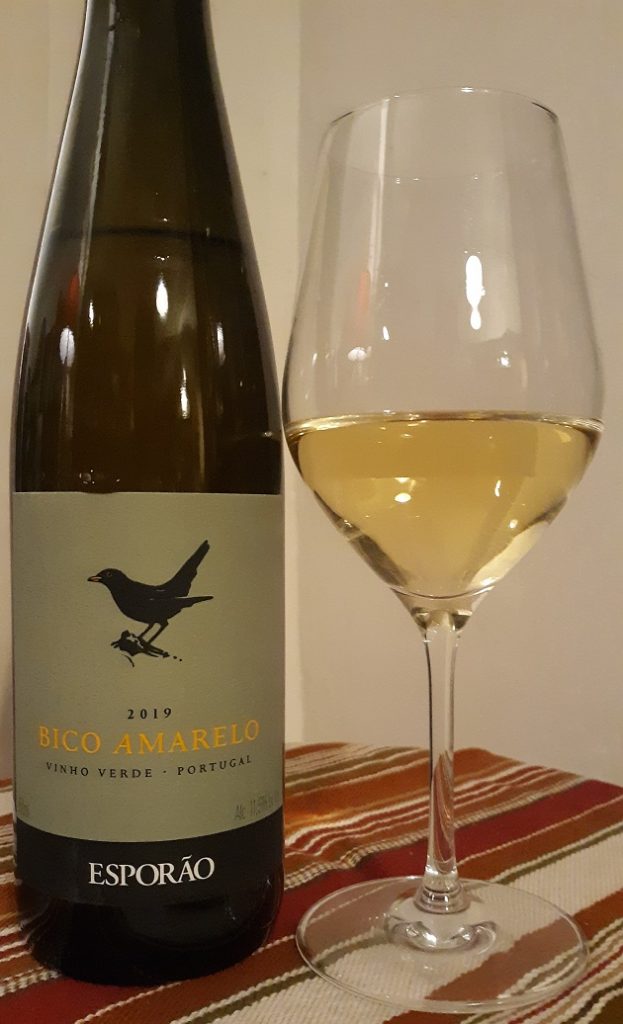 Good birding and happy drinking!
---
Herdade do Esporão Bico Amarelo Vinho Verde (2019)

Four out of five feathers (Excellent)