While in Ohio for the Midwest Birding Symposium Christopher, Susan, and I made our way to Metzger Marsh one day to see if there were any good birds out by the lake.  We didn't find any at first but did run into Greg Miller, who just happens to be a rather famous birder of late because of his big year in 1998.  Wait, what?  Why would someone be famous now because of a big year thirteen years ago?  Well, a book was written about him and two other birders who did big years that year, which turned out to be the year when the North American big year record was broken and all three of them saw amazing numbers of birds.  That book, The Big Year by Mark Obmascik, has been adapted for the big screen and will be out in theaters everywhere on 14 October.  Anyway, long story short, we ended up finding some warblers and had a fun time picking through them in their cryptic fall plumages.  Later in the weekend I ran into Greg again and he kindly agreed to do an email interview – the second of the three birders from the book to do so. (My interview with Al Levantin can be found here.)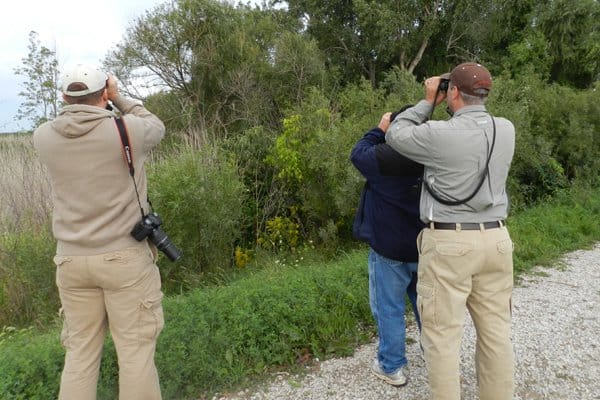 me, Greg, and Christopher by Susan Kailholz-Williams
How has being written about in The Big Year and the upcoming movie version changed your life?
I have lost my powers of invisibility. Haha. No, I was never truly invisible–just ignored or overlooked. And when I was noticed, it was usually because I was a quirky, geekish misfit. It's a real treat to have so many "fans" now. It makes the memory of all those years of anonymity less harsh.
What do you think of being portrayed by Jack Black?
Actually, Jack is a better fit than I initially thought. I was more concerned that it was gonna be some actor I'd never heard of in a movie that would go straight to DVD and would be a black eye for birding. But this cast and crew is amazing, the director, David Frankel is a fan of the story behind the Big Year, and I think it will help promote birding to many who have never even thought about birding as a hobby.
Now that several trailers have come out and one shows a rather out-of-habitat Swainson's Hawk should we be prepared for a host of inaccuracies?
Well, yes. There are going to be some painful moments, but overall, I hope the quality was improved by my work on the script and my presence on the set. The Swainson's Hawk scene used stunt people. Shooting on this was started while I was on the other side of the mountain with the main actors. Besides, I cannot say what was in the script. Let's just say I was "surprised" when I eventually arrived there and the scene was already being shot…with a Swainson's Hawk. So yes. Be prepared for more of that.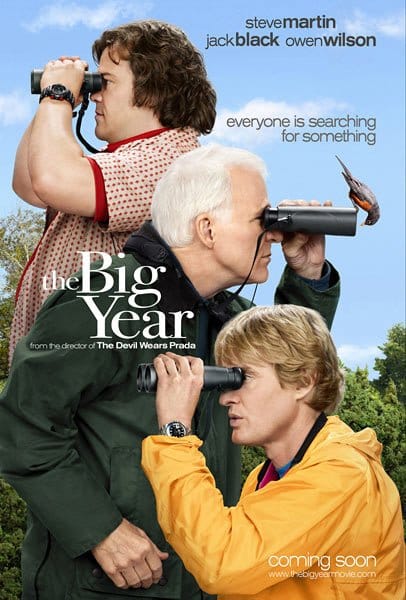 And are you, who served as a birding consultant to the movie, prepared to take the blame?
Sure. I will take the blame for everything I was responsible for. I made comments, suggestions, and recommended changes and substitutions for every single bird reference in the script (a whole week before filming began). I also made some suggestions during filming (actually between takes on individual scenes–never while cameras were filming). It was up to the director what changes were made and which things were kept. So a few times (that I know of), my changes or suggestions had no impact. Birders will, no doubt, have fun with some of them. And some birders might even cringe a time or two. Egads! As I said before, I hope the whole movie is in much better shape than it was originally. For dead on accuracy, we should have been making a documentary. I can assure you that this will be more entertaining than it is enlightening, although I am hoping it's both for the uninitiated.
What was your biggest miss in your big year?
That part of my brain which has good common sense! Ahaha! No, really. I missed some very common species. Some were glaring misses since I started the year with a goal of 600 species (while working). When I upped my goal to some insane stratospheric level in June, going back to find things like Lesser Prairie-Chicken (which I missed) became more problematic. I also missed easy birds like Snowy Owl and Swainson's Warbler. The logistics for a big year can leave you in situations with surprising misses.
Bicknell's Thrush is a bird that is important to me because I grew up in New York's Catskill Mountains, one of the places that it breeds. When and where did you see yours during your big year?
The Catskills are beautiful, but I found my Bicknell's Thrush on Mt. Washington in New Hampshire in July.
In the book, much is made of the financial difficulties that your big year caused. Did you manage to dig yourself out of the hole?
Haha! Yep. But it took me six years to get the last one paid off (maxed out five credit cards–which I would NEVER recommend to anyone!)
Will anyone ever break Sandy Komito's record of 745 birds in North America area in one year?
In 1998, there were only 918 species on the ABA Checklist. Today, in 2011, there are 956 or is it 957 species? Given new technology and information availability and new species splits, someone with lots of money, good planning, and a lot of luck should be able to at least get close to Sandy's record within the next 10 years or so, even without Attu.
What advice do you have for anyone contemplating a North American, or even a single state or province big year?
There is no substitute for familiarity with birds in your defined area. To be successful, you should have already seen most all of the species you expect to get in a given area. This is important for planning, logistics, and ultimately, efficiency in the field. Save up more money than you think you need–surprises happen. Have back up plans ahead of time for species that may give you more difficulty. Misses will happen. Contingency plans ahead of time just save time during the course of the year. And stay healthy. Oh, the first part of the year is the fun part. But the grind will come when your big year degrades to chases. But that is all part of the game that is the big year.
Would you do it again if you had the opportunity?
Yes, I think I would if I had all of my favorite resources available: 1) money 2) time 3) health
Is there anything else you would like to add?
We wouldn't all be talking about the big years like we are now without the skilled writing of one Mark Obmascik. Kudos to him for all the research he did to make people more aware of birding. I know a number of folks who became birders because of the book. It is my hope that the movie will motivate folks to take up birding (not necessarily listing). Maybe I am being too optimistic. Well. Ok. At least movie-goers will be entertained and hopefully walk away with a more acute awareness of birds around them. And finally, we wouldn't have any of this (book or movie) without the birds. They are (and always have been) the real stars. And I want to send out a big "thank you" to every volunteer for breeding bird atlas work over the years, those who took part in Christmas Bird Counts, the research from the Laboratory of Ornithology at Cornell, USGS Patuxent River Wildlife Research Center, the American Birding Association, my "fans" at work and my manager for putting up with my antics, the many Audubon Societies and bird clubs that pointed me in the right direction, and for all the individual birders who helped me along the way. They all helped make my Big Year a successful one.
Thanks so much. And if you are visiting New York City and would like someone to show you around the birding hotspots feel free to drop me an email.
Thank you for your kind offer. Don't be too surprised if I contact you some day and take you up on some birding in the New York City area.
If you didn't get enough of Greg Miller here and you want more check out this interview or head on over to his website and blog!