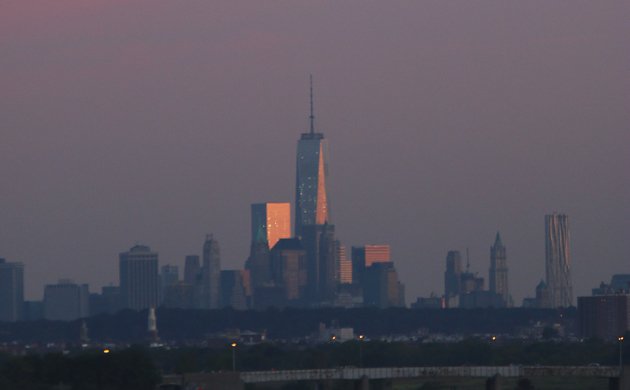 On Friday morning, 29 August, I had the good fortune of being able to work from home. What that meant for me, birding wise, is that I could get out for a few hours in the morning and then get home and get to it on my laptop without having to worry about things like showering, getting dressing, or commuting. And seeing as there were good northwest winds overnight, weather radar had shown lots of birds taking off, and the winds were expected to continue from the north through the morning, I decided that I would make my way to Fort Tilden at first light and install myself on the Battery Harris Platform.
Fort Tilden is on the barrier beach in Queens and is now part of Gateway National Recreation Area. Formerly, as you can tell from its name, it was a military base, mostly tasked with keeping New York Harbor safe from attack. Battery Harris Platform is a wonderful wooden deck built on top of an old artillery emplacement and it provides wonderful views of the New York City skyline, as you can see from the picture at the top of this post, as well as great looks at birds migrating down the barrier beach. It's a great spot in the fall when the winds are from the northwest because a wide variety of birds, from hawks to wood-warblers, make their way past. Not only that, but it is high enough to get a good view of the ocean as well, which is kind of key to this story.
I was joined on the platform by Luke Musher, a recent transplant to New York City who I met a week earlier in the same location with Doug Gochfeld. That meeting was memorable, as we ended up seeing 911 Eastern Kingbirds, eleven more than had ever been reported in New York State at one time. This time, the winds weren't as strong or as reliably from the northwest, and we were very confused by the flight, which included quite a few birds heading east instead of the normal west, and more that looked like they were coming in off the ocean after having migrated too far overnight. The lack of a strong flight made me put my eye to my scope to see what was out over the water.
The first bird that came into view made me think. It wasn't a gull. It wasn't a tern. It wasn't a cormorant. It wasn't a duck. It was flying low over the water. My brain short-circuited and I said, "I have a shearwater!"
Luke got on the bird within seconds, thanks to it being pretty much straight out at that point, and quickly said, "That's a booby."
Let's pause here for a second. Brown Booby, which is really the only bird that makes sense for this sighting, is pretty rare in New York, with a little over a dozen sightings in the state's ornithological record, and only one previous record in New York City, two birds seen from nearby Jacob Riis Park in 1977. And this bird was way out over the water. At least a couple of miles and probably more from where we were watching it. And Luke called it to species within ten seconds of putting his eye on it.
Once Luke called it though, it totally made sense. It was flapping regularly and not coming up off of the water much at all. Its back was a solid dark color and I once caught a patch of white in the center of the underwing, which was contiguous with the white I was seeing on the underparts. It's head and tail both projected from the body equally. While I was still processing what I was seeing Luke had jumped ahead, thinking-wise, and started pounding away with his camera at the distant bird when it rose above the horizon. I shortly tried to follow suit, but in the transition from scope to camera lost the bird, went back to my scope, found the bird again, and watched for a bit before I tried pictures again. By the time I managed to get any shots the bird was almost to Staten Island and had already started to curve from its westerly path to a more northwesterly one, which would take it into New York Harbor if it crossed under the Verrazano Narrows Bridge. Then we lost sight of the bird and couldn't refind it.
I had to get the word out! For some reason, it was stuck in my head that the bird was a juvenile and I put that in my email to the state and city listservs. The email had the subject heading "Possible Brown Booby – Queens" and read as follows:
Luke Musher and I just had what we are reasonably certain was a young Brown Booby flying west past Fort Tilden. It was headed along the north shore of Staten Island when we lost sight of it. Luke got distant pics that we hope will confirm the ID when we get them on the computer.

If you can get to the vicinity of the Verrazano Bridge it might be worth taking a look.

Good Birding,

Corey Finger
I actually made two mistakes in the email. The bird wasn't a young bird and it hadn't reached the north shore of Staten Island, but the east shore. You can't even see the north shore of Staten Island from where we were. (In my defense, I thought it was a young bird because I thought on the spot, erroneously and foolishly, that young birds have more white underneath than adults. Clearly that is not correct – juveniles are all dark except for paler underwings.)
Other birders did get out to look for the bird but did not have any luck finding it. Luke got the pictures on his computer when he got home and we both studied field guides and we both feel confident that the bird we saw was a Brown Booby. The pictures are far from definitive but they are very suggestive. And that, combined with what we saw transferred into note form, will hopefully be enough to pass muster with the New York State Avian Records Committee. We'll see. Oh, and speaking of seeing, you probably want to see the pictures Luke got, right? Well, here's one.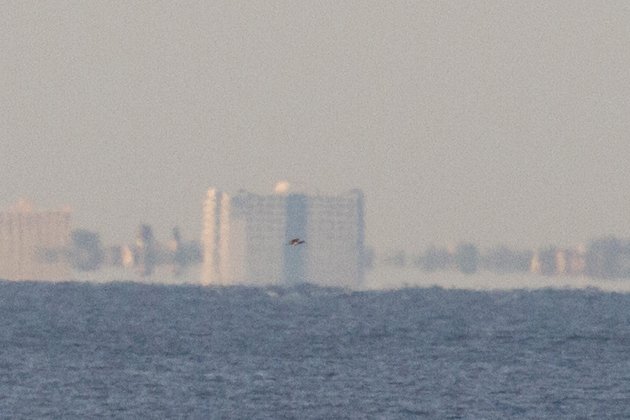 You can see the rest of Luke's images by clicking through to his Flickr page.
I have had very little experience with Brown Booby, and by very little experience I mean that I had only ever seen one, the long-staying individual that graced Cape May with its presence back in 2011. Fortunately for me, Luke has much more experience seeing Brown Boobies  (No snickering!) and also had the guts to call this bird. If I had been alone it undoubtedly would have gotten away without an identification or, undoubtedly worse, completely misidentified.
My brain can't make this bird into anything else. Gannets (or any other booby species) would have a white rump or uppertail coverts. Cormorants would have a shorter tail (except for Neotropic) and wouldn't have had the white on the underwing. It was obviously not a gull or a tern or a pelican or a shearwater or a petrel or a storm-petrel. Brown Booby it is and that is how I have entered it on my Queens list.