If you're a British birder, or a birder looking in to British birding, you could be forgiven sometimes for feeling it bears all the hallmarks of a good soap opera depending on where you surf. Every new rarity seems to elicit a storm of controversy; they (the birds) are either elaborate hoaxes organised by a secret network of bird hoaxers intent on hijacking the British List and destroying it's credibility; or were suppressed by the inner circle of the birding equivalent of the Knights Templar intent on thwarting 'Joe Bloggs' the average birder from ever hearing, seeing or being within a Royal Mile of any significant rarity.
A good proportion of the scripts created, in these increasingly frequent dramas, by the curdled cream of the British birding scene emanates from the same individuals time and time again. They provide little in the way of inspiration to the average birder and offer little real insight into birding in Britain in the 21st century.
So with more than a passing nod of tribute to the now defunct I and the Bird carnival I thought it might be useful to offer a post providing some links to some of the current crop of British birders that provide a different view; a one man blog carnival of some of the better nooks and on-line crannies of British birders that aren't caught up in their own self-importance and provide a regular dose of insight into their birding lives.
Just a few miles up the road from me is the quintessentially English village of Howick, overlooked by the family seat of Earl Grey, the same one that gave his name to that most English sounding of teas. Here a poacher turned birder, one time owner of a seventies perm and a blogger who shamelessly uses his dog Bunty to draw in readers plies his trade. Stewart's sketches and watercolours are worth a bookmark alone and have frequently adorned the cover of the county Annual reports over the years. From the Notebook is the modern day version of that long standing tradition of British naturalists at it's very best.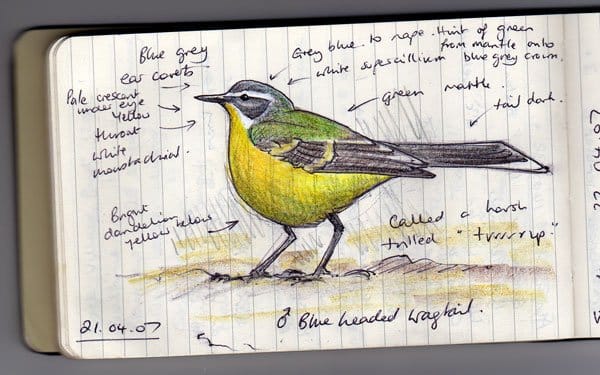 A typical entry  at 'From The Notebook'
Jonathan Lethbridge is about as far from the 'English village' as you're going to get. The ex-city financier counts Wanstead Flats in London as his 'city patch' Currently a house-husband, a reformed twitcher who regularly lapses, he is funny, articulate , with an eye for an image whether birds or other events are the subject (check out his London Marathon and Greyhound Racing images for example). A fixture on the London birding scene Jono's battle with his twitching habit and his self-deprecating humour are refreshingly open and honest.
The British have never been content to sit at home and invariably have itchy feet; I first came across Terry Thownsend blogging about birds in Copenhagen, Denmark, a few months back he announced he was on the move and he's currently birding and occasionally blogging from Beijing in China. Terry writes in a down to earth, no frills style offering an Brit's view of China's birds. Many of the rare vagrants that are the ultimate finder's goals of Brit birders are garden birds for Terry, so I always find his updates mouthwateringly good.
Jos Stratford is another Brit abroad, and judging by his frequent travels away from his personal nature reserve in Lithuania another one with itchy feet. A back to basics birder who often travels alone, birding on foot without guides in countries and locations others would consider hostile his writing echoes the adventurer-spirit of birding's great discoverers such as Ross and Pallas.
Martin Garner may well be a name that is already familiar to some birders outside the UK. His Birding Frontiers blog is at the cutting edge of identification (and sometimes ahead of it). Martin is to the UK what Sibley is to the US and his quest to inspire birders and keep them motivated and looking for the 'Wow' factor amongst the every day and familiar as well as the scarce and rare. Daring to be different Martin offers gull identification workshops, motivational talks as well as the now out of print Frontiers in Birding book that was filled with hugely helpful identification material.
Dip into some or all of these and you'll get a much better feel for the varied and vibrant birding landscape around Britain and please let me know what you thought.