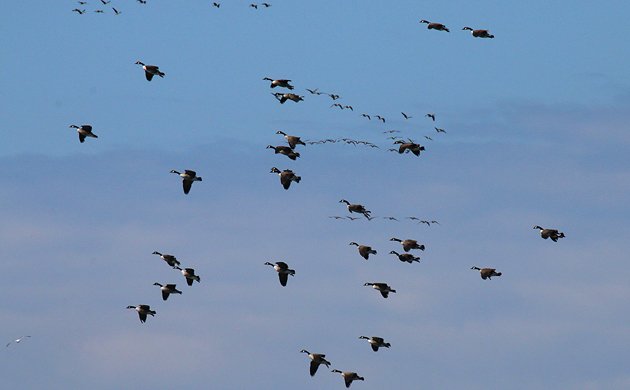 This past Saturday, 8 March, was perhaps the nicest day of 2014 so far in New York. The sun shone all day and the mercury reached fifty degrees Fahrenheit, which is only slightly above average for this time of year but felt like a heat wave considering the frigid temperatures we have endured this winter. Fortunately for me, Seth Ausubel, my frequent birding buddy, and I had decided to spend the day out in Suffolk County on the east end of Long Island looking for birds. And what a day's birding we had!
We started our day at Shinnecock Inlet where we were rather disappointed by the lack of white-winged gulls. Seth made up for the shortage of gulls by finding a female King Eider on the bay side, the first quality bird of the day, and the first I had seen since back in January. It was the only real highlight at Shinnecock for we two jaded birders, though we did appreciate seeing all three scoters, a whole bunch of Common Eiders, both species of scaup, some Great Cormorants, and a bunch of Red-breasted Mergansers. (One of those mergansers is below.)
From Shinnecock Inlet we took a quick cruise down Dune Road, where we enjoyed both a mostly-white Snowy Owl and Seth's first Black-crowned Night-Heron of the year. Then we took a half-hour drive further east to Further Lane, where Greater White-fronted Geese appear year after year and we were not disappointed.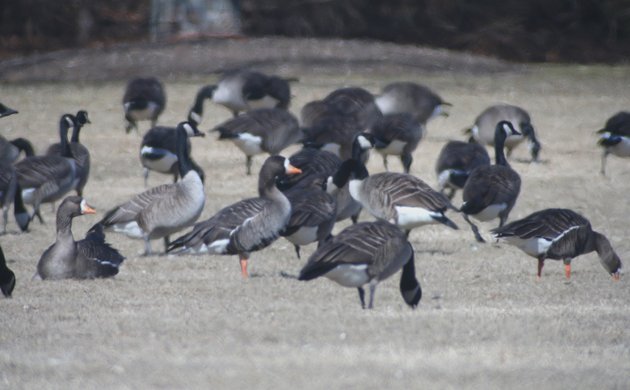 all three of the Greater White-fronted Geese we spotted with a bunch of Canada Geese
Next we headed back to the west briefly, to nearby Hook Pond, where we spotted the pair of Tundra Swans that have also been site-faithful year after year. We were surprised to see three Greater White-fronted Geese there as well, amid the hundreds of Canada Geese, but they turned out to be the three that we had just seen. Though how they managed to beat us to Hook Pond using just their wings while we were using a car was beyond our ability to explain. Also at Hook Pond were two Red-necked Grebes, which this winter are only just a shade less likely than Snowy Owls. It really has been a great winter to see both species in New York.
On we went to Sagaponack Pond where we had hopes of finding some more good geese, though we only ended up seeing well over a thousand Canada Geese. The sheer number of Canada Geese in Suffolk County is impressive this year and it is no wonder that so many rarities have turned up amid the flocks of their more common cousins. Despite our inability to find a good goose at Sagaponack we were pleased with both a Black-headed Gull and an intergrade Green-winged / Common Teal. The former is pictured below with some Ring-billed Gulls.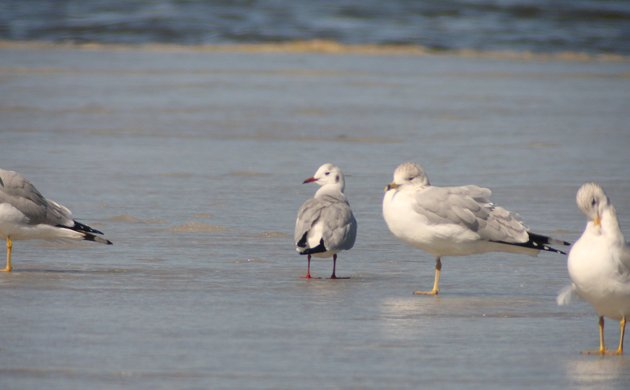 Our next planned stop was the fertile fields in Riverhead, where rare geese have been the norm this winter, but a timely post to the New York listserv by Derek Rogers let us know that not much was being seen there though he had seen a Ross's Goose on the north fork in the town of Southold. So to Southold we went where, with the help of John Sepenoski, we managed distant views of the Ross's Goose.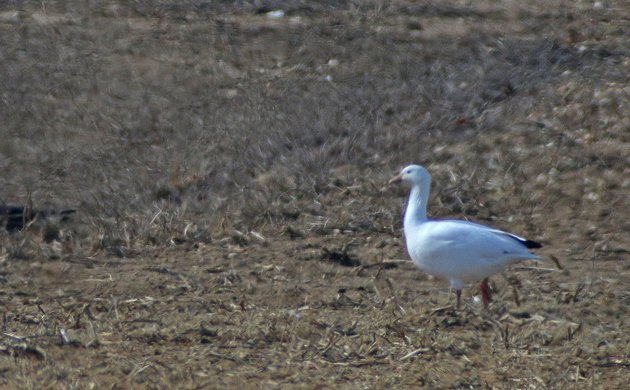 Ross's Goose in Southold, New York
Back to Riverhead we went, where we failed to find anything other than the Greater White-fronted Goose Derek had found earlier, though we did spend quite a bit of time at the buffalo farm at the corner of Reeves and Roanoke hoping to pick a good blackbird out of the huge flock there. With no luck scouring the blackbird flocks we decided to test our luck at Merritt's Pond in Riverhead proper, where the Canada Geese tend to spend their time when they are not out in the fields foraging. Earlier in the day Bob Adamo had reported a Pink-footed Goose from there and despite the lack of public access to the pond we decided to stop on Peninsula Path and scan the pond between houses. It took awhile, mostly because we were both scoping the middle and far side of the pond where most of the geese were, but Seth eventually spotted our quarry on the near side of the pond, resting on the ice behind a fence. To say it was frustrating to be so close to such a good bird and have it be so obscured would be an understatement.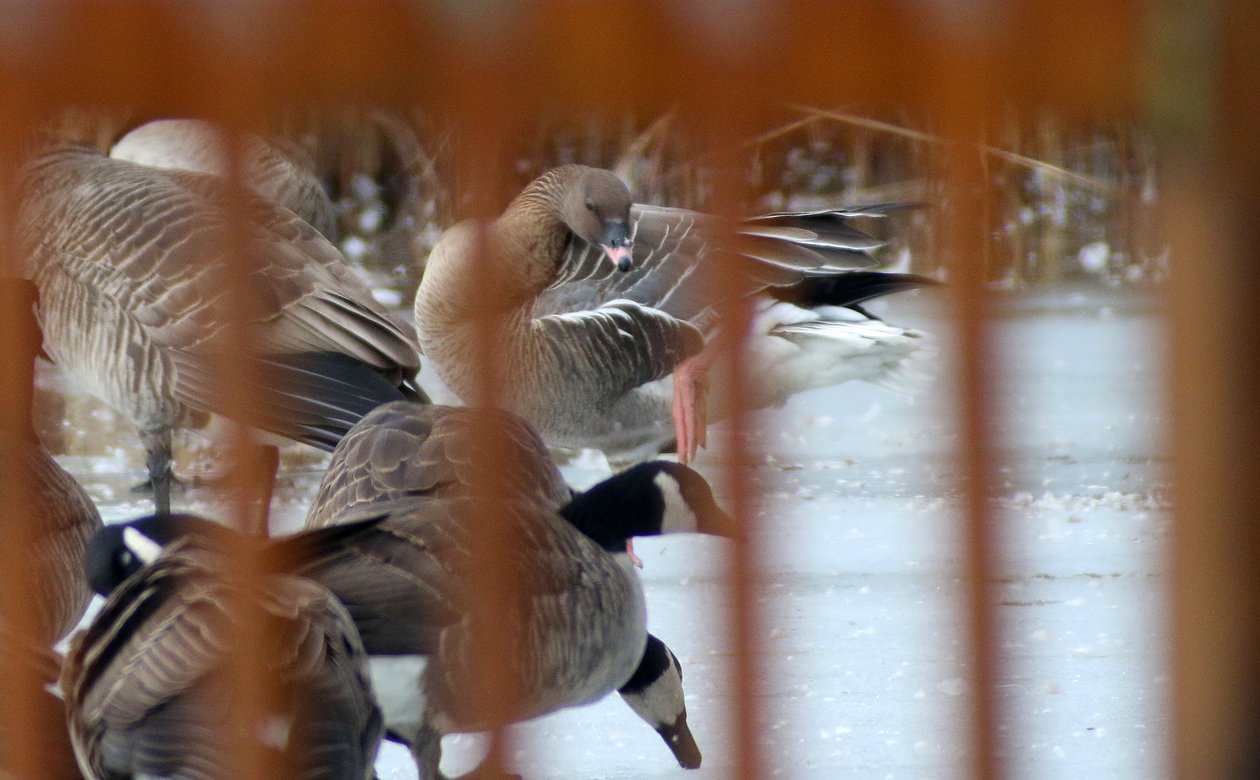 Pink-footed Goose at Merritt's Pond, Riverhead, New York
Satisfied with our day's birding we headed west, back to New York City. I was pleased to have added five birds to my year list and to have had a fun day's birding with Seth where we got nearly every single species we had set out to see. It's rare to be able to say that, isn't it?
…