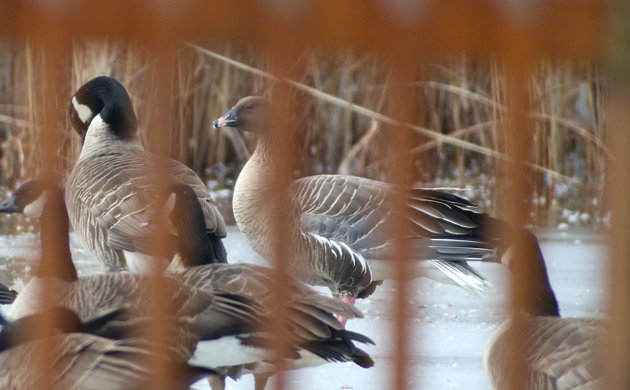 When asking "Where Are You Birding This Weekend?" on Friday, I botched my comment about Daylight Savings Time. The insightful point I meant to make is that springing forward means losing an hour of sleep, not an hour of birding. Apparently, I needed the sleep more than the time outside… how about you?
The Dark-eyed Juncos around here are getting pretty feisty, which I will take as a very, very, very early sign of spring; hard to get to excited with all this snow still on the ground.  Corey's Best Bird of the Weekend was one of three great goose species he saw on Saturday during a day-long expedition in eastern Long Island. Of the three, he decided on Pink-footed Goose over Ross's Goose or the four Greater White-fronted Geese because, well, Pink-footed Goose is just plain awesome.
How about you? What was your best bird of the weekend? Tell us in the comments section about the rarest, loveliest, or most fascinating bird you observed. If you've blogged about your weekend experience, you should include a link in your comment.