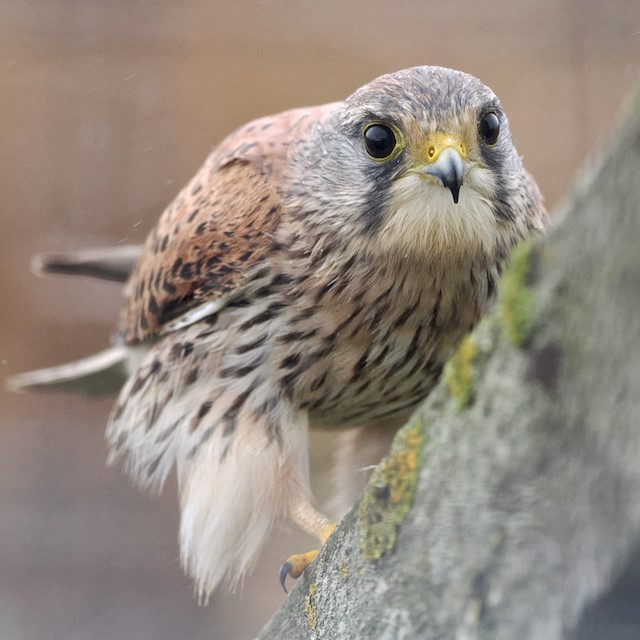 By Martin Garwood
Martin has been interested in birds from an early age and has traveled extensively in pursuit of different species. He has a particular passion for Swifts. He recently set up a charity, High Weald Swifts, to promote conservation in the UK of this now "red-listed" species. Martin spent his working life in primary education, was formerly a trustee of Kent Wildlife Trust, and as a keen wildlife photographer, completed a Masters's degree in photography in 2015. He lives in Southeast England, writes articles about wildlife for local journals, exhibits his photos, and gives talks. He is rarely seen without a camera and binoculars around his neck.
It really did not seem such a sensible idea. The wind was already quite strong and gathering speed, and rain was threatening. The weather forecaster had warned that another storm was approaching; a storm called Ciaran (all our more serious storms have names these days) and that the weather would only get wilder. But then again, it seemed such a shame to be driving past a really excellent bird reserve on my way home from working nearby, and not paying it a visit, however brief.
I was in the South-east of England, in the County of Kent about 40 miles from London and near Elmley Nature Reserve,  over 3000 acres of carefully managed farmland, marsh, and reed-bed beside the River Swale. In the Spring, the reserve is alive with nesting Redshanks, Skylarks, and displaying Lapwings, while Marsh Harriers cruise the reed beds looking for food for their young, and Brown Hares raise their young safe from men with dogs. It is a very rare place for nature in this crowded and highly developed part of England and much respected for its conservation work. Careful to avoid disturbing its precious wildlife the managers require visitors to stay in their cars as they drive along the 3-mile entrance track. Observation is strictly from inside a vehicle, safari style, until you reach the main car park and start exploring the rest of this spacious site on foot.  It is a windy place at the best of times. The terrain is flat and treeless, exposed to all that the weather can throw at it.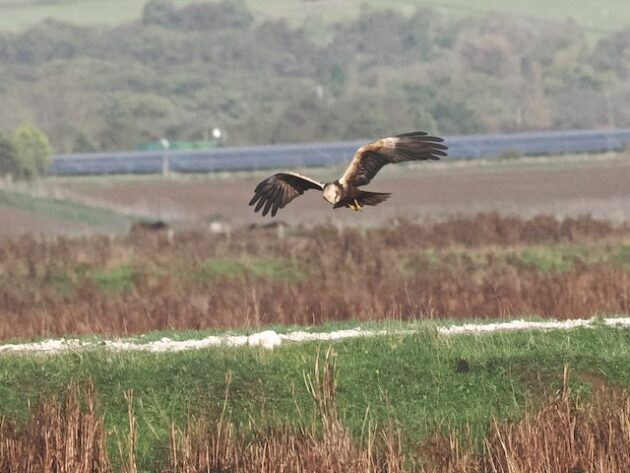 A Marsh Harrier hunting over Elmley Nature Reserve before the storm
The wind was building up as I started my slow drive along the track, pausing every few yards to scan for birds. Several Marsh Harriers were braving the breeze and 2 or 3 Kestrels were just about managing to maintain their hovering, heads fixed in place as their wings made constant small, compensatory adjustments. A Short-eared Owl, a winter visit from Europe, appeared briefly hunting low over a distant ditch and two Cattle Egrets, very recent colonizers of the UK, flew in to forage between the feet of a group of cows.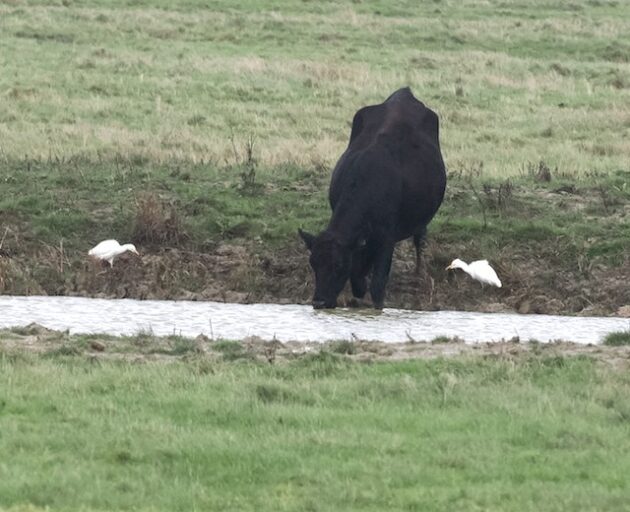 Cattle Egrets, once very rare visitors are now a familiar sight at Elmley
Within minutes of enjoying these birds, the rain began, and needing to close my driver-side window my observations had to be cut short. This was not just any rain but the kind that sweeps across a landscape nearly horizontally, driving all in its path, birds and men, to take shelter. I had little option but to continue my slow drive, hoping conditions might improve and that the downpour would not force me to close the passenger side window, now on the more sheltered side of the car. Passing close to a metal gate, my eye caught sight of a bird tucked in tight against one of the gate's wooden posts. It was a male Kestrel. The bird had found a small refuge, a patch of calm, away from the now-lashing wind and rain. So intent on keeping out of the storm in a landscape largely without shelter, it seemed to take little notice of me or the car as I paused to enjoy a close view.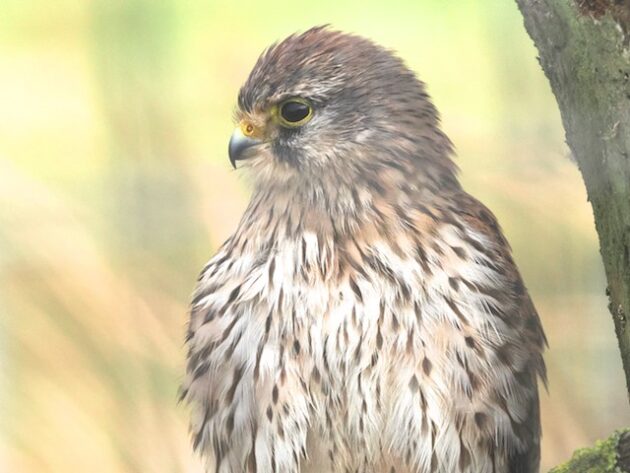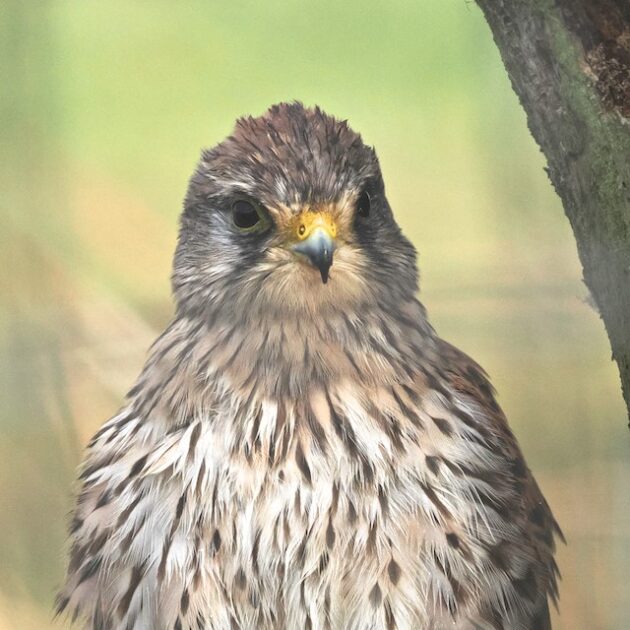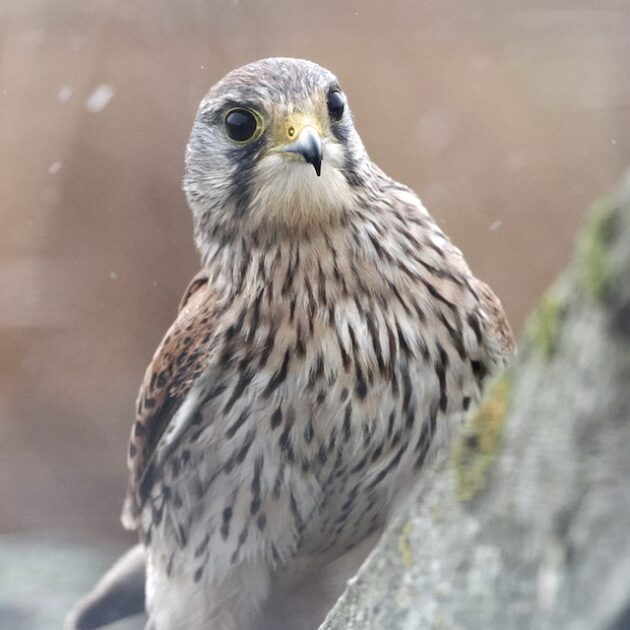 The Kestrel, a little wet, but out of the worst of the storm; a much-loved raptor in the UK
Common across the UK, I have seen many Kestrels over my birding lifetime but it was a rare treat indeed to see this wild raptor so close and enjoy it for a few moments before a car pulled up behind me and obliged me to move on. It was one of those rare, precious, and memorable encounters with nature.  In many respects, the storm had made it possible. However, I could not help but wonder later about how quickly wildlife will be able to adapt as climate change drives our weather further into wilder and wilder forms. Perhaps, like the Kestrel, it will find a way, somehow.
A Brown Hare drying out in the sun after the worst of the storm has passed