Jim Wright's latest book is The Real James Bond, the biography of the ornithologist whose name Ian Fleming stole for his secret agent 007. He writes "The Bird Watcher" column for the USA today newspapers in N.J. He is a deputy Marsh Warden for the Celery Farm Natural Area in Allendale, N.J. This is Jim's first guest post on 10,000 Birds.
In early April, a spectacular parrot that can be found on just one island worldwide made the headlines when a volcano threatened it with extinction: the St. Vincent Parrot of the Lesser Antilles.
The volcano eruption is only the latest of the many threats that the parrot has faced in the past century.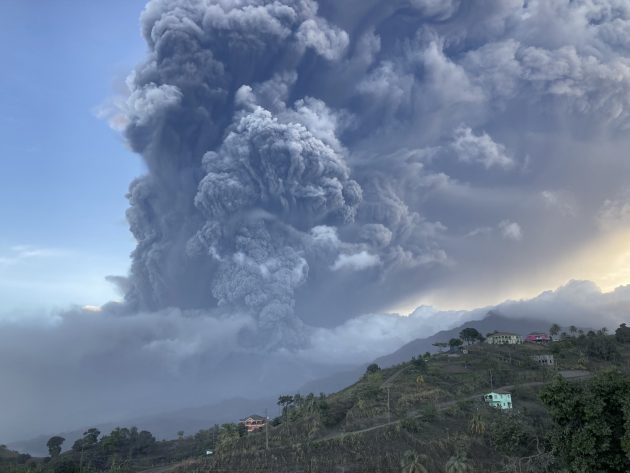 The ornithologist James Bond (1900-1989), affiliated with the Academy of Natural Sciences of Philadelphia for more than six decades, wrote in 1928 that "there is still a good deal of illicit gunning going on on these islands, which, if not stopped, will ultimately result in the extermination of the parrots.
"St. Vincent is not a large island, with an area of only one hundred and thirty-three square miles, less than half that of Dominica, yet containing a population considerably greater. It would seem, therefore, that A. guildingi is in most danger of extinction."
Eight years later, in the introduction to his landmark Birds of the West Indies, Bond wrote of the threat posed by the illegal parrot trade: "A few years ago, in spite of government protection, the Lesser Antillean parrots were sold to tourists at prodigious figures. The author himself has been offered living specimens of the St. Vincent Parrot at prices varying from ten dollars to fifty dollars each while the splendid Imperial Parrot of Dominica is sold for even higher sums."
It wasn't until 34 years later that the International Union for Conservation of Nature listed the St. Vincent Parrot as endangered — the result of "habitat loss, hunting, hurricanes and trade."
Those threats have made the parrot even more highly sought after. BirdsCaribbean reported four years ago that a single St. Vincent Parrot was said to be worth $100,000 on the black market.
And now the eruptions of La Soufrière volcano, located in the northern part of the island, have covered the island with ash and placed this magnificent parrot in far greater jeopardy.
You can read more about the St. Vincent Parrot and how you can help here and here.