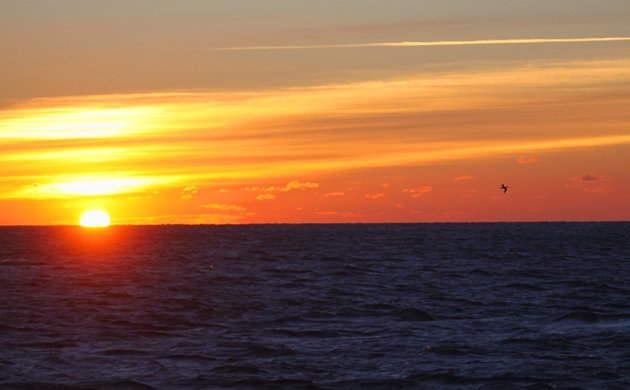 Around about the middle of last week there were various and sundry birders from the great state of New York spending a seemingly inordinate amount of time paying attention to the weekend weather forecasts, particularly those that pertained to the marine forecast. You see, Saturday, 23 November, was the day chosen by Paul Guris of Sea Life Paulagics for a pelagic trip out of New York. Birders wanted the boat to go out but were concerned that the weather could postpone the trip or, perhaps worse, almost postpone the trip, which would mean a long day suffering in rough seas.
Late Friday afternoon the word went out – the trip was on! This despite relatively strong winds from the north being forecast, which wouldn't be so bad on the way out, when we would be heading south with a following wind, but would be more problematic on the way back in, when we would be pounding through the waves pushed by what would be a pretty strong headwind.
The photo at the top of this post shows the sunrise we saw off to our southeast as we steamed out of Jones Inlet into the open Atlantic Ocean. Spirits were high, optics were out, and we birders were ready for a great day on the water. Quickly we started tallying expected seabirds like scoters, gannets, loons, and common gull species. And what birder with a camera can resist photographing Northern Gannets when they closely approach the boat?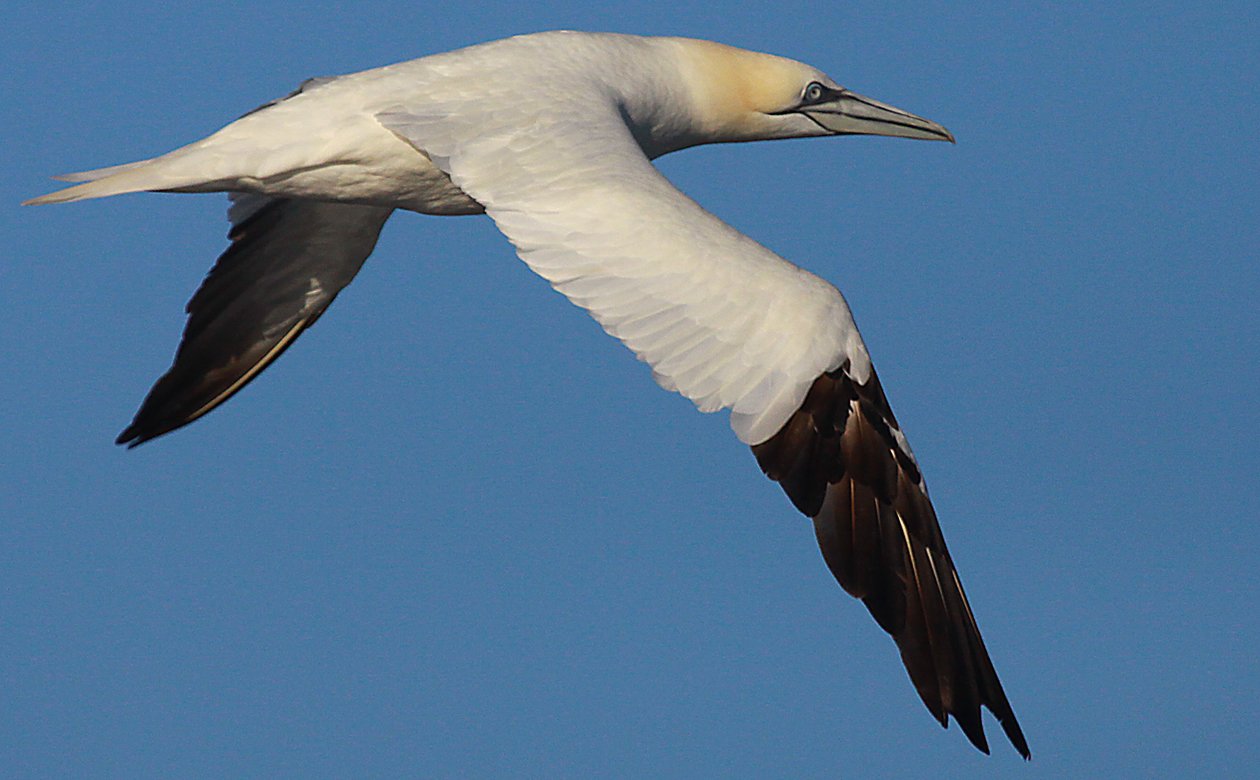 Northern Gannet Morus bassanus (Click it to make it big.)
But gannets, while appreciated, would not be enough for this crowd of demanding birders. After all, at $185 apiece we had paid for the opportunity to see good seabirds and wanted them badly! Even the occasional flock of Bonaparte's Gulls couldn't keep us sated, though scanning through them did keep us busy. Fortunately, we didn't have to wait too long for a Northern Fulmar to buzz past the boat. This was a lifer for many of the birders aboard, who were greatly cheered by the fly-by. (I was cheered too, but it wasn't a lifer – I got mine in 2007 thanks to some magical macaroni and cheese.) Unfortunately, the fulmar didn't linger and didn't provide much of an opportunity for photographs. That was alright though, as a short time later Eric Miller spotted an Iceland Gull in our wake that certainly provided the opportunity for some photography!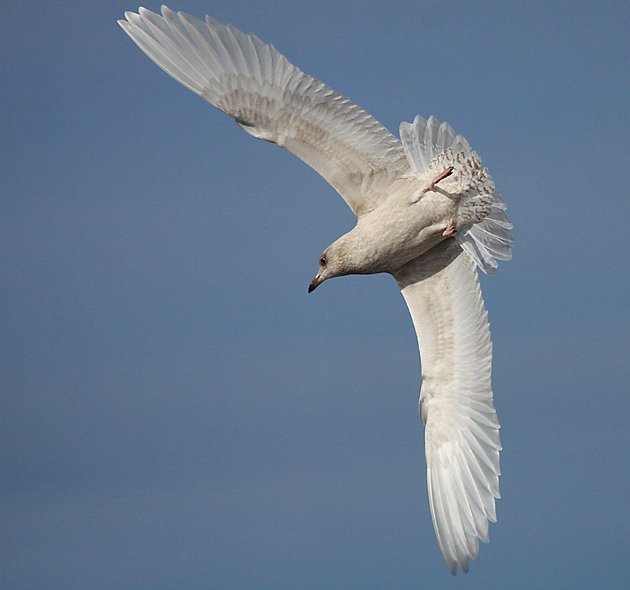 Iceland Gull Larus glaucoides both above and below (Click the one below to embiggen it.)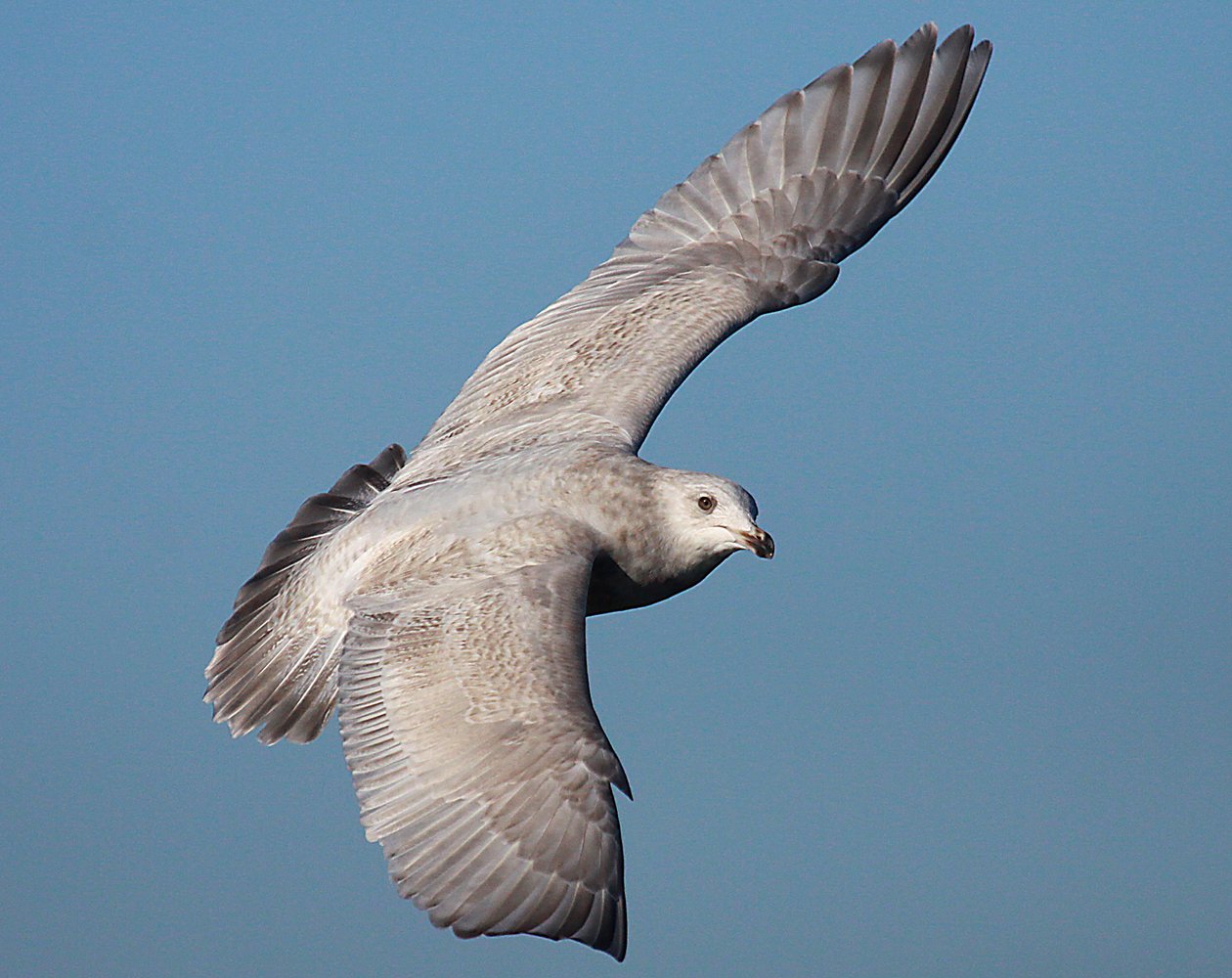 The Iceland Gull was one of two younger birds that would follow the boat for long portions of the day, to say nothing of a nice adult bird that trailed our wake on our way back in to port. The top image is of the second bird, likely a first-year bird, while the one below is the one Eric spotted, likely a second-year bird. And while the Iceland Gulls were nice, they were no competition for the occasional Black-legged Kittiwake that ripped through our chum scrum.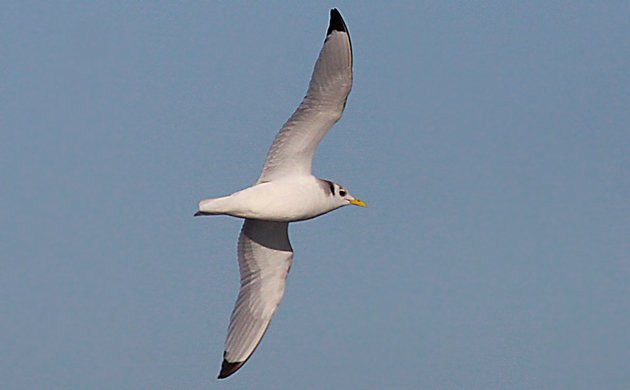 Black-legged Kittiwake Rissa tridactyla
While the tiny gull with wing-tips that look like they are dipped in ink is a captivating creature it, in turn, was upstaged by a Northern Fulmar that flew into the mob of gulls and decided that it liked it there. When the fulmar flew in I was in between two of New York City's most accomplished bird photographers, David Speiser and Lloyd Spitalnik, and the racket their cameras made almost deafened me. And, yes, my camera was pretty active too, as the smoke that started rising from it proved.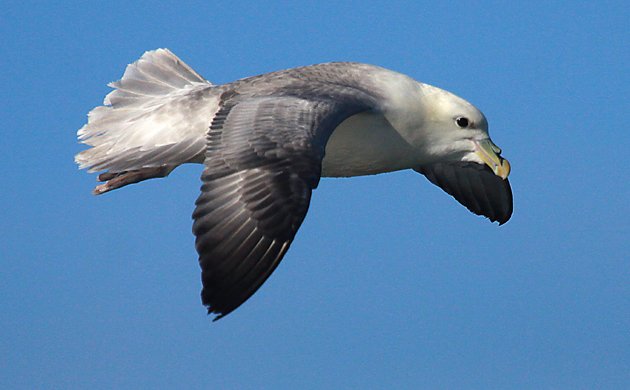 Northern Fulmar Fulmaris glacialis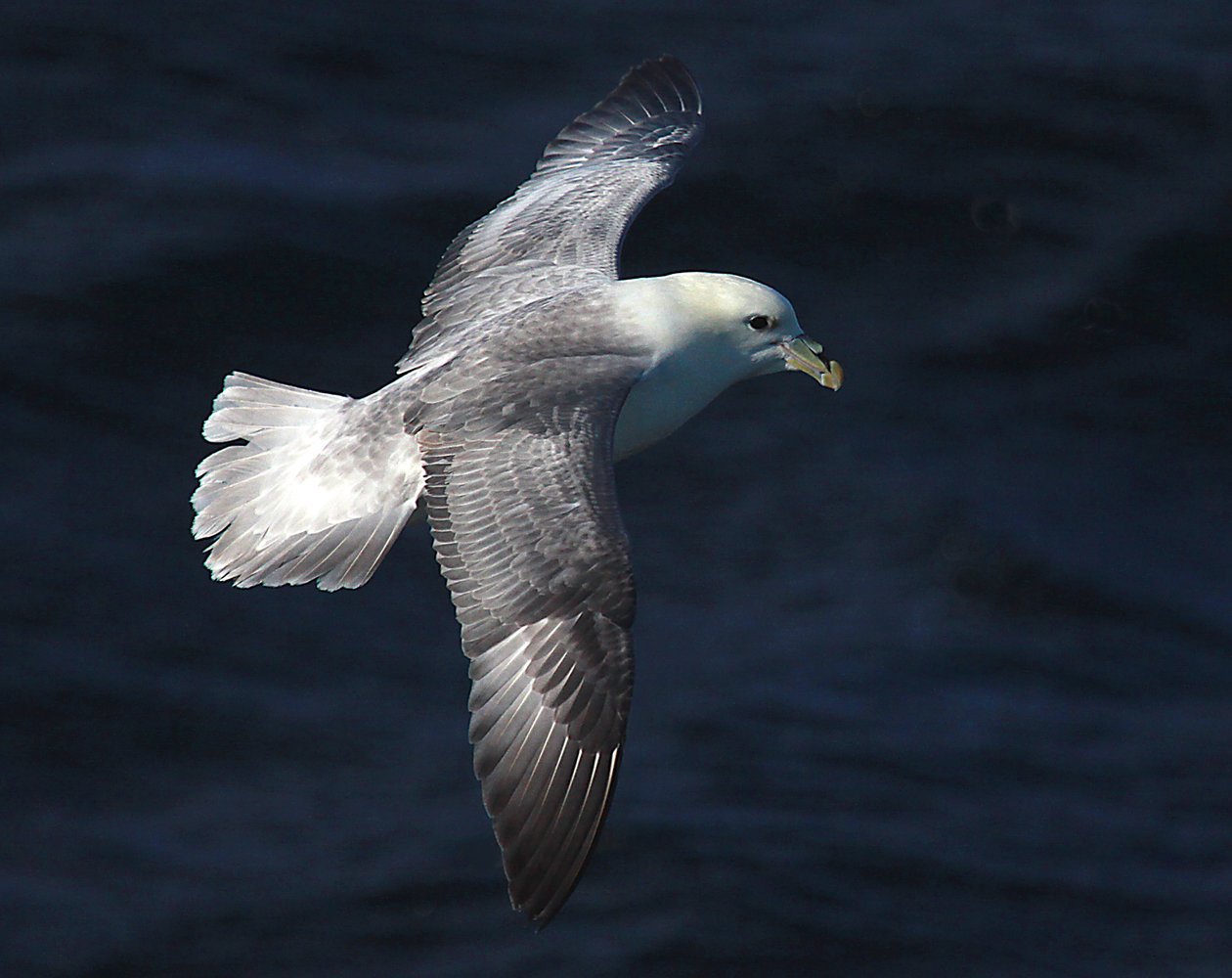 I like this shot – I hope you do too! (Click to embiggen.)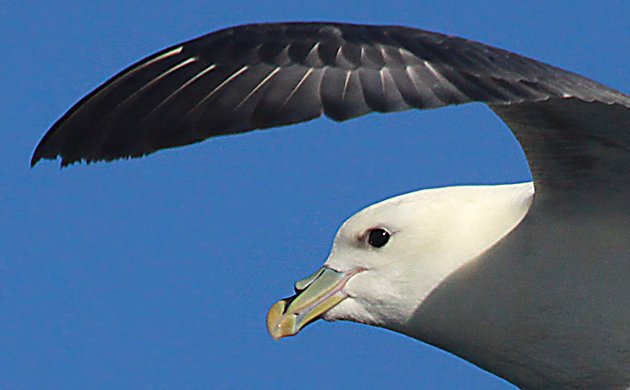 It's pretty easy to see why so many seabirds are called tubenoses, no?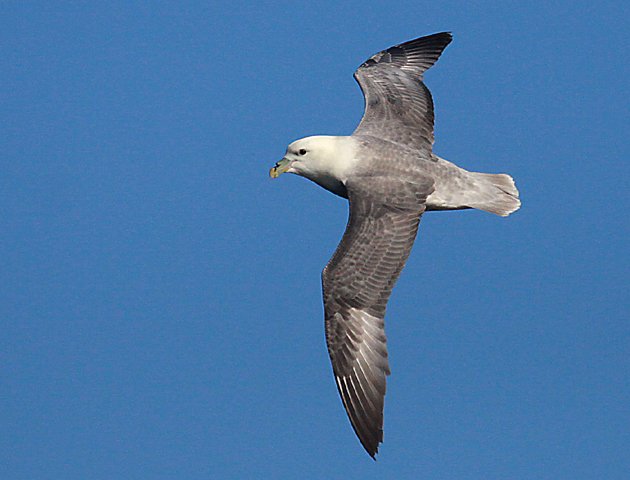 A study in gray, the Northern Fulmar
So, yeah, this Northern Fulmar is pretty clearly the most photographed individual fulmar in the history of New York state. Once we were done with this awesome and amazing creature Sean Sime managed to pick out a Lesser Black-backed Gull transitioning into its second winter plumage.
Lesser Black-backed Gull Larus fuscus
Oh, and have I mentioned that we saw some shearwaters? We had one Cory's Shearwater that did a fly-by and several Great Shearwaters. Most surprising was a Sooty Shearwater that we saw on the ride back, which I managed to briefly watch through my bins before putting my head back down and trying to survive the suffering. (More on that in a moment.)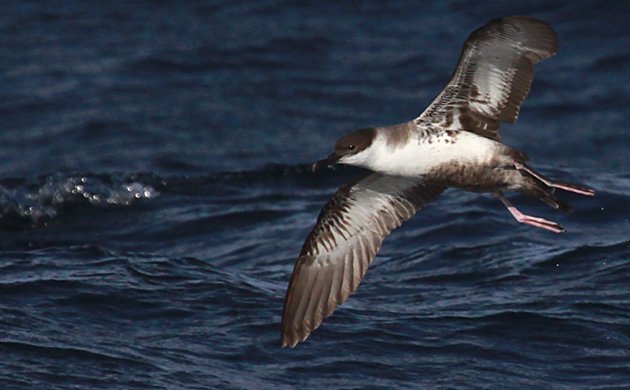 Great Shearwater Puffinus gravis, both above and below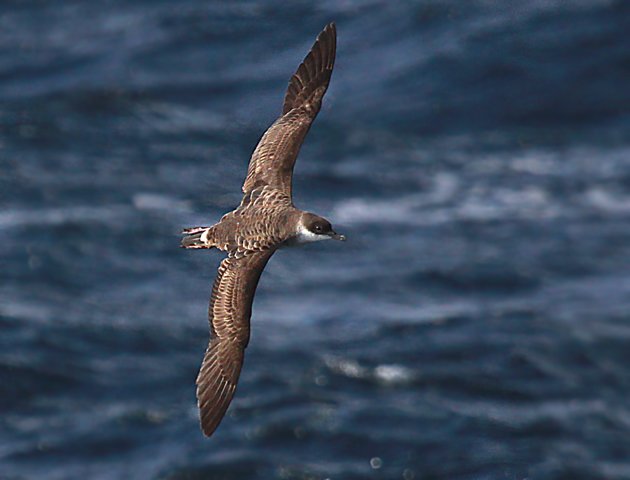 In addition to the expected shearwaters, we also spotted some landbirds that had been caught out over the ocean in the midst of their migrations. Identified for sure were a Great Blue Heron,  American Goldfinches, and a Red-winged Blackbird. Other passerines were spotted but were not identified for sure, at least so far as I know. It's always a bit morbid to see such birds far out at sea because their odds of getting back to land alive are so low, but interesting nonetheless.
Of course, once we had reached our limit, time-wise, for our trip out, we too had to make it back to land alive. That tail wind turned into a torturous headwind and the boat felt like little more than a cork tossing in a tempest. My stomach was not the only one to start trying to crawl up my throat and come out of my mouth, but I was one of the few who actually had his stomach accomplish this. I provided chum for the gulls a couple of times and spent most of the ride back hoping the boat would sink so my misery would end. Even the aforementioned Sooty Shearwater and adult Iceland Gull, to say nothing of quite a few more Black-legged Kittiwakes couldn't keep my interest. There was apparently an amazingly lurid sunset as well, but I took no notice of it, focuses entirely on trying not to throw up for the third time.
Was it worth it? Of course! How often does an east coast birder get looks at a Northern Fulmar like we had? Sure, we didn't get the bird I most wanted to see, a Red Phalarope, but that is just a good reason to spend my hard earned money in order to torture myself into throwing up again, right?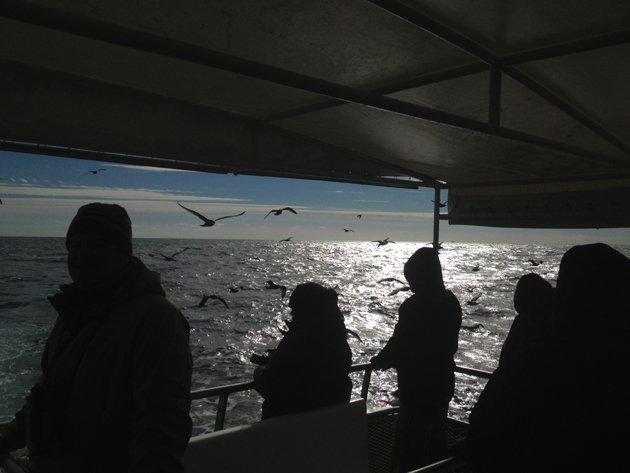 Happy birders enjoying the chum scrum just before we turned around and started the torture.
If you get the chance to go on a pelagic trip and have never been on one you should totally do it. Even if you throw up you can feel confident that your lost lunch will not go to waste, as the gulls will be more than happy to scarf up your barf.
…