After spending the whole morning and into the early afternoon of Election Day birding our way from Ferd's Bog to Ausable Point State Park, Will and I turned south along the lake shore to see what there was to see. We were not disappointed. Our first stop, after our required refueling at a Stewart's along the way, was the wonderful Noblewood Park, located in the town of Willsboro, on the south shore of the Boquet River where it meets Lake Champlain.
We parked the car and started our walk through the forest. Before too long we realized we were in the midst of a mixed foraging flock, one that was comprised mostly of Black-capped Chickadees but also contained Golden-crowned Kinglets, White-breasted Nuthatches, Tufted Titmice, a Downy Woodpecker, Brown Creepers, and a warbler. Will spotted the warbler as it foraged high on some branches. The bird was easy to see considering that the branches had all shed their leaves, but it was maddeningly difficult to get clean looks at field marks that would let us know exactly what species it was that we were watching. We gradually added up the bright wing bars, the mostly-yellow underparts, the shape of the bird, and its facial pattern to come to the conclusion that we had found a Pine Warbler. Not terribly exciting except for the fact that any warbler that far north this time of year is a good find.
When we arrived at the south bank of the Boquet River we immediately scared up small flocks of Bufflehead and Hooded Mergansers. As we walked along the river a Great Blue Heron flew off and we scoped distant Common Loons and Horned Grebes. A large flock of Canada Geese were our first of the day, kind of odd considering how common they usually are. We also saw a huge flock of Common Goldeneyes that were just a bit too far out to successfully examine for rarities hidden among them (which is kind of a bummer because the next day another birder reported a female Tufted Duck from what we assume was the same flock).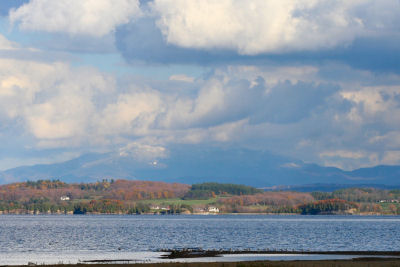 view of Vermont from Noblewood Park
But it was when I put Mike's scope (I know, I know, I still haven't returned it and maybe I never will…) on the gulls on the sandbar that I got excited. Why? Well, at first glance there was only Great Black-backed, Herring, Ring-billed and Bonaparte's Gulls resting in the sand. But when I scanned slowly, focusing on the Bonaparte's Gulls, it quickly became apparent that one of these gulls was not like the others. The leg color stood out first, more red than that of the Bonaparte's Gulls, and once I saw that I keyed in on the bird and saw that it had a dark cap, not just an ear patch. It kept its distance from the slightly-larger Bonaparte's Gulls too, apparently aware that they could bully it if they so chose. I took my eye from the scope and said, simply, "Little Gull."
Will jumped for the scope like Endy Chavez leaping for Scott Rolen's would-be home run in Game 7 of last year's National League Championship Series (which, I might remind all you baseball fans out there, the Cardinals went on to win). The smallest gull in the Americas was a lifer for both of us and for the rest of the day whenever the birding got slow I would turn to Will and remind him that "We saw a Little Gull."
After enjoying the Little Gull for awhile (and calling Will's wife, Danika, to get her to post our find on a listserv), Will spotted a shorebird that drove us crazy for about ten minutes until Will suddenly realized it was a Dunlin. I wasn't convinced but once we got back to the car and Sibley I realized he was right. While looking at the Dunlin we failed to realize that the Little Gull and all but one Bonaparte's Gull had dispersed so we never got to see another of the Little Gull's field marks, its black underwings. Bummer.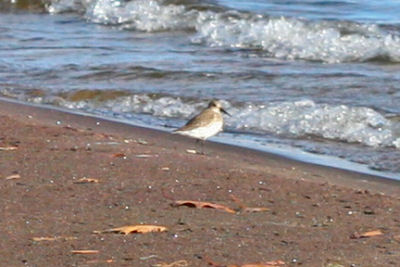 Dunlin at Noblewood Park
As we walked away from the lake a flock of Snow Buntings flew in and landed on the sandbar, which forced us to scope them in case something else was traveling with them. No luck, but still, Snow Buntings!
We continued south along the lake, being disappointed by the lack of any waterfowl in Essex but being somewhat heartened by several sightings of Horned Grebes just north of and in Whallon's Bay. Then we turned our attention to the "golden triangle," made up of the open fields and agricultural land bordered by River Road, Whallon's Bay Road, and Clark Road. Unfortunately the "golden triangle" had lost its luster and the only somewhat interesting species we turned up there were a Northern Harrier and a Fox Sparrow.
Our next stop, Westport, where we scanned the lake for awhile, was lacking in new species, but a large gathering of Canada Geese was visible just a bit to the south of the boat launch. I wanted to scan through them for the smaller and rarer Cackling Goose so we tried a couple side streets and finally found one that took us to the lake front exactly where we wanted to be.
The geese were all far too big to be cacklers and we were about to pack it in and continue south when Will spotted what he was sure was a juvenile Northern Shrike perched high in a somewhat distant tree. Putting my bins on the bird I was inclined to agree but wasn't positive so I swung the scope around and tried to find the bird. Somehow, I could not get the bird in the scope. Then the bird flew in a very shrike-like manner behind a fence into some brush. We walked over, and, not seeing any signs warning against trespassing, walked around the fence and watched what we were now sure was a Northern Shrike fly up and perch in a tree where we could clearly see it. And what was the distinguishing field mark that allowed us to be so confident? IT HAD HALF OF A DEAD MOUSE IN ITS BEAK! How cool is that? No way this bird was a mocker; it was a tough guy Northern Shrike all the way.
A quick stop in Port Henry netted us a bunch more Common Loons, including one that seemed a bit different but we were pretty sure was just another Common Loon (mostly because neither of us would be happy if we had left a Pacific Loon in the lake unidentified).
Our last noteworthy sighting of the day was a Red Fox hunting in a field pretty close to the road. Not a bad way to end a long day's birding.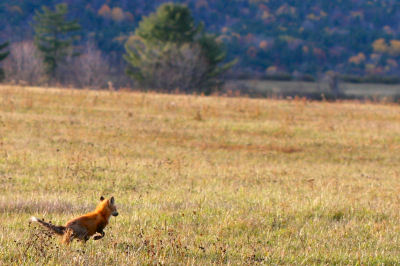 And I got home in time to do my civic duty by voting, despite the fact that my polling place had been moved without anyone bothering to inform me.