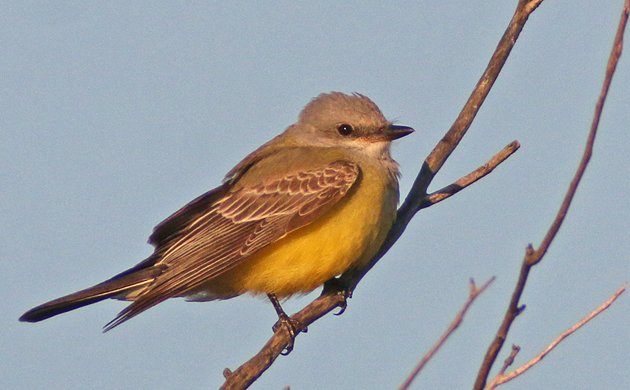 This past Saturday morning I was out at Jones Beach birding all morning with my good friends Seth and Mary, who had dragged me, kicking and screaming, from my local patches in Queens. A whole county to the east of Queens is Nassau County, where I used to bird frequently but much less so as lack of time and a burgeoning awareness of my carbon footprint tend to keep me closer to home. The most famed birding spot in Nassau County is Jones Beach State Park, out on the barrier island, and though the winds weren't what we would have wished for we still had a wonderful morning of birding.
The top bird of our morning's outing was found by Tim Healy, who you can find most of the time over at Nemesis Bird.  He put his sighting of a Western Kingbird out onto the text alerts, the listserv, and maybe by carrier pigeon, all much appreciated in the postmodern birding era of fractured rarity reporting. The three of us were only a couple hundred meters away and we quickly arrived at the scene to enjoy what turned out to be a very pleasant encounter with a Western Kingbird.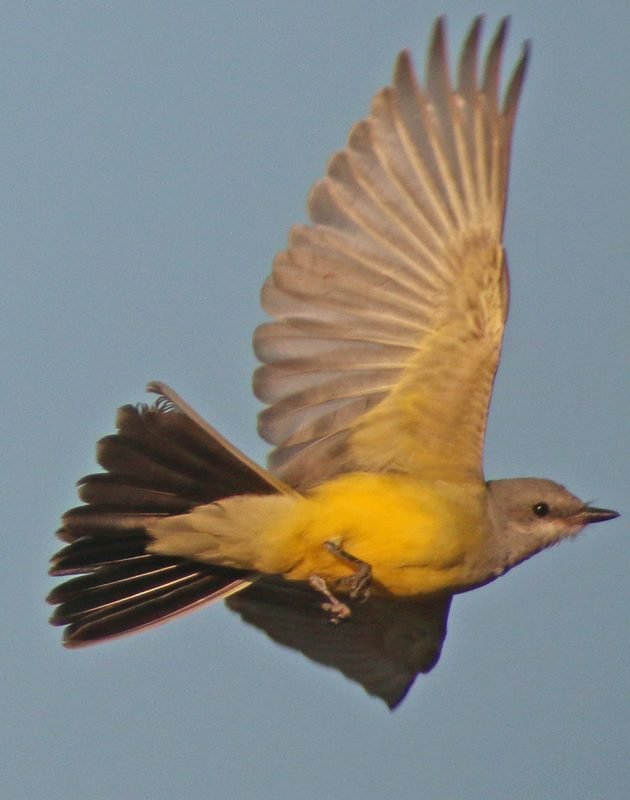 The light was behind us, the bird was actively flycatching, and we had no complaints.
Quite a few birders got to check out the flycatcher as it caught bugs, fended off aggressive American Robins and Yellow-rumped Warblers, and generally acted like a Tyrannus. It was amazingly site-faithful, returning to the same bare tree after each flycatching attempt, even when it flew quite far in search of bugs. It is November, so even though it was relatively warm there weren't many bugs to choose from. But the kingbird managed to be successful several times while we watched.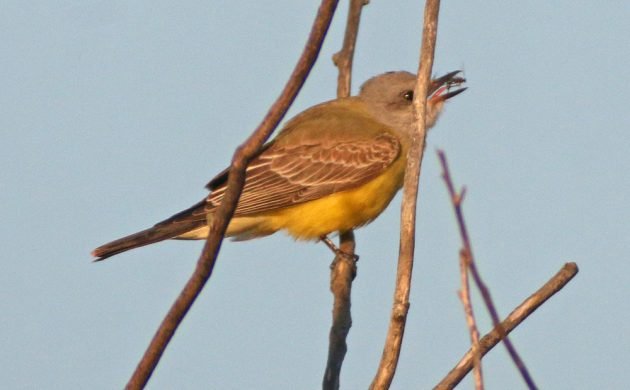 Here the kingbird downs a victim.
The kingbird wasn't a walkaway bird, in that it flew off before we were entirely bored of it, but it came close. Eventually, it headed east out of sight and we continued our birding, only to join in a hunt for the kingbird when other birders arrived who wanted to see it. Eventually, Seth, Mary and I relocated the bird further west, and got other birders on it before it once again flew back to the east.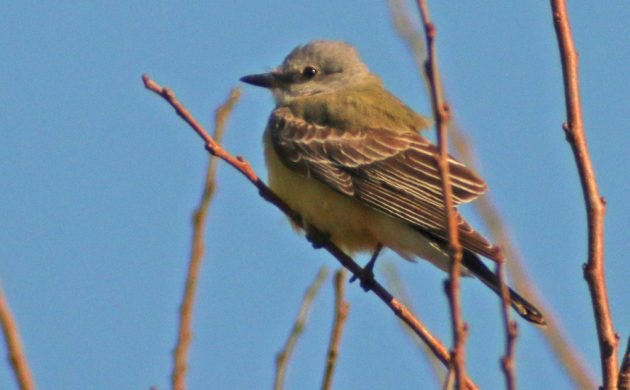 Refinding a bird isn't as exciting as being the original finder, but it still feels good.
Eventually, we left Jones Beach, only to learn that later in the day two Western Kingbirds were seen together there. I don't think we ever saw the second one but the first one twice, as photo comparisons between my sightings seem to show the same individual.
Western Kingbirds are not spectacularly rare in New York, being far more than annual, but having one in good light for an extended period is a rare treat. This is more likely later in the year, as we tend to get two pulses of Western Kingbirds in the fall: the first being migrants who move through quickly and the latter being vagrants who seem to have gotten totally confused and often settle in to attempt to winter, with universally disastrous results. It's hard to be a bug-eating bird in the winter in New York. (Thanks to Shai Mitra for his insights into Western Kingbird occurrence in New York.)
Pretty much the only thing that would have made the Western Kingbird sighting better would be if it had been in Queens. Then again, I've seen one there this fall, back in September of a passage bird, and it was a new species for me somehow in Nassau County. So, this was better? Eh, a kingbird is a kingbird and seeing any species anywhere is always an pleasure.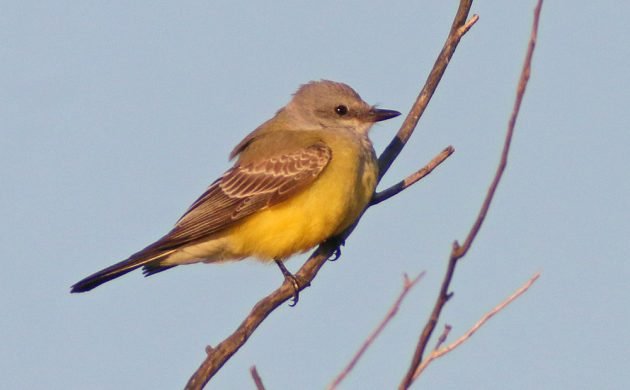 What's not to like about a kingbird?
…