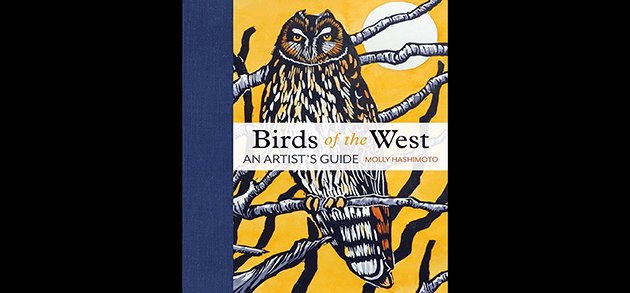 I first encountered Molly Hashimoto's bird art in California. Her lively block prints adorn calendars, note cards, puzzles, and children's books, very much in the popular tradition of beloved minimalist Charley Harper. Hashimoto's prints and water color bird portraits differ in materials and style from Harper, but she shares with him a talent for portraying common birds in a lively, accessible, yet new way that belies the artistic processes employed to create the finished image. Birds of the West: An Artist's Guide presents both sides of the artistic equation–lovely prints and water colors of 88 (or so) North American birds of the Pacific Northwest; commentary on how the author/artist created the images; and lessons on how to draw and paint birds in various media. It's a fun book, offering ideas for projects and, most importantly for me, new ways to observe birds and their natural world.
Molly Hashimoto is an illustrator, birder, and teacher (she teaches plein air watercolor painting and printmaking at nature institutes near her native Seattle), and in Birds of the West: An Artist's Guide she masterfully brings all skills into play. The lengthy Introduction gives both a personal history and a global history of birds and art, including brief profiles of John James Audubon and the far lesser known Genevieve Estelle Jones, who conceived of a book eventually called Illustrations of the Nests and Eggs of Birds of Ohio in the late 19th century. Hashimoto also presents her personal art philosophy, summed up with these words, "I want to make art about birds that is accurate about the ecosystem and true to the bird's anatomy, characteristic gestures, and plumage colors….I want my art to be in the service of the living, existing bird….I also make art for the sake of connection and to inspire an ethic of stewardship" (pp. 19-20). I've skipped over some of her words here because I don't want to give it all away, but I encourage you to read the whole section; I think it expresses the perspective of many of us who create or have an active interest in birds and art.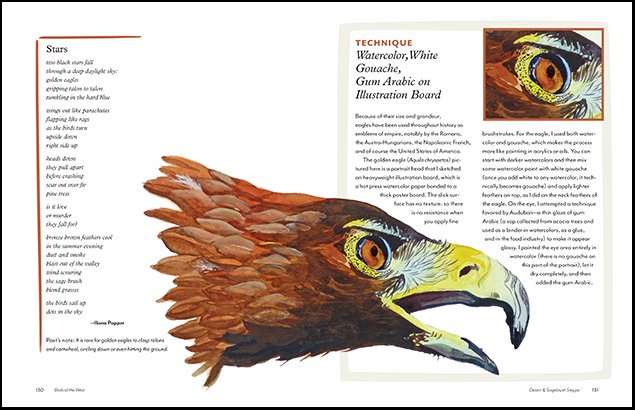 Hashimoto also begins her art instruction in the Introduction, starting with choices of media, and going on to present the basics of drawing, water colors, block printing, etching, and egg tempura (acrylics and oils are not covered, nor are three-dimensional arts such as collage or sculpture). The lessons are written in a relaxed personable way, with separate sections on tools, such as "carving tools and the marks they make" and on techniques, such as "watercolor studio painting," "drawing from life," and, of course, "making a block print." They are continued throughout the book, interwoven with the images and commentary. Blocked-off sections cover detailed topics such as drawing feathers, "gestural drawing with acrylic ink & watercolor," and "watercolor, white gouache, gum arabic on illustration board" (above). And, the lessons tie into Hashimoto's commentaries on her paintings and prints. The use of different media to emphasize dramatically different visions of the same bird is a continuing theme, demonstrated particularly well in three depictions of a Sandhill Crane in block print, watercolor, and egg tempura.
It's an interesting way to teach within a book. On the one hand, I enjoy reading about these techniques. Even though I'm not an artist, I love bird art and am always curious about how images are created, the technique and tools as well as the creativity brought into the process by the artist. I'm one of those people who love to browse in art supplies stores. On the other hand, if I were to engage in actually drawing and painting birds, I think I would have to start with an actual in-person workshop, not even on bird art specifically, but an introductory course, just to get me familiar with the basics. (Cleaning brushes, for example. That always bothered me, how do professional artists get their brushes clean while they are in the middle of painting and using different colors? Isn't it time consuming?)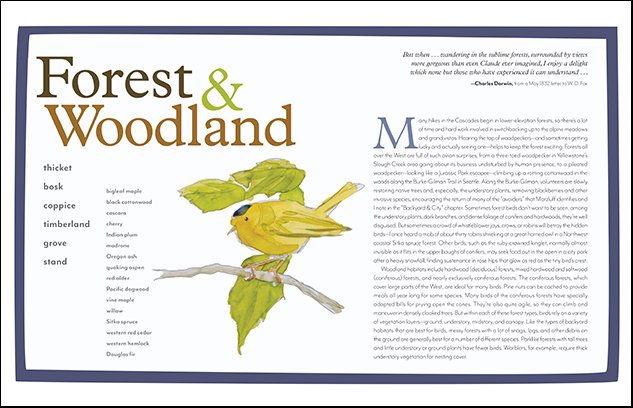 Birds of the West: An Artist's Guide's seven chapters are each focused on a specific western habitat: Backyard & City, Wetland & Pond, Shoreline & Beach, Meadow & Grassland, Desert & Sagebrush Steppe, Forest & Woodland, and Alpine & Tundra. Habitat is very important to Hashimoto's art, they are part of her observational and creative experience, and I think it's this attention to appropriate waters, plants, climate, and time of day that make her bird portraits special. Each chapter introduces the habitat with Hashimoto's descriptions of her favorite places in Washington, Oregon, and California (though the book is entitled 'birds of the west,' there is a definite Pacific Northwest slant to its content, though some other states are mentioned in the desert chapter), and lists of specific types of areas that comprise the habitat ("Forest & Woodland" for example, includes thicket, bosk, coppice, timberland, grove, and stand) and trees and plants to look for (Oregon Ash, Sitka Spruce, Western Red Cedar, and Douglas Fir are just some of the trees found in these areas, the Desert chapter lists plants like Prickly Pear).
Watercolor and block print images populate the chapters, and each one has a story, often two–facts about the bird and Hashimoto's artistic interest in the scene. The Trumpeter Swans above, for example, winter in Washington's Skagit Valley, where Hashimoto "attempted to capture the low light and soft grays of winter," while also rejoicing in this conservation success story–in the early 1960's the swan numbers in the Valley were down to 15 due to hunting, they now number 11,000. There are artistic interpretations, like the Red-breasted Sapsucker, seen in the spring but painted in falling snow, the snow flakes created by carefully spattering white gouache from a toothbrush. Technique is often included in the bird image commentary; to paint the Greater Roadrunner, for example, Hashimoto notes that she did the eyes and beak last, and then added the background colors when the bird portrait was complete. In some cases, Hashimoto presents both water color and block print images, such as the block print of a male Wood Duck shown at the beginning of this review, colorfully dramatic, and the watercolor below, more subtle and atmospheric in its use of line and hue.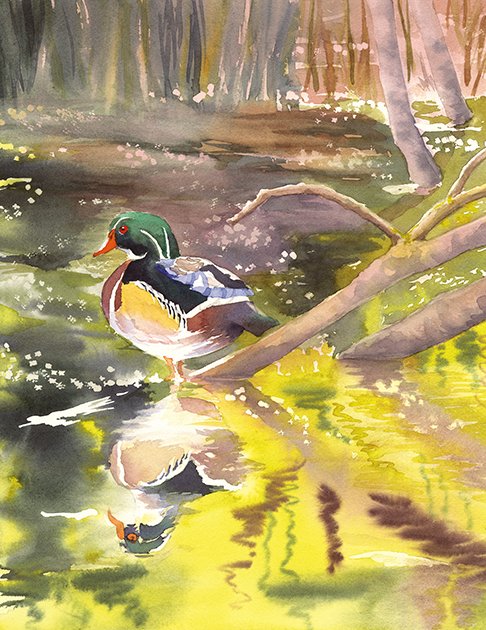 The commentary is both fun and informative; Hashimoto is a graceful writer who effortlessly combines the personal with the instructive. In addition to her words, quotes and poetry from sources ranging from Lord Byron to Peter Matthiessen adorn the chapter introductions and selected artwork, allowing other voices to chime in on the birds and value of nature in general.  The artwork itself is engagingly lovely, ranging from the spontaneous watercolors to the color-shocking block prints. My personal preference is the block prints, which perfectly capture the spirits of western woodpeckers, jays, and even a Ruby-crowned Kinglet, but there is a Canada Jay watercolor at the end that would look very nice in my living room.
I also love the design of the book itself, credited to Kate Basart of Union Pageworks. Every page–from the title page with its nest filled with eggs' through the table of contents with its square block print close-ups of birds next to each chapter title; to the list of Resources with its red and orange-colored headings and variously sized fonts–reflects an organized, knowledgeable sense of design and color that helps the reader navigate amongst the art lessons, poetry, images, and commentary on each page.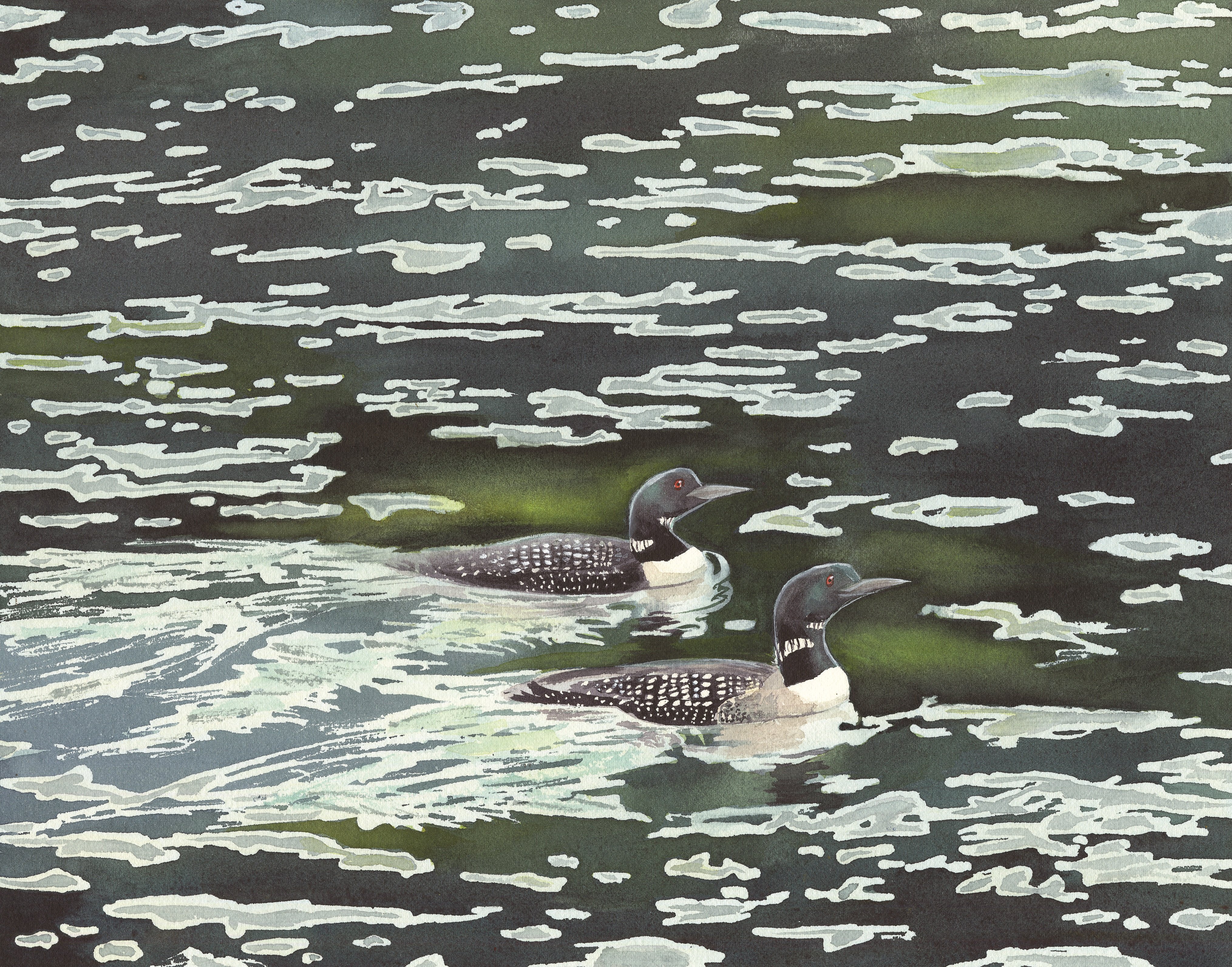 The back of the book includes lists and an index. A selected list of books for "further reading," covers both bird and art technique books. They are good basic lists, though I think selected web sites could also have been included. And, John Laws widely praised The Laws Guide to Drawing Birds (2012) is mysteriously missing. The Resources lists are recommendations on where to find most of the materials discussed in the text, which I appreciate. But, why aren't brayers (rollers) included in the printmaking materials? There appear to be a lot of different kinds. Then again, I would not dream of attempting creating a block print without taking a workshop. Several are also listed here, but only for the Northwest. The index lists bird species by whole name, which is less than satisfactory. For example, if you are looking for entries on woodpeckers, you need to know to look under 'A' for American Three-toed Woodpecker, 'P' for Pileated Woodpecker, etc. I was happy to see the dispersed sections on technique listed together under 'art technique.' Since these boxed informational sections are not listed in the table of contents, this is the only way to find them apart from browsing.
There are a few items I need to nitpick about. Bird species are not capitalized. I understand that this is common in many media style sheets (looking at you, New York Times), but they should be capitalized in a bird book. There are a couple of factual errors: Charley Harper does not come from Alaska (p. 17); he was born in West Virginia and spent most of his life and career in Cincinnati. Western Scrub-Jay (pp. 118-119) was split into two species in 2016–California Scrub-Jay and Woodhouse's Scrub-Jay. (I first thought that this was a result of the book being in production for a long time, but then noticed that Canada Jay, which was renamed from Gray Jay in 2018.)
Birds of the West: An Artist's Guide by Molly Hashimoto is a welcome addition to a growing sub-genre of books about birds and art. This a rather catchall category of how-to's, art/gift books, and scholarly titles such as the recently published The Art of the Bird: The History of Ornithological Art through Forty Artists by Roger J. Lederer (U of Chicago Press, Sept. 2019). But, it is an important one, since birding could not exist without art. It allows us to identify birds, appreciate finer details of their beauty and anatomical construction that we might otherwise overlook, respect their specific and adaptive habitats, and communicate their beauty and value to others. Birds of the West: An Artist's Guide spans both the 'how-to' and 'gift book' niches. I think it would make a lovely gift to the non-birder in your life (remember, it's November!). It would also be of interest to birders who enjoy drawing or who are interested in nature journaling, The book is not a substitute for a workshop, nor does it have the instructional continuity of The Laws Guide to Drawing Birds, but it is unique in its attention to the art of block prints and Hashimoto's experienced tips on technique, some unconventional, are inspiring and educational. Finally, you don't need to be an aspiring artist to enjoy this book. You can be like me, a birder who simply enjoys viewing birds through the eyes of an artist.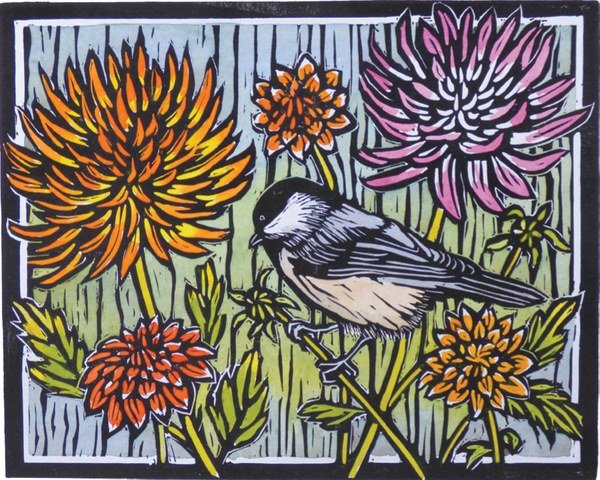 ---
Birds of the West: An Artist's Guide
by Molly Hashimoto
Skipstone, 2019
176 pages, 8.5 x 0.5 x 10 inches
ISBN-10: 1680511505; ISBN-13: 978-1680511505
$22.95 (discounts from the usual sources)