There are many routes to take from the southern end of Albany to the western part of Saugerties. The fastest is straight down the New York State Thruway to Route 32 to Route 212. But the best birds you'll see taking that route are Turkey Vultures, Red-tailed Hawks and American Crows unless you get lucky. And you won't get a picture like this: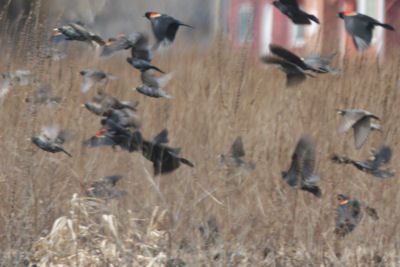 To get to Saugerties for my Aunt Bonnie and brother-in-law Tim's birthday dinner (Happy Birthday!) I took South Pearl Street out of Albany and kept going as it turned into Route 144. A left brought me into Henry Hudson Park in Bethlehem where people easily outnumbered the few birds and I was dismayed to note a gargantuan swath of brushy stuff and little trees had been cleared down to bare earth. It had been a good warbler spot and home or cover to catbirds, cardinals, sparrows and variety of others. Bummer.
Further down 144 I drove into Coeyman's and stopped down at Coeyman's Landing to see if any birds were about. Ring-billed Gulls, Fish and American Crows, Mallards, and singing Song Sparrows were present, and, in the wet, wooded area south of the soccer fields, a flock of Red-winged Blackbirds, Rusty Blackbirds, European Starlings and Common Grackles foraged.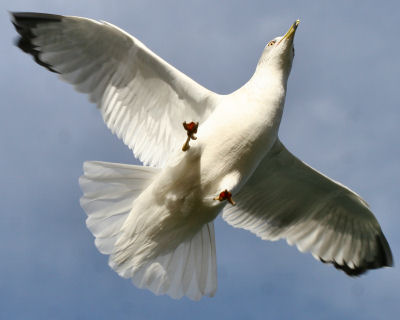 From there I headed down to Coxsackie, taking Route 61 because it goes through good habitat. Not much bird-life en route, except for a distant Northern Harrier and some sparrows that wouldn't cooperate.
At the Coxsackie boat launch I saw distant Buffleheads, a Ring-necked Duck and three fly-by Common Mergansers in perfect light that I was too slow to photograph. You'll have to be happy with this Canada Goose instead: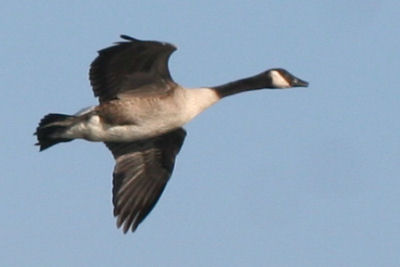 From the boat launch I drove around the marvelous grassland habitat that remains around Coxsackie. A Cooper's Hawk at the grasslands formerly known as the Greene County IDA but now known as the Coxsackie Creek Grasslands Preserve was a first for the year and three Killdeer were my first of the year in a local patch. Harriers hunted, red-tails screamed, crows cawed and icterids, uh, icked.
I stopped at the Ramshorn-Livingston Sanctuary in the City of Catskill next but didn't come away with much. Some singing Brown Creepers in the evergreens at the beginning of the trail, Song Sparrows singing in the marsh, and Red-winged Blackbirds acting territorial was about it.
I wanted to stop at the Great Vly in the northernmost part of Ulster County, just down the road from my grandmother's house, but didn't have time so I sped to my folks' and pointed out a Purple Finch in a hemlock tree to my father.
I also got this interesting shot of a Downy Woodpecker leaving the suet feeder when I left my camera on a setting not meant for birds: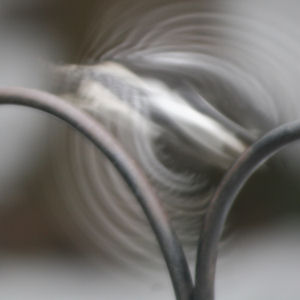 So the next time you have a forty-five minute drive make it into a three-hour trip and take time to smell the…birds (though looking at them is usually more rewarding).