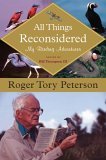 Reading a book is usually the closest we'll ever come to interacting with its author. The experience of reading some books is akin to meeting a new friend; other times, it's like becoming reacquainted with an old one. Many publications take a didactic tone, seeming to the reader a professor by proxy. More regrettable texts, written by hacks, quacks, and mercenaries, leave one feeling taken advantage of. These thoughts come to mind because I've just finished Roger Tory Peterson's splendid All Things Reconsidered, which felt for all the world like sitting at the knee of the master himself.
I'm hardly one to canonize great figures living or dead, but Roger Tory Peterson's place in the birding pantheon is assured. It's been said that no one has done more to promote an interest in living creatures than Roger Tory Peterson, at least in the twentieth century. Heralded as the inventor of the modern field guide, awarded the Presidential Medal of Freedom, nominated for the Nobel Peace Prize (twice!) for his role in raising environmental awareness, Peterson has left a legacy that touches practically anyone who raises glass to eye in order to watch wildlife.
One of this mighty naturalist's most enduring gifts to our generation is his writing. Inspired, effortless, and informed by a singular experience of well over a half-century of world birding, Peterson's prose reads like living history. We are fortunate that Bill Thompson III, the editor of Bird Watcher's Digest and respected author in his own right, has compiled what he deems the best essays from Peterson's long-running "All Things Reconsidered" column. The result, All Things Reconsidered: My Birding Adventures, is as potent a dose of concentrated birding brilliance as I've encountered.
Is it obvious that I've been bowled over by this collection of essays? Having seemingly been everywhere and met everyone in the field of wildlife observation from his birth in 1908 to his death at age 87 in 1996, Peterson manages to convey more about birding on one page than most of us hapless scribblers may ever muster. He moves easily from analyzing the taxonomic errors made by Audubon in identifying North American warbler species to himself identifying various species of bird watchers. He chronicles his avian-inspired adventures throughout the United States and across the world at large from Africa to Antarctica. And since he speaks from the heart, Peterson discusses environmental causes, contemplating extinction and invasive species while sharing fascinating insights into the early days of ecotourism.
All Things Reconsidered offers something for everyone, particularly birders who would like to understand their craft in its historical context. Though I'm admittedly not a devotee of Peterson's field guides, I do deeply admire the man and his writing. Browse a few pages of this collection of essays and I'm confident you'll feel the same way.