A horde of Daisy's relatives are visiting us during the month of May and I have taken this second week of the month off to spend time with them.  The fact that the second week of May just so happens to be the peak of spring migration is a total coincidence and has nothing to do with my decision about which week to take off from work.  Anyway, one thing that is easy (and free) to do with visitors on a nice sunny day like yesterday is to visit Central Park, that green oasis in the midst of the city that pretty much defines urban.  Of course, because of family obligations, I could not bird the park properly, but I could make sure to steer us in directions that might take us past recently reported rarities, like the Common Moorhen that has been spending time lately in the lake near the boathouse.  So, once we reached the park, I made sure that we were constantly moving in the general direction I needed to go (easy to do when one is pushing a stroller and sets a brisk pace).  That Common Moorhen would be mine!
My brisk pace failed to take into account a three-year-old with little legs and the willpower of Daisy, who might have had some inkling about my ulterior motive.  We sloooowly made our way through the park, seeing the sights and smelling every single gosh-darned, flim-flammin' flower in the park.  At least I had pigeons to entertain me.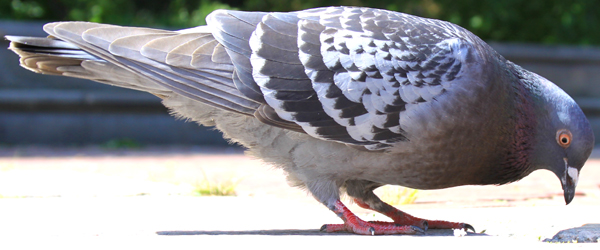 Now might be the time to take a quick digression from this tale of the Central Park visit to explain that I had awakened early in the morning and, with full approval, snuck out to Forest Park where, in addition to a horde of wood-warblers, I spotted my first Indigo Bunting of the year, prior to catching a ride with a fellow birder, Seth Ausabel, to Valley Stream State Park after he received a hot tip about a singing Kentucky Warbler that we managed to track down with the assistance of the bird's original finder, Bob Kurtz.  And, of course, from there we tried to get the reported female Summer Tanager at Alley Pond Park, but, really, that was an absurd pipe dream of a twitch, and, sure enough, we dipped, having to make do with Solitary Sandpipers, nest-building Baltimore Orioles, and, honestly, do you really need a list?  Let's just say that I was out birding from 6:30 AM until almost noon at the height of spring migration so if anyone out there was perhaps considering feeling sorry for me about not being able to take off at a run to track down the Common Moorhen, well, you shouldn't.
Back at Central Park we had finally reached the lake where, fortunately for me, it was decided to take a snack break.  As I scanned the lake for my moorhen my heart sank.  There was no way any self-respecting moorhen would show itself in a lake so lousy with rowboats.  Sure, Mallards with ducklings might be foolish enough to try to find enough water to swim in between the turtles and the rowers but Mallards are notorious for not being picky about their surroundings.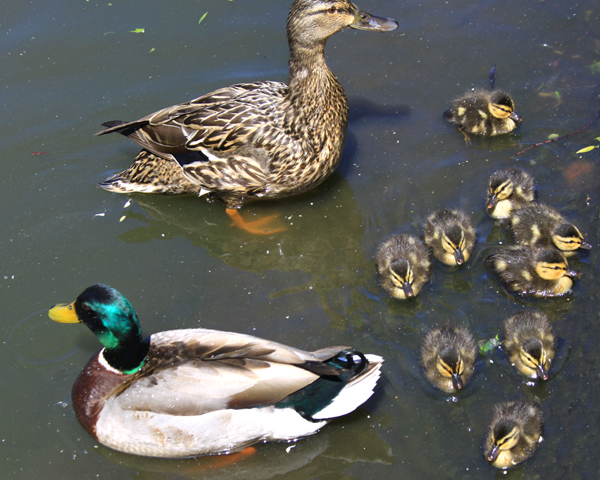 And, yes, I know I cut the top of the hen Mallard's head off in the picture above but, in my defense, at the same time that I was taking the picture I was keeping my three year-old-niece, Audrey, from throwing herself into the lake in a frenzy of over-cuteness.  Somehow, she managed to restrain herself once the ducklings swam away and all that was left were Canada Geese.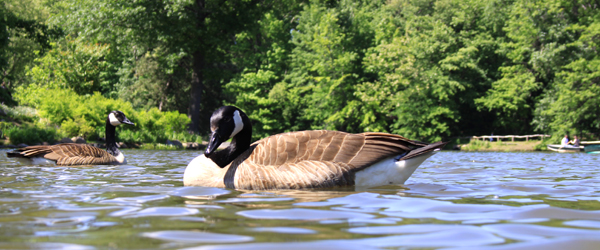 As snack time lengthened I started to get worried and eventually even went to one of the vendors and picked up a pretzel to make sure snack time wouldn't end prior to my finding the cursed Common Moorhen.  Eventually, finally, the bird showed, swimming nonchalantly across the lake, dodging oars, and then sitting near shore on some submerged item, and, well, just sitting.  Here is my amazing picture, taken from across the lake with my little tiny lens…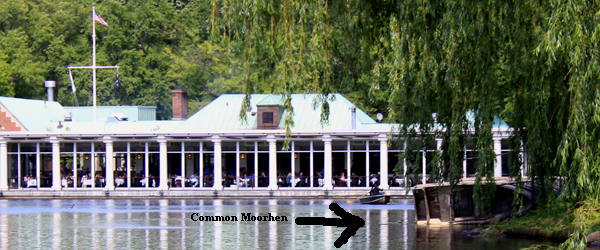 Sure, you may laugh at the horrific picture and wonder why anyone would make a big deal out of seeing a bird with the adjective "common" in its name but the only thing Daisy's relatives were wondering is how little Audrey managed to stop me from throwing myself into the lake.  My first Common Moorhen of the year and my first ever in Manhattan.  And I didn't even have to rent a rowboat.