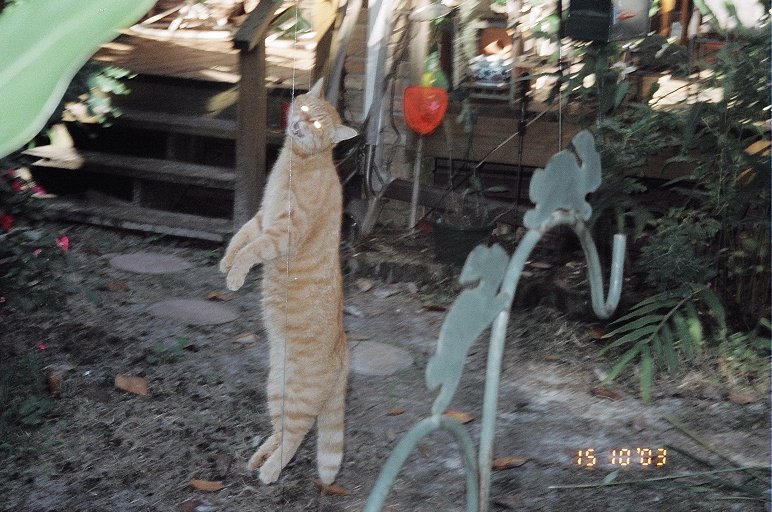 Dear Outdoor Cat Owners/Feral Cat Supporters,
Does the photo above sicken you? It sickens me. I have been rescuing animals, both wild and domestic, since I was a child. I've rescued field mice to horses, and everything in between. I'm allergic to cats, but in my lifetime I've rescued five of them. The last one, who took up residence under my house on a frigid January afternoon, is now a friend's happy, healthy indoor cat. I look at the photo, and am enraged by how cruel and callous human beings can be.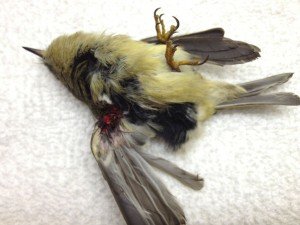 I have been a wild bird rehabilitator for 25 years. I have received countless numbers of wild birds mangled and/or killed by outdoor/feral cats, such as the Orange-crowned Warbler pictured here. Is it the fault of the cats? No: it is the fault of their owners, their former owners, or the Trap-Neuter-Release crowd. I look at these birds, and am enraged by how cruel and callous human beings can be.
When you allow your cats outside, or feed and sterilize ferals (but don't actually rescue them), you are essentially doing the same thing to wild birds that the unknown monster did to the cat hanging from the tree. No, you are not actually torturing and killing birds with your own two hands; but you are completely responsible, just as if you allowed a child with a penchant for killing animals to continue (and explained it by saying, "It's too bad for the animals, but that's what kids do. It's natural.")
Can your hearts be so species-specific? Can you talk about how much you love your cat, and ignore the shredded bodies of the birds it mutilates? Can you convince yourselves that your cat does not kill birds, when statistics show pet cats only bring home 23% of their kills? If that's the case, then let me show you what happens to outdoor cats.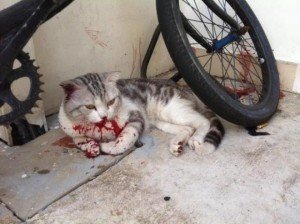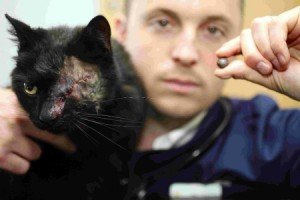 If you love your cats so much, why don't you protect them?
Recently I received an email and these two bird photos from Veronica Bowers, founder of the songbird rehabilitation center Native Songbird Care and Conservation in Sebastopol, CA. She had just received four cat-caught songbirds within 55 minutes. All had to be euthanized due to the severity of their injuries.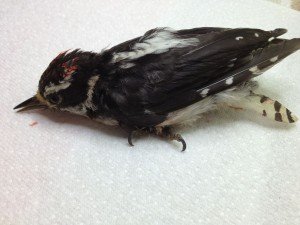 Outdoor/feral cat people: are you upset I posted these cat photos? How lucky you are that you can delete them with the push of a button. It's so much easier to delete a picture than to end the life of a mortally wounded cat-caught bird, like this Downy Woodpecker … who is alive, but not for long.
There is no moral ambiguity here. Cats are domestic animals highly susceptible to a host of diseases, many transmittable to humans. They are safer and live far longer indoors. If you love cats as much as you say you do, then stop playing Russian Roulette with their lives.