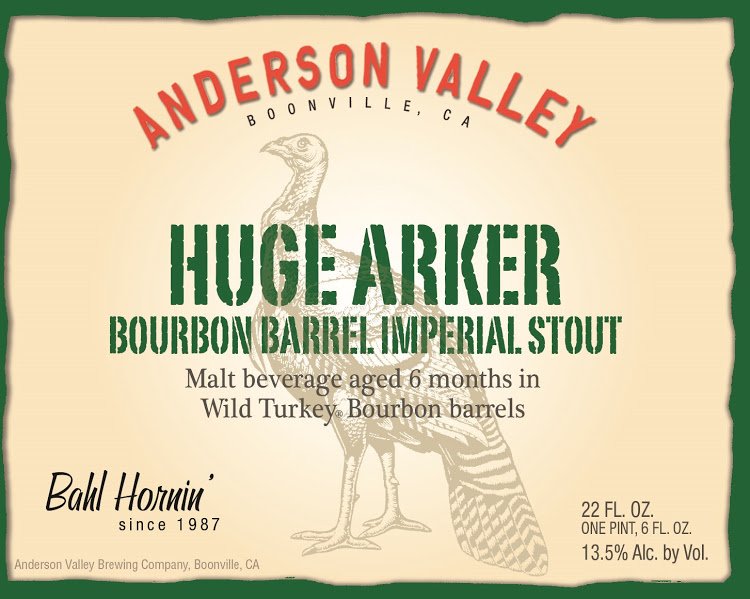 There isn't a more obvious association between any American holiday and birds than that between Thanksgiving and the Wild Turkey (Meleagris gallopavo), so when your blogging gig is reviewing booze for a birding website, needless to say you need to find a turkey-themed beer. Of course, this affiliation depends entirely on that bird's unlucky lot to be eaten en masse (but usually not en croûte, en papillote, or en cocotte) on a holiday that's become so synonymous with feasting on this fowl that it's equally well known as Turkey Day. Having said that, no turkeys were harmed in the brewing of this week's beer – though I can't promise the same to those who unwisely choose to overindulge in it.
Huge Arker is an imperial stout brewed by the Anderson Valley Brewing Company of Boonville, California, and aged in Wild Turkey bourbon barrels for half a year before bottling. Its peculiar name derives from the invented and nearly-extinct Boontling argot particular to the Anderson Valley – an unlikely hodgepodge of Appalachian Scots-Irish dialect, Spanish, and the indigenous Pomo language of the area. As far as I can tell, "arker" is Boontling for "wrecker", and I have to assume this stout is so named for its remarkable alcohol content and the likely effect on its drinkers: this potent beer weighs in at a whopping 13.5 percent by volume.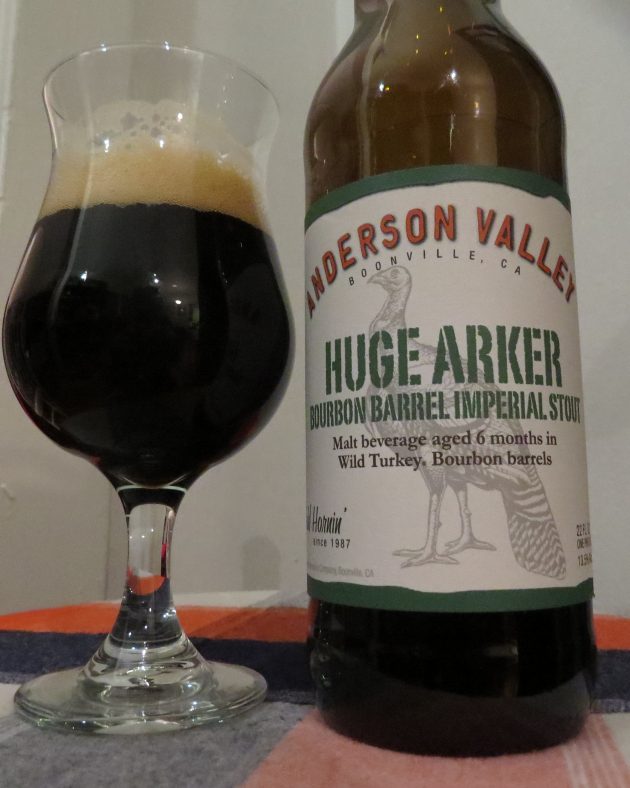 Huge Arker arrives with a dense, lacy beige head sitting on top of a deep, burnished mahogany beer. The bourbon barrel aging expresses itself instantly with traces of vanilla bean, toasted coconut, charred oak, and allspice, along with a restrained but minty hop aroma and flashes of warming alcohol. Beneath these delicate aromas lies an intricate arrangement of toasted marshmallow, raisins, cocoa, butterscotch, and the earthy scent of buckwheat honey and even hints of pipe tobacco. The palate leans towards sweetness with plenty of dried fruits, burnt sugar, dark chocolate, and brown bread, with enough dark malt and hop bitterness to temper these decadent elements. Huge Arker's undeniable richness fades into a firm, dry finish dominated by strong espresso, with hints of molasses, licorice, and a final, boozy kick of brandied fruit.
True to its name, Huge Arker is one walloping brew, and finding a place for it on an already indulgent holiday table is a cellar selection best handled with caution. Big beers like this can easily overpower nearly any food that stands in its way, so I'm not sure you'd want to drink Huge Arker with a traditional roast turkey next Thursday. But it could pair well with the same fowl in a dark, rich mole Poblano, perhaps a more welcome use of the inevitable leftovers than the usual cold sandwich. But for Thanksgiving itself, Huge Arker is probably best suited to the end of the meal. It should pair beautifully with chocolate desserts and – even more obviously – bourbon pecan pie. If you're inclined to skip the sweets, it's certainly rich enough to stand in for dessert on its own, or to match with a strong blue cheese or aged Cheddar, and it'd make a lovely after-dinner sip or even a nightcap at the end of a long day of holiday celebrations. And if the dinner table conversation with the relatives gets particularly out of hand – whether over politics, outdoor cats, the recent demotion of Thayer's Gull, or opinions on Snowy Owl photography – then the evening might even call for a boilermaker of Wild Turkey bourbon chased with some Huge Arker. But I'm not sure I can recommend this pairing in good conscience. If you do it, don't expect to be up at sunrise for birding on Friday.
Happy Thanksgiving drinking and good birding!
________________________________________________
Anderson Valley Brewing Company: Huge Arker





Four out of five feathers (Excellent)
________________________________________________
Birds and Booze News:
Scotland-based brewery Brewdog has released a beer intended to raise awareness of the threats posed by global climate change, called Make Earth Great Again.
Hawaii's Maui Brewing Company is hosting an event on November 24th to benefit the Maui Forest Bird Recovery Project.