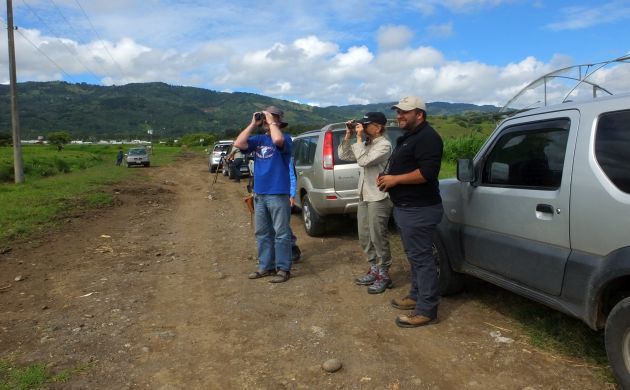 In Costa Rica, we don't get many chances to chase birds. While we could chase a number of local, rare residents, looking for super tough species like Pheasant Cuckoo and Tawny-faced Quail is more akin to searching and lurking in appropriate habitat and just hoping to get lucky. The same goes for other challenging resident birds like the Rufous-vented Ground-Cuckoo, Speckled Mourner, and Gray-headed Piprites. Nope, not making those names up although they are encountered so infrequently, they almost seem more like creations of an imaginative mind than actual birds. Most times, because they don't usually stick to one spot, you can't really twitch the super rare residents and since they live in Costa Rica all year long, I'm not so sure if they fall into the twitchable category anyways.
No matter where in the world we bird, it seems like the ones we twitch are the birds that aren't supposed to be there. They take the form of a White-winged Tern that got lost somewhere over the Atlantic and ended up in Pennsylvania. They are the Desert Wheatears and Siberian Thrushes that abandon all reason and fly to Britain (maybe they heard about the UK Birdfair?). These are the birds that are very much unexpected, and regarding Costa Rica, I am sure seriously unexpected species like Red-necked Stint and American Pipit do pay a visit, there just aren't enough birders combing the countryside to find them. Well, that, and ironically, probably because there is too much habitat for them to hide in. Other than a Hudsonian Godwit that left for destinations further north and outside of Costa Rica while we watched it, the closest I have come to finding a twitchable bird in this birdy country was a dream I had of seeing a Loggerhead Shrike in Guanacaste. The open, dry habitat was perfect for it and the experience was so real, it was almost painful to wake up but alas, no Loggerhead Shrike, just a vivid dream of a migrant bird that could make a mega appearance in Costa Rica.
Given our lack of twitchable birds, lately, birders in Costa Rica have been especially pleased to be graced with the presence of a major, honest to goodness twitch. Although the Aplomado Falcon is on the list, it's not resident and there are few records, most of which seem to pertain to juveniles that wander into the country at this time of year. Those few records also usually come from Guanacaste where there is more than enough wide open habitat for this Falco species to frequent and become subsequently lost in (along with that shrike from my dreams). However, even if a trio of Aplomados and shrikes flew down to Costa Rica, chancing on them would still be unlikely because there is just too much inaccessible land where they can occur. In fact, right now, in all likelihood, there probably are a few Aplomados up that way hunting in some far off fields never visited by birders. Luckily, the one that was twitched by many birders last weekend (moi included!) decided to play fair and live it up in an easily accessible area of localized habitat.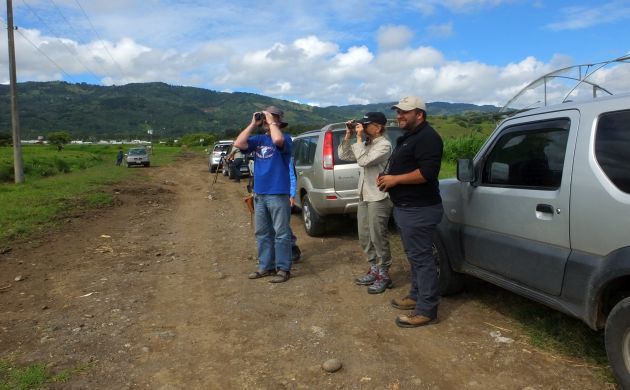 Happy birders looking at an Aplomado Falcon. The guy on the right is Sergio Arias, check out his Costa Rica Birding Hotspot Stand at Birdfair.
Instead of freaking out the doves in farm fields up north, our bird flew over San Jose to make house just outside Cartago, one of the main cities in Costa Rica! Unlike San Jose, the inter-montane valley where Cartago is located has a more humid environment including open areas with marshes and fields of sedge. Although some similar habitats may have been locally found in San Jose before drainage and urbanization took place more than a century ago, the unique sedge dominated habitats were never as extensive as those that occur in Cartago. Sadly, much of that remaining rare habitat in Cartago has also been drained and built upon, the last largest remnant occurring in an industrial and farming area known as Coris. This is where the young and adventurous Aplomado stopped at least a month ago and found the hunting to be good enough to survive to this day.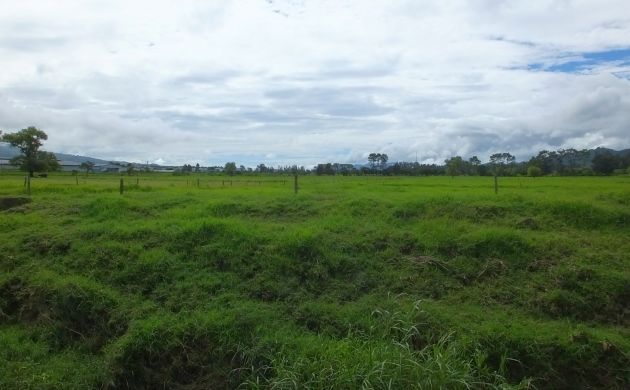 Good habitat for a wandering Aplomado Falcon and locally endangered Sedge Wrens.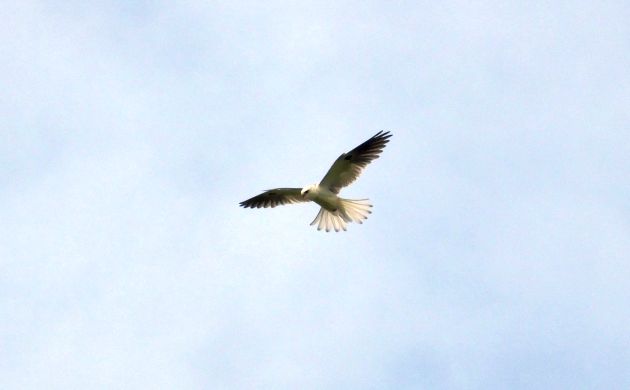 One of the several resident White-tailed Kites came close enough for shots, the Aplomado was sadly much too far off for pictures.
When we saw it, the bird used its long, narrow wings to casually zip low over the ground as it flew from one distant perch to the next in true Falco fashion. Given the ground it covered in a matter of seconds, it was easy to see how this species could visit Costa Rica in the morning and just fly back to Nicaragua or onward to Panama that same afternoon. It was big, built for speed, and on the move. Like so many other twitches, we did have to wait for the bird for an hour or two but it did eventually show and at least twenty of us had the chance to admire it through scopes on a sunny Sunday morning. I hope it catches enough doves and whatever else it needs to survive until another Aplomado of the opposite sex is adventurous enough to look for territory around Cartago. In fact, there were rumors that a second falcon was indeed in the area. Until then, it will still be a treat to watch the local Sedge Wren subspecies (likely a separate species from the ones in the USA and Canada), Lesser Goldfinches, and Tropical Mockingbirds while waiting for a fantastic Aplomado Falcon flyby.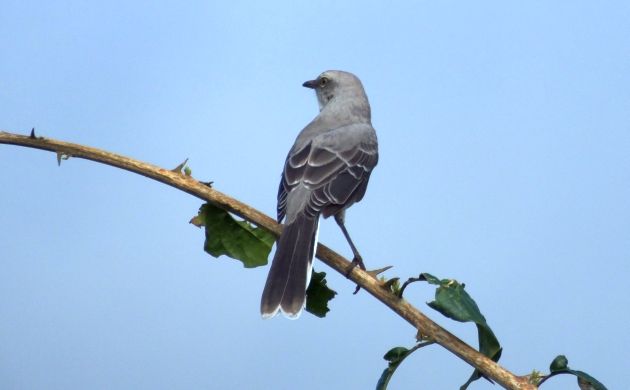 One of the many Tropical Mockingbirds at the site.
No twitch ever becomes possible if someone isn't there to find and report the bird first. Along those lines, we can thank Daniel Martinez for first reporting the bird while doing bird surveys in Coris, and Ernesto Carman of GetYourBirds! for re-finding the bird after a few tries, subsequently reporting it, and organizing a trip to see it. Speaking of Ernesto, I should also mention that he has also organized a Cerulean Warbler count for the first days of September. If you happen to be in Costa Rica at that time, this is an excellent, fun way to see Ceruleans during migration as they share the tropical forests with things like puffbirds, Great Green Macaw, antbirds, and lots of other wonderful, tropical birdiness. Hope to see you there!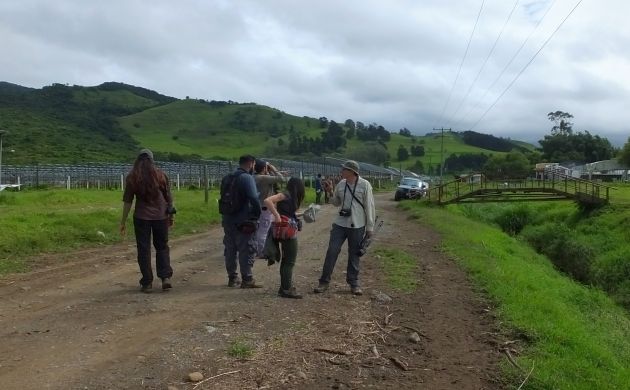 These twitching birders will probably be counting Cerulean Warblers in two weeks time.