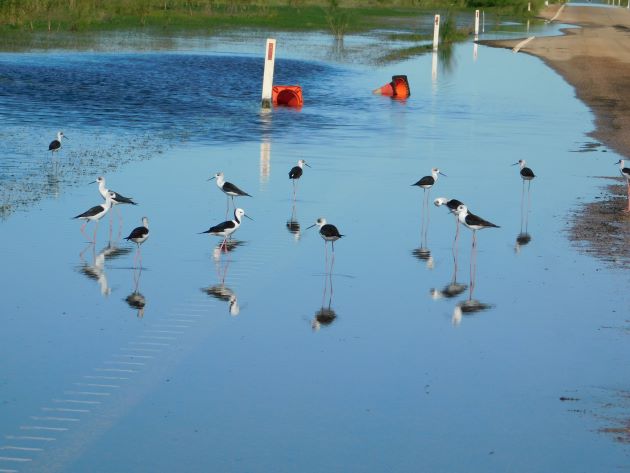 Anyone who has spent any time observing birds knows that they are flexible and adaptable. Birds need to travel to find food and migrate long distances to breed. Many bird species are constantly aware that they are not very high on the food chain and need to be alert to predation. However, they don't appear to have a problem standing next to something that is clearly Hi-Viz!
Birds have very good vision and they would clearly be aware of the sudden presence of traffic cones along the Great Northern Highway to the south of Broome over several months earlier this year. The traffic cones were placed on the highway in some of the deeper holes. Of course when traffic didn't slow down as advised by the signage the traffic cones floated off to the edge of the highway or completely off the highway.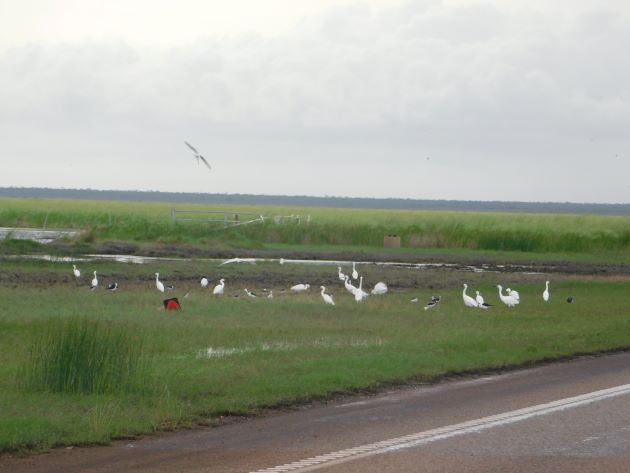 Egrets with a traffic cone
There was so much water everywhere from the flooding that many birds would retreat to the highway. The highway offered a refuge from the flooded landscape and also food. Although the land is dry for much of the year there are fish present once the land floods. These small fish try to swim across the highway and the birds are able to feed on them.
The addition of the traffic cones appeared to have very little effect on the presence or location of the birds. They clearly would have been able to see the addition to the landscape. With very little traffic on the highway during the months that the traffic cones were in place it almost appeared as if the birds were attracted to the traffic cones! In many ways the traffic cones marked out the place that the fish would swim across the highway!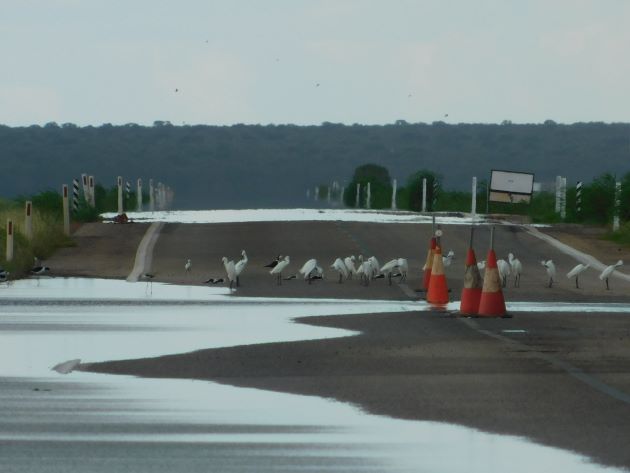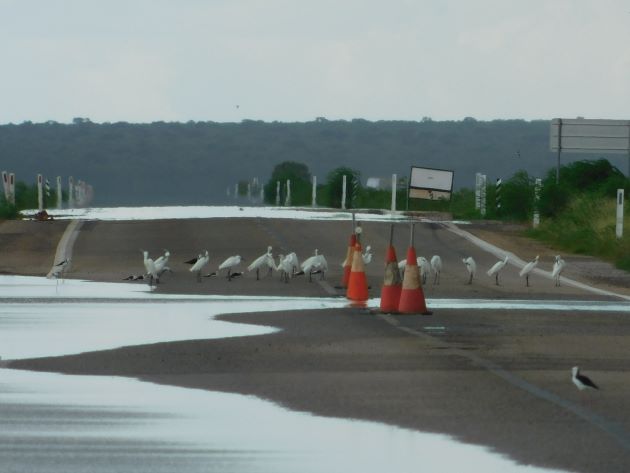 Black-winged Stilt and Egrets
The birds were often so settled on the highway amongst the traffic cones that they were reluctant to take off right until the last minute as you approached.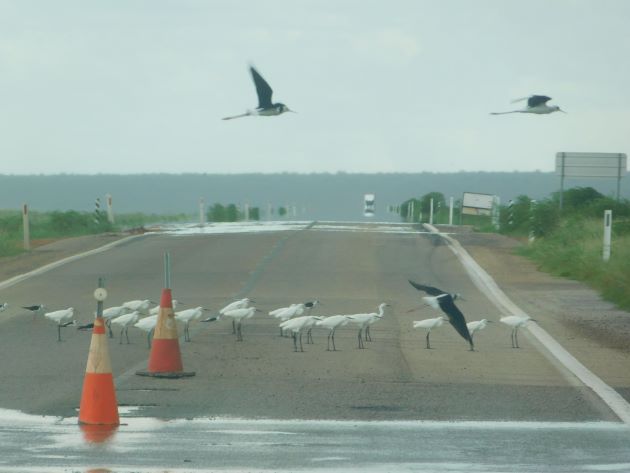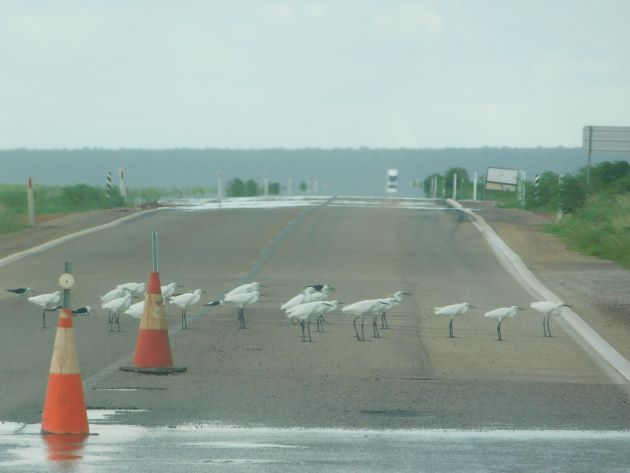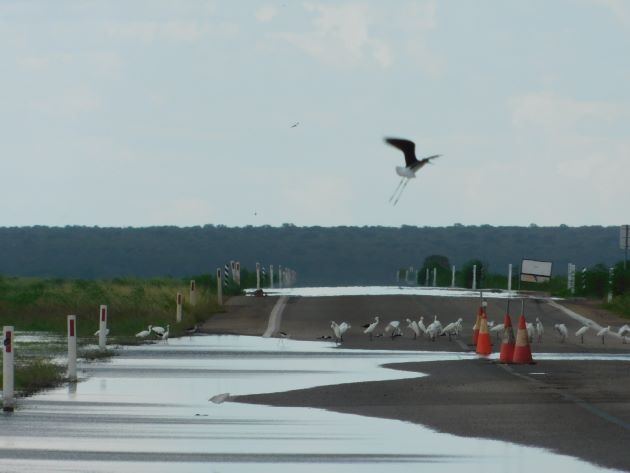 Last minute decision to move!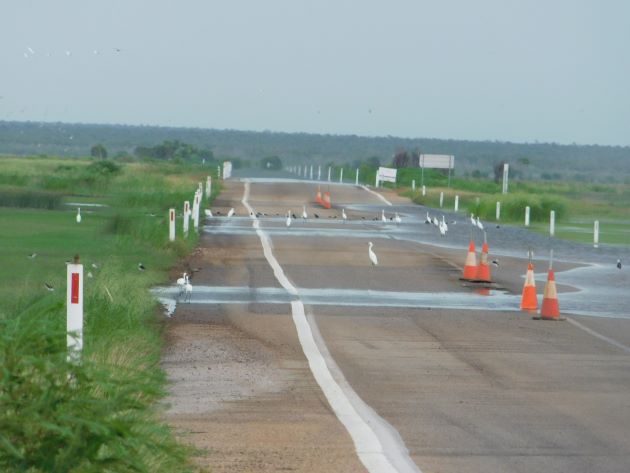 Traffic cones marking the food source for the birds!
On some occasions it almost looked as if they had become used to the company of traffic cones and the Black-winged Stilts would lie on the highway amongst them!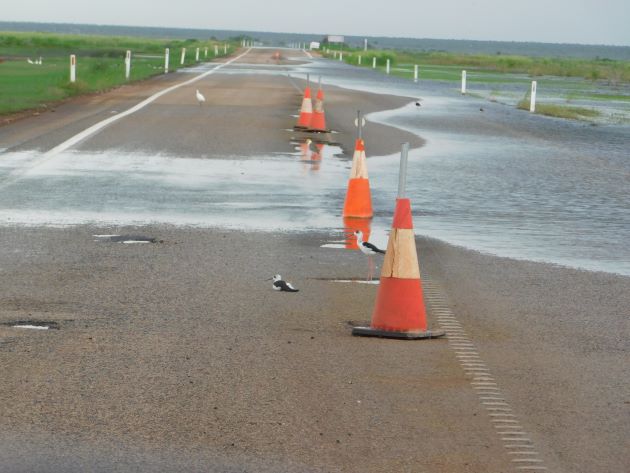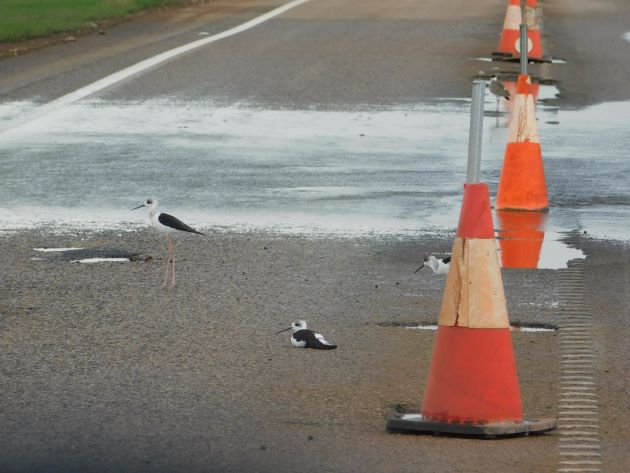 Relaxing amongst the traffic cones
I think we can clearly deduce that the birds were not at all bothered by the presence of the traffic cones along the Great Northern Highway near Broome this year!