Everyone knows who John James Audubon became: a renowned artist and naturalist whose inimitable style and spirit made him the paragon of American birding.  Many even know where he began and of the travails that tossed Jean Jacques Audubon from Haiti to France and then into the heart of a still wild America. Yet how many understand that the leap from fugitive to phenom was far from sudden but rather the work of Audubon's intrepid exploration into both nature and art? In order to truly appreciate the master, sometimes you need to see his journeyman sketches.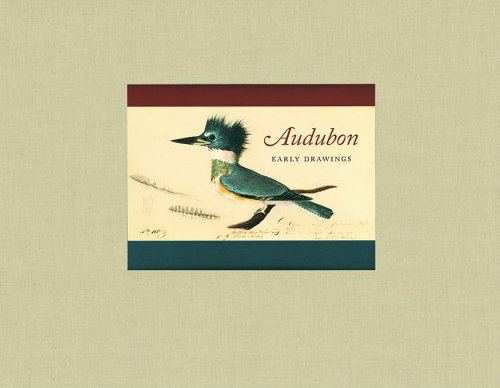 A handsome volume by Harvard University Press titled Audubon: Early Drawings displays this uniquely American artist's path to perfection to great effect. The editors have gathered 116 portraits of species collected in both America and Europe taken from the Houghton Library and the Museum of Comparative Zoology at Harvard.  Each full color plate appears alone on a huge 11′ x 14′ page with provenance and historical commentary on the opposing page.  The large format and quality wrapper definitely enhance these works but fans of Audubon will be most pleased with the art itself. Bird by bird (with some rodents thrown in for good measure) one can observe the evolution of Audubon's enduring style.
The scientific commentary in Audubon: Early Drawings is provided by Scott V. Edwards, Professor of Organismic and Evolutionary Biology and Curator of Ornithology at the Museum of Comparative Zoology, Harvard University. The book is also introduced by award-winning author and Audubon biographer, Richard Rhodes. But the work itself, presenting portraits of American and European birds from the early nineteenth century, including some rare or extinct species, along with exotics and mammals that caught the artist's fancy, is pure John James Audubon. I think that any Audubon fan or birding completist would proud to have this truly beautiful book in his collection.
You can learn more about Audubon: Early Drawings and see some of the exquisite plates at the Harvard University Press site. Plus, right now Amazon is offering an incredible discount.