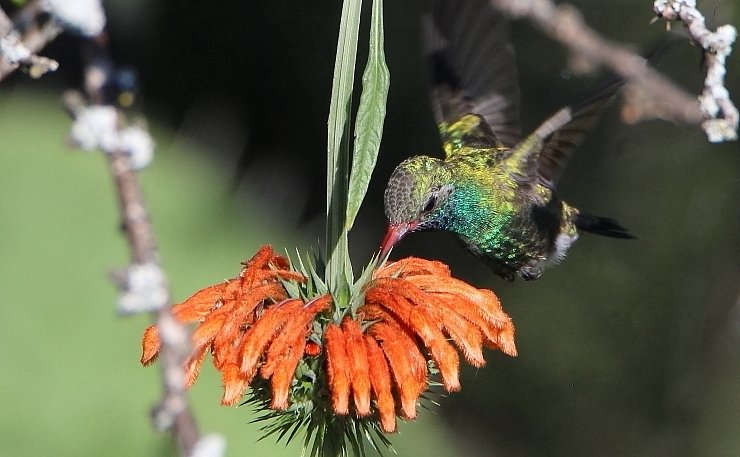 I'll be honest: As much as I enjoy writing for 10,000 Birds, there is an element of anxiety to the commitment. I'm not the kind of birder who has a deep reserve of great stories and, especially, quality photos to share. (Here's looking jealously at you, Kai!) Given this situation, it helps to have a productive outing every single week. So this September, with its persistent cloudiness and rains, as well as the pre-migration lull, was a challenge.
Suddenly, it is mid-October. The rains have ended, the sun is back out, and new species arrive each week from up north. Every plant is blooming, and hummingbirds, our most colorful birds, are everywhere. Once again, I almost seem to be a real nature photographer.
Last week I went to Las Mesas, just a few miles east of my home, on the edge of Morelia's urban area. The first area I reach in this zone is highland thorn forest near a reservoir, and a resident Broad-billed Hummingbird put on quite a show as it fed on Lion's Ear flowers: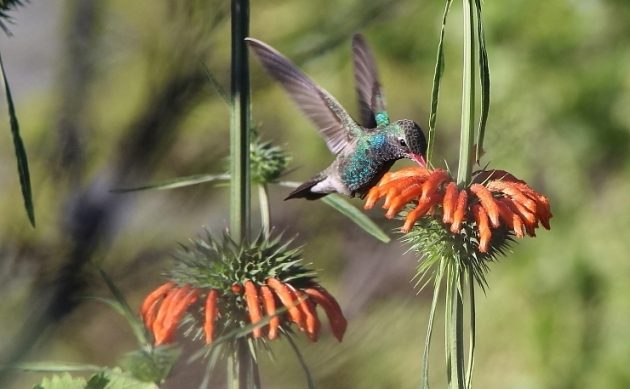 Black Phoebes are also residents in Michoacán, and love to be near water. This one was holding forth on some subject of importance.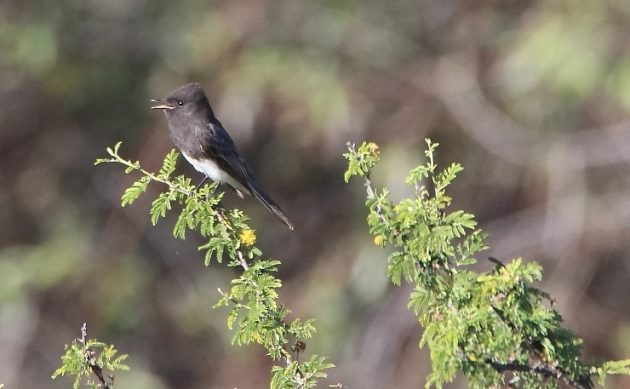 From the reservoir area, I drove to the town. The zone just beyond the town is still open, but high above the creek that feeds that body of water. There I saw my first migratory House Wren (Northern) of the season, as well as a female Lesser Goldfinch that appeared to be considering transitioning to life as a hummingbird.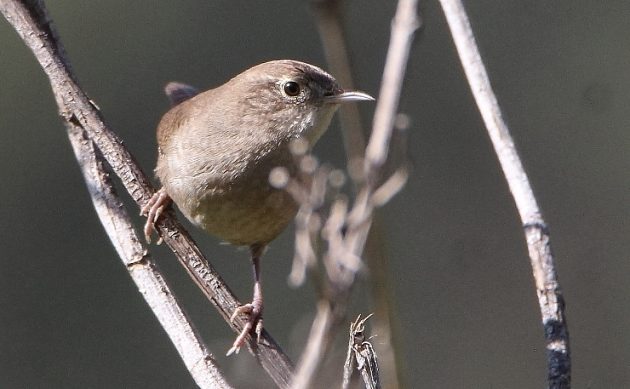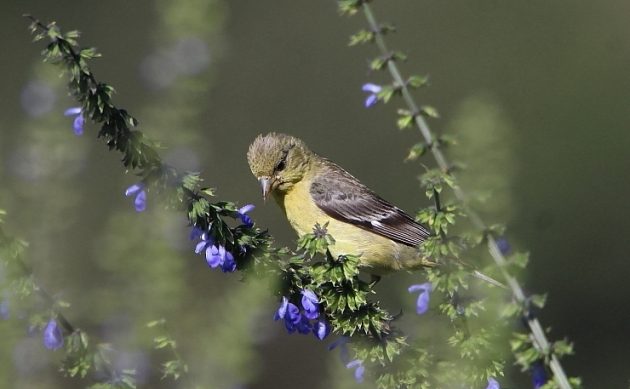 As I walked towards a more wooded section, I was delighted to see another fall returnee: a beautiful male Summer Tanager. In mid-winter, Summer Tanagers often molt to a yellow color with red blotches, so it is good to see them when they first arrive. Several females would show up further on.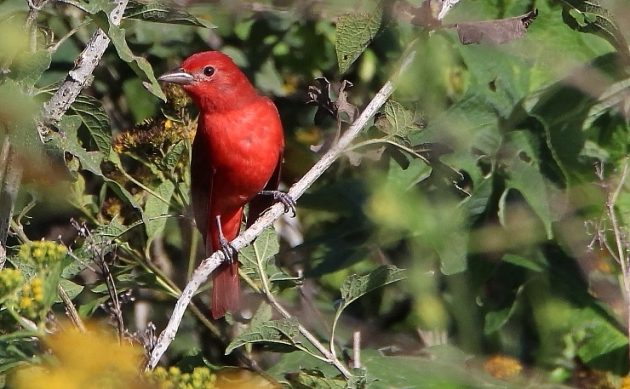 I'm quite fond of the Black-headed Siskin, a tropical finch found from Mexico to Nicaragua. You can just see an adult poking its namesake head out of the foliage at the bottom of the first photo. The bird at the top, and in the second photo, is a scruffy-looking adolescent.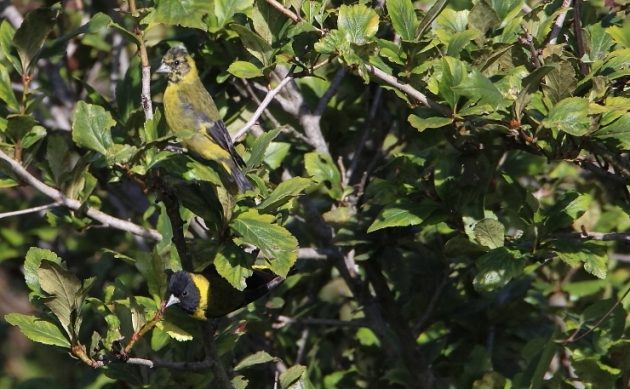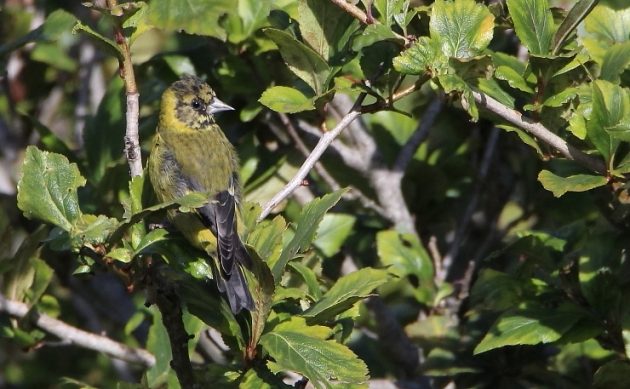 Rufous-capped Warblers are basically Mexican endemics, although they do spill over into Guatemala and, on occasion, the southwestern United States. They love underbrush, and are usually seen in pairs. This one decided to pose just for me.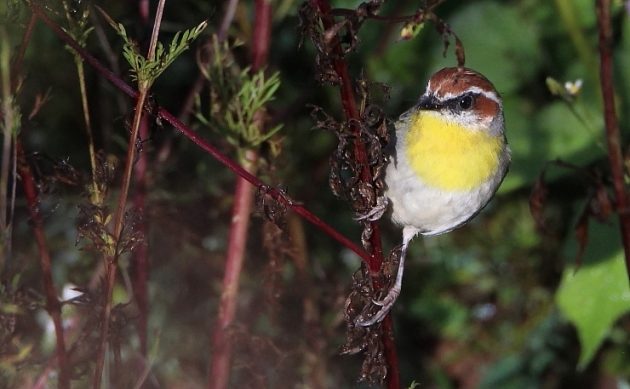 Of course, it wouldn't be October in central Mexico without a collection of different hummingbirds. I know I showed a male Rufous Hummingbird last week. But hey, when you've got them, you flaunt them.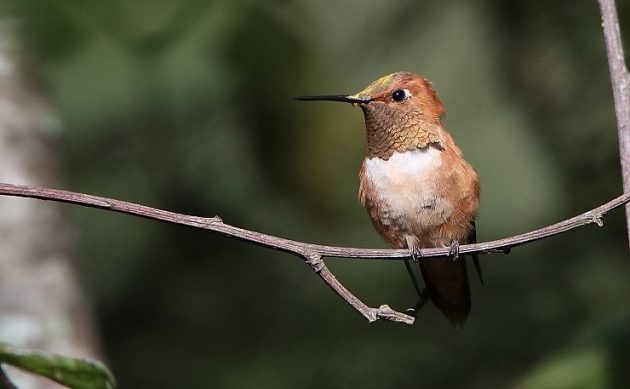 To look at all the purple on this Mexican Violetear's undersides, you would never guess this hummer was recently named Green Violetear.
And now, I'll break with this celebration of well-lit photos, and include a pair from deep shade. White-eared Hummingbirds are common residents down here. But I was intrigued seeing one feeding on a wild version of the common green bean. (Though I kick myself every time I see this photograph, for not having eaten a green bean or two myself.)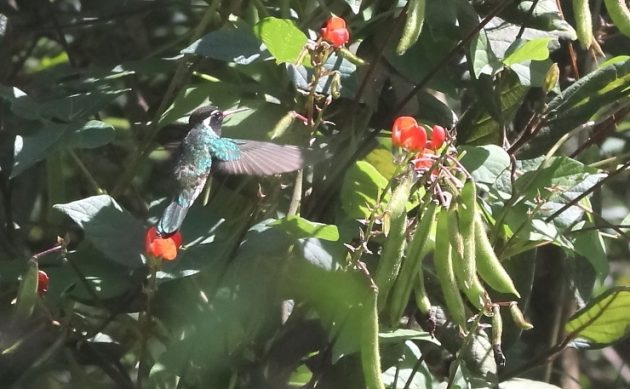 And this somewhat sad shot, taken in extremely dense shade, is of a true rarity in my region: a male Ruby-throated Hummingbird. Males of this species, and of their very close relative the Black-chinned Hummingbird, tend to winter far downhill on the coast. So I am surprised and delighted to have seen males of each species in the past few weeks.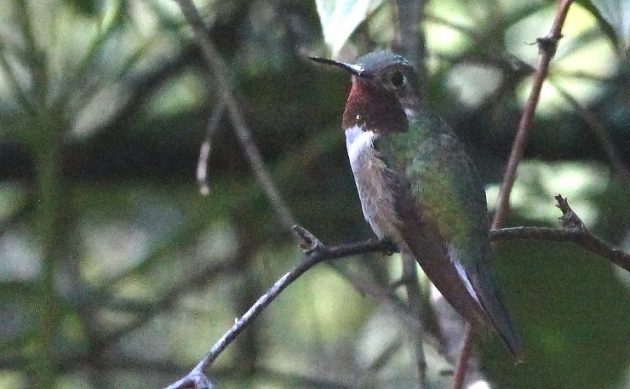 This recently-arrived Nashville Warbler was also in a deeply shaded part of Las Mesas' forests. But it was kind enough to pose artfully on a well-lit grapevine for me.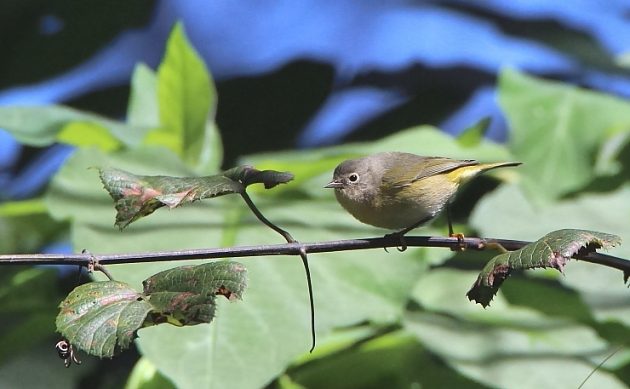 I'll throw in one last photo before ending, just because I can. Most of the wintering hummingbirds I see down here are females, for the reason mentioned above. (Strictly so for Ruby-throated and Black-chinned Archilochus hummers, not so much for Rufous/Allen's/Calliope/Broad-tailed Selasphorus hummers.) They all tend to have light underparts with more or less tan on their flanks. But they also all have orderly patterns of spots on their throats; females and especially immature males often have a few irridescent spots randomly distributed over this pattern, but without losing the orderly background. So this little critter, with its totally random large spots, is a complete mystery to me. The rest of the bird doesn't help much either, in my search for an ID.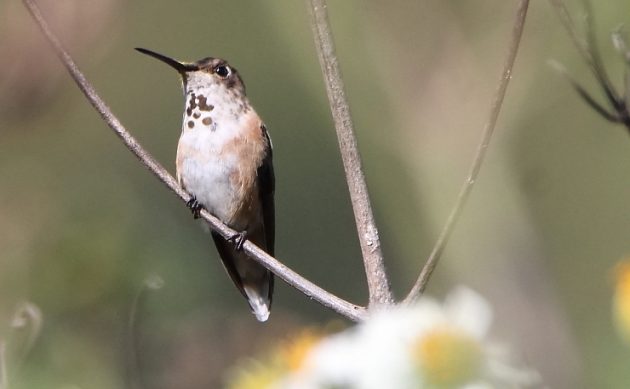 I would be thrilled to receive suggestions below, from readers who are wiser than I.