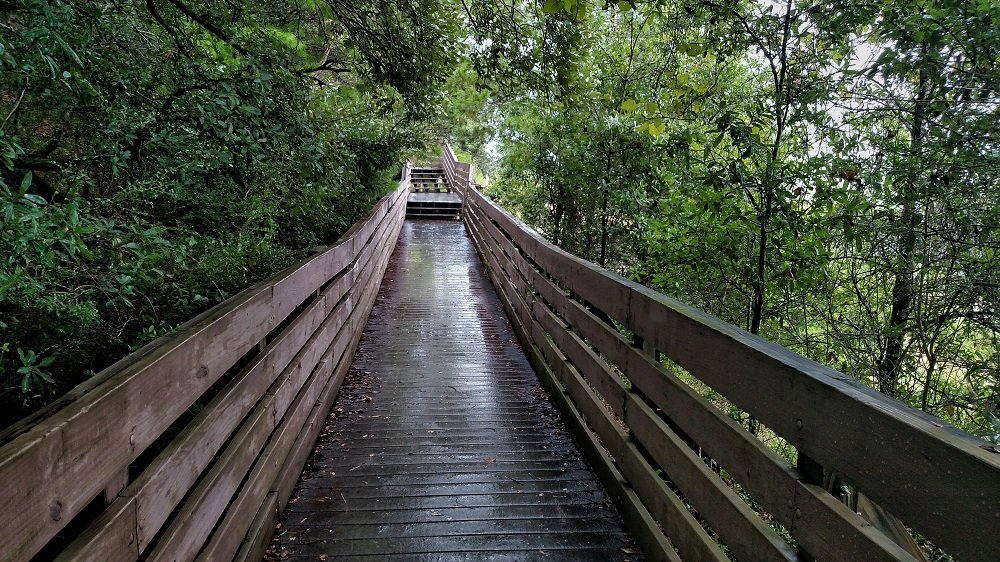 With all my recent traveling up and down the eastern United States, I have had almost zero time to bird in my "home territory." During my first full week at home in months, I vowed to change that with a visit to a new (to me) park.
Bay Bluffs Park in Pensacola, FL looks out over the beautiful Escambia Bay. The parking lot is high above the beach, wooden boardwalks and staircases taking my husband and I down and down and down and down. Okay, most people wouldn't think the descent was that dramatic, but in Florida any elevation gradient is impressive.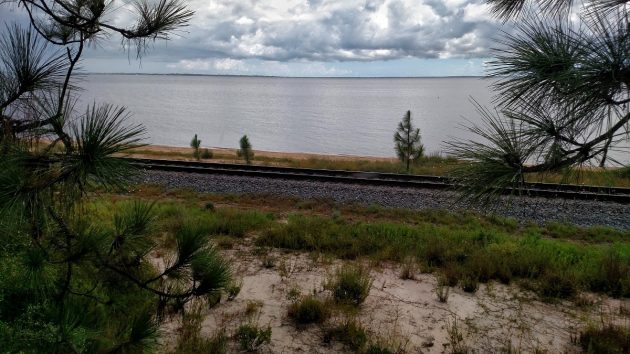 A view of Escambia Bay.
A rain storm had recently passed, and we walked beneath the dripping live oaks, feeling in many places like we were in a tree house. Carolina Chickadees, Northern Cardinals, and Carolina Wrens flitted in the canopy, emerging from what dry spaces they had found during the deluge.
Leaving the boardwalk, we crossed a set of railroad tracks and shucked off our flip-flops to feel the damp sand of the beach between  our toes. Escambia Bay was fairly calm, and it was easy to pick out the dark silhouettes of Brown Pelicans floating on the water. Terns and gulls were mere white glints against a cloudy sky, but the sun was beginning to break through and we were warmed by patches of sun overhead. A lone Great Blue Heron stalked prey in the shallows, eventually taking flight when a family (and their dog) made it to the sand. Another couple emerged from the trail behind us, their phones lit up with what has become the familiar Pokemon Go screen.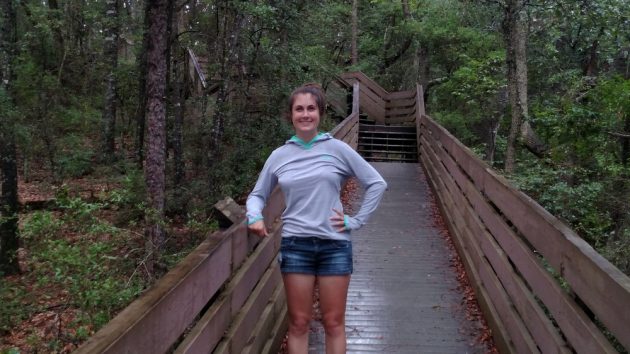 Enjoying the network of boardwalks.
Though small, Bay Bluffs is clearly popular;the parking area was already filling up a mere 30 minutes after the rain had passed. Given the unique birding opportunities and my well-documented love for boardwalks, I'm positive I'll return.