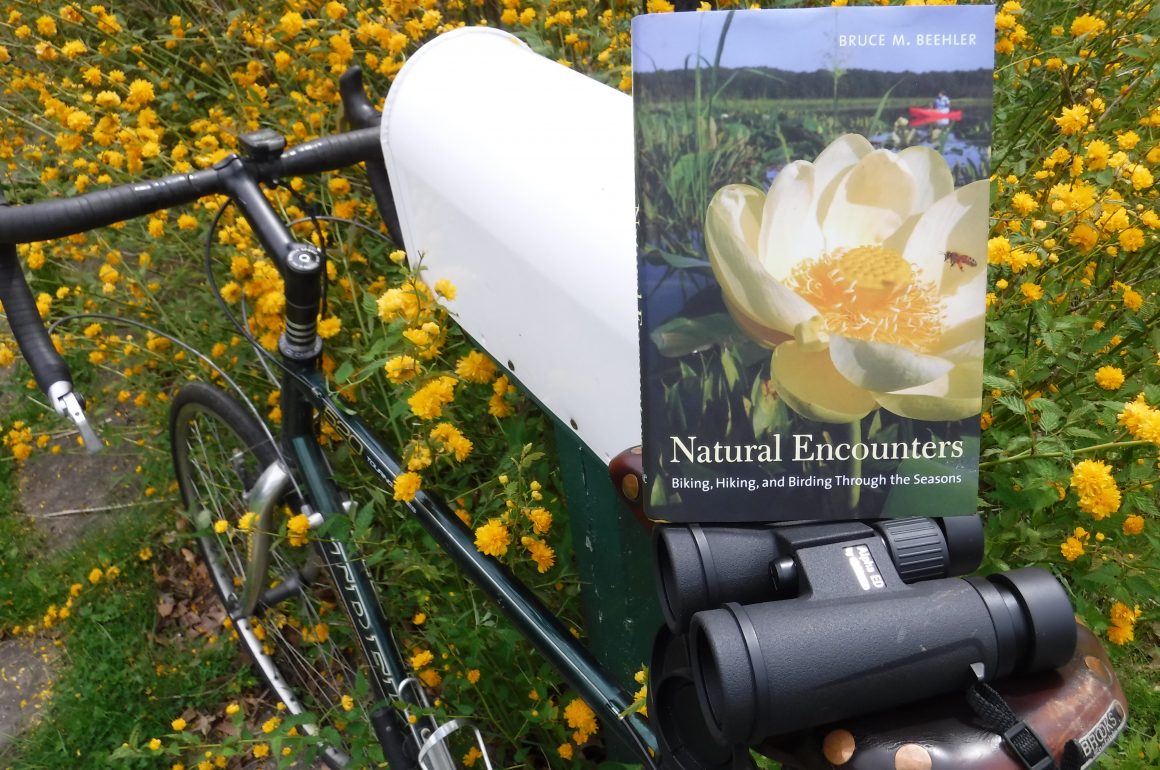 In his blog, Birds and Nature North America, the peripatetic Bruce Beehler professes to cover not just what the title says, but also American culture, American history, and "stories of back-roads travel and camping." Lately (in the last month or so) he's been through the Dakotas, Montana, and Canada, up to the Northwest Territories.  It's a blog well worth visitation.
The travels in his most recent book Natural Encounters:  Biking, Hiking, and Birding Through the Seasons are more limited — to the eastern part of the United States, mostly Washington, D.C. and environs, where he lives and works, and where access to nature is, he shows, surprisingly easy.  He's an ornithologist at the Smithsonian, and rides his bicycle to work in all four seasons on the C&O Canal Towpath.  And the book is organized seasonally, starting from the "sunny, lazy days" of late June and July, around the calendar, ending with "chasing the last of spring," in the following June.  Having lived there for 36 years, Beehler is able to appreciate, and communicate, how each season has "something new to see as well as a hundred familiar things to savor from the past."
In October, for example, he re-welcomes the bracing change of temperature, while wondering at a novel sight:  scores of Ring-billed Gulls hawking (that is, swooping upward with mouth open) insects along the Potomac River:  "Who ever thought of a gull as a flycatcher?"  And in April, he sees the return of the many species he has seen in that month in years past – but, also, weirdly, a Virginia Rail, a reclusive marsh bird, flopping around the sidewalk in downtown D.C.  (the poor guy must have hit a building window, predawn, while migrating – which is not, unfortunately, such a rare occurrence, see Corey's October 2008 post here).
In addition to his D.C. bike commutes, Natural Encounters describes other Beehler forays — as far south as the renowned "Ding" Darling National Wildlife Refuge in Florida, where you can see enough Roseate Spoonbills to give you an ice-cream headache, and as far north as less well-known locales in northern New Hampshire and elsewhere.  And he's sufficiently intrepid to make it out to the wilds of the Buckeye State – to Magee Marsh, near Toledo, for spring migration.
Beehler takes as a model and inspiration a 1947 book, Spring in Washington, by the "State Department bureaucrat and closet naturalist," Louis Halle.  Halle also did his observations from a bicycle saddle, Beehler says.  Ordinarily an assiduous reviewer would locate the Halle book, read it, and then draw, as part of his review, whatever interesting comparisions between the two books might avail.  However, a national catastrophe – I forget which one – has closed all the libraries, or else caused them all to be burned to the ground – I forget which – and so that task will have to wait until the nation is again healthy, or sane.
While he's able to scourge what needs to be scourged (a wind farm near Maryland's Backbone Mountain is an "environmental and visual desecration of the Allegheny front"), Beehler, in his '60's, has a writerly calm and elegiac tone.  There's a welcome absence of climate change hectoring, Beehler recognizing (for example) that changes in distribution of southern birds can (and should) be explained in many ways:  winter feeding, the interstate highway system (with its strips of edge and shrub habitat, and roadkill), and otherwise.  Global warming is a factor in nudging birds northward, he says, but not necessarily the only, or main, factor:  "bird breeding ranges have probably always been in flux and will be changing for centuries to come."
As anyone who has lived in Washington or travels there for business knows, the growth of that city and northern Virginia in the last couple of decades can only be described as metastatic.  Beehler shows that there are ways to deal with that, and to commute, vastly more pleasant that being snarled in a Beltway traffic jam, and they are pretty easily available, especially by bicycle.
It has been called the most perfect machine, and many birders would agree.  The literature of naturalists on two wheels is not new:  it includes Listening to a Continent Sing, by Donald Kroodsma; Wild Rides and Wildflowers, by Abbott and Rushforth; the aforementioned book by Louis Halle – and there are surely others.  The Abbott and Rushforth looks like it might be pretty good, but this reviewer has been unable to obtain a copy.  Apparently one or more of the catastrophes that have engulfed our nation recently have made publishers leery of going to the post office to send out review copies, and the libraries – well, you already know about the libraries.
Beehler's blog includes lots of photos; the book has few of those but a number of good drawings by John C. Anderton.  This is Beehler's tenth book; the last one, North on the Wing, was previously reviewed here.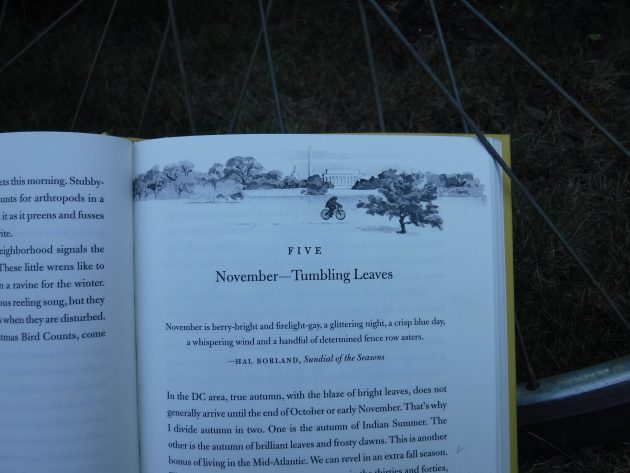 Natural Encounters:  Biking, Hiking, and Birding Through the Seasons.  By Bruce M. Beehler.  Yale, New Haven and London.  283 pp., $30.  May 21, 2019.  ISBN 978-0-300-24348-2.